Interactive textiles are taking their place in the array of cutting-edge products available in today's marketplace. Some incorporate various electronic sensors and control devices aimed at improving safety and comfort, providing communication and entertainment, and allowing
users to interact with the world in countless other ways.
England-based SOFTswitch Ltd.'s electronic fabric technology can turn conventional textile products into interactive ones, while also allowing them to maintain their flexibility and hand. Dianne C. Jones, Ph.D., general manager, said SOFTswitch™ products — which include keypads; single or multiphase switches; lighting systems; pressure sensors and mapping systems; and power, signal and audio data-bus cables — replace conventional hard devices. They can be used in wireless
applications, or they can interface directly with an electronic circuit. Jones said they are durable and washable, and the electronic components can withstand extreme conditions.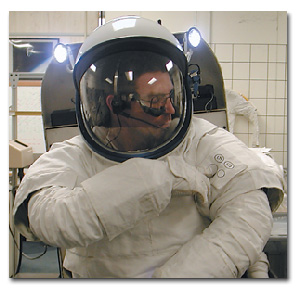 Frederica, Del.-based ILC Dover's I-Suit, developed for planetary surface operations, uses
SOFT
switch™ components to control helmet-mounted lights and robotic rover assistants.
The technology involves combining lightweight conductive textile materials with a quantum tunneling composite that has pressure-sensitive switching properties. Jones said the fabrics normally act as insulators, but when pressure is applied, the resistance decreases, and the fabric becomes conductive in proportion to the amount of pressure applied. This property makes the fabric suitable for applications such as adjustable lighting or sound, as well as on/off functions. A switch incorporated into a sofa, chair, carpet or wallcovering allows the user to turn on and adjust a lighting or stereo system, or to control a climate or security system.
The proportional pressure response also lends the fabrics to pressure-mapping uses such as in automobile seating to sense the presence and size of a body in order to deploy an air bag during a collision, or in hospital bedding or bandages to monitor a patient's condition.
Interactive outerwear and backpacks offered by Burton Snowboards, Burlington, Vt.; Nike Inc., Beaverton, Ore.; and The North Face Inc., San Leandro, Calif., incorporate audio, communications or heating systems with SOFTswitch keypad controls on the sleeve or strap. A snowboarding jacket from O'Neill Inc., Santa Cruz, Calif., uses SOFTswitch controls and an imbedded MP3 chip from Germany-based Infineon Technologies AG to enable the wearer to record songs and download them into a computer.
Other flexible interface possibilities include soft keyboards for personal digital
assistants and mobile phones, and computer mice and other computing controls.
Jones said SOFTswitch offers a complete textile solution, noting the technology can be used with any type of fabric; is not bound by shape, size or design; and can be integrated seamlessly into a product. The fabric's sensitivity can be customized to detect any degree of pressure. In addition, end-products can be made using standard manufacturing techniques.
---

For more information about SOFTswitch™, contact Dianne C. Jones, Ph.D., 44 1943
603888;
diane.jones@softswitch.co.uk.
---

June 2004