Optimer Performance Fibers Inc. (OPF), Wilmington, Del., developer of dri-release® moisture transport technology, has teamed up with Cleveland, Tenn.-based United Knitting to offer the technology in a new fabric line that blends polyester and wool. United Knitting's new collection debuted earlier this year at the Outdoor Retailer Winter Market in Salt Lake City.
Introduced in 1999, dri-release heretofore has been used primarily in polyester/cotton microblend knitted fabrics for athletic shirts and socks. The technology combines the wicking properties of cotton or any natural fiber with the moisture-repellent properties of the polyester copolymer. Perspiration is carried away from the body through the fabric to  vaporate quickly on the outer surface. The fabric dries four times faster than a pure cotton knit.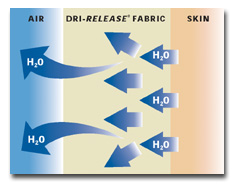 OPF's dri-release® technology enables perspiration to be wicked
away from the body to evaporate quickly on the surface of the fabric.

Wool Adds Additional Properties
Dri-release wool combines 88 percent polyester with 12 percent merino wool. It is a comfortable, non-itchy fabric that performs similarly to dri-release cotton, but also claims wool's thermal properties, according to Karen Deniz, business development, East Coast, OPF. In addition,
the wool eliminates static electricity in the fabric because it absorbs moisture from the air; and its natural crimp helps the fabric retain its shape. It also is machine-washable and contains OPF's Freshguard® treatment to neutralize odors, a property that is enhanced by wool's inherent ability to repel odor, reports Walter Tkach, director of technical sales, United Knitting.
"Wool has been a fixture in outerwear for generations," said Tkach. "Dri-release wool is lightweight and just as insulating as pure wool. It's a perfect product for the specialty performance market, whether in base layer garments for skiing or other cold weather activity, or on its own for running, hiking and climbing. We're very excited about it."
United Knitting, a subsidiary of Norcross, Ga.-based Mallen Industries Inc., is a manufacturer of specialty circular knit stretch fabrics. It has produced dri-release wool in a 5-ounce technical T-shirt jersey and a 3.75-ounce base layer jersey, as well as a 6.5-ounce jersey with Lycra®, which Tkach said is a natural for layering. The fabrics can be union-dyed to give a solid color, or the polyester only can be dyed, for a heathered effect. Fabrics also can be brushed on the inside to provide accelerated wicking and added insulation, Tkach said.
He added that the fabrics created a tremendous amount of excitement in Salt Lake City. Customers are currently sampling dri-release wool, and Tkach expects to see it at retail in fall of this year.
---
For more information about dri-release® fabrics with wool, contact Karen Deniz (908) 771-0769,
or Walter Tkach (732) 446-6361.
---

March 2003