Take some wool for warmth, lighten and soften it by adding a good measure of microfiber acrylic, and make it more durable with a bit of nylon and polyester; blend into sliver and knit, and voilà – you have Casalana, a new low pile fabric developed recently by Glenoit Fabrics (H.G.) Corp. for apparel and accessory applications. The New York City-based knitter is producing the fabric domestically using specialized high-speed computer-driven sliver-knitting machines at its mill in Tarboro, N.C.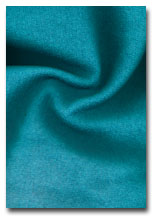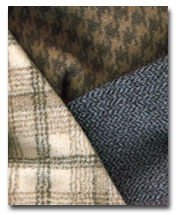 Glenoit Fabrics offers Casalana in a range of solid colors and jacquard patterns and also
according to customer specifications.

Rich Looking But Well-Priced

Fully machine-washable and -dryable, Casalana has the rich look and feel of a high-end boiled wool flannel, but it is very competitively priced when compared with other wool products in the market, according to Joe Zeoli, Glenoit's national sales manager. "Its applications are numerous," he said, "but we are looking to place it in products that showcase its richness." Noting the fabric's flexibility and styling possibilities due to its knit pile construction, Zeoli mentioned
apparel and accessories as targeted end-uses – from outerwear to middleweight layered fashions – and also potential home fashions applications, such as blankets.
Zeoli said Casalana – having a face-fiber blend of 34-percent wool, 50-percent microfiber acrylic, 11-percent nylon and 5-percent polyester; and a polyester back – is a response to the current strong interest in wool fabrics. The man-made fibers in the blend lend desirable performance attributes of their own. "Glenoit is providing the premiums of each fiber," he added, noting the fabric is durable and provides good thermal protection, while also exhibiting breathability.
Casalana differs in construction from the traditional pebble-textured sherpa Berber fabric. Zeoli said the low pile construction gears it toward a younger look.Glenoit offers the fabric in a 14-ounce weight in a range of solid colors and jacquard patterns. The company also will work with
its customers to develop patterns according to their specifications. The company is showing Casalana to its customer base and reports it has been very well received. 


---
For more information about Casalana, contact Joe Zeoli (212) 391-3930, Ext. 8414.

February 2003

---