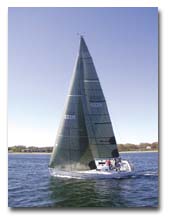 D
imension-Polyant (DP), a Germany-based manufacturer of sailcloth and outdoor fabrics, is
a comprehensive enterprise, doing everything in-house — from design and engineering; to yarn
prefinishing, weaving and lamination; to finishing. The principal people at the company's U.S.
facility in Putnam, Conn., as well as having long-term experience in technical textile
manufacturing, are experienced sailors and outdoorsmen themselves.The company produces sailcloth for a full range of racing and cruising applications. Among these fabrics are several laminate lines, for which it has developed three patented technologies.
DP uses its Ti-Tex™ pre-coating process to encapsulate the filaments in the yarn and keep them from becoming brittle and reducing flex life, said John Gluek, vice president. The coating controls fiber tension, straightness, twist and placement, thereby minimizing fiber crimp and
reducing stretch.
Warp yarns are precisely placed and tensioned between adhesive-coated film sheets using Insert™ technology. X-Ply™ technology is used to place additional warp yarns at angles that are determined by the laminate's particular racing or cruising application. The X-Ply insertion
provides added support to address off-thread-line loads, said Gluek, enhancing membrane stability and shape retention, and helping to prevent tears in the fabric.
One of the company's newest laminates is X-Tech Alumashield, a durable, high-performance sailcloth for everyday racing that builds on the technology developed for sails used in the America's Cup and other Grand Prix races. Gluek said X-Tech sails should last several years,
depending on racing frequency, the racing arena and the weight of the fabric.
Lightweight, low-stretch X-Tech laminates contain high-modulus Ti-Tex pre-coated aramid yarns such as Twaron® or Kevlar® in a prepreg base scrim with added fiber in the warp direction. A high fill count and a balanced construction enhance durability. The Alumashield dyed adhesive provides ultraviolet (UV) protection to the fibers.
DP reports the smaller film windows in X-Tech laminates minimize shrinkage and render the sails softer than those designed for the Grand Prix races, thereby forming better impact flutters and reducing overall film disintegration. The line is available in several weights to suit various
racing needs. An optional woven taffeta backing provides additional durability. Moreover, improved production process control has resulted in lower prices for X-Tech compared with the company's other aramid lines.
DP's other new laminates include, among others: GraphX™ GPL, a Grand Prix racing laminate containing coated carbon yarns; and Vectran® Cruise Laminate with UV-resistant adhesive layers and
heavy taffeta backing. Ti-Tex, Insert and X-Ply also are used in production of these lines.
---
For more information about X-Tech Alumashield and other Dimension-Polyant products, contact John Gluek (800) 441-2424.
---
October 2002