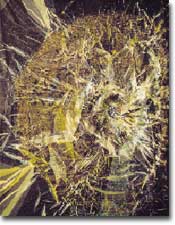 J
unichi Arai is a risk-taker and a rule-breaker. Over the past 50 years, the Japanese fiber artist has consistently pushed his work to the edge, developing new processes by combining
traditional and high-tech materials and processes and then breaking the perceived rules to explore
untested possibilities. He has received 36 patents for his innovative processes, mostly for new types of textiles that use gold and silver fibers in slit-film yarn. He has also used existing
technologies such as heat-setting and burn-out to create new and original effects.
Early in his career, the innovative artist received the International Trade and Industry Minister's Prize at the Grand Fair of Synthetic Fibers, Japan. He is an honorary member of the Royal Designers for Industry, England, and a recipient of a design medal from the Textile
Institute, also based in England.
Arai was the first to use the burn-out process to dissolve cotton from the surface of a lamé thread to leave the metallic core exposed, creating a fabric that caused considerable excitement when it was used by fashion designer Kansai Yamamoto. Arai then developed the inverse process of melt-off, by which metal sandwiched between layers of lacquer in a slit-film yarn is dissolved to produce a semi-transparent, filmy fabric.
He was also the first to make woolen cloth using a water-jet loom, paving the way for producers of filament textiles to expand into woolen textiles.
Arai believes that "the human hand and technology must not be separated," expressing concern that "… there is a danger with modern textiles, that too much reliance on technology and minimal emphasis on manual work will result in a product with no merit." He applies his artist's hand in one degree or another to each fabric he produces. He combines traditional cloth-making techniques with high-tech industrial processes, yielding results that are unique and quite striking. Depending on the fabric to be woven, he produces his fabrics on a range of looms, from hand looms to jacquard, air-jet and water-jet looms. Each production run yields a unique fabric, ranging in
length from a few meters to a thousand. Arai shows the completed fabrics to interested clients including a number of haute couture designers — Issey Miyake among them — or uses them in his own
line of textile products, available through the Junichi Arai Brand Division of Jovian Christie Incorporation, Japan.

Heat Transfer And Melt Off

Of particular interest to Arai are the effects produced by heat-setting of colors and pleats and by the melting off of metal to create visual effects and texture in his fabrics. In some fabrics, these two techniques are also combined with traditional resist techniques such as shibori.
Many fabrics are constructed of slit-film polyester/metallic yarns and siro-fil – also called "new generation wool," a stretchy yarn that consists of a tightly coiled nylon filament core covered by wool.
One metallic fabric is made using a slit-film polyester/silver yarn. Arai uses the fabric in a line of home furnishings as well as for other items.
Other metallics contain aluminum, and Arai looks forward to using titanium in future experiments. As he explains, titanium becomes highly oxidized when it is exposed to ultraviolet rays, releasing oxygen into the atmosphere and creating an array of colors on the surface.
Currently excited by ecological concepts and the idea of using industrial processes to create earth-friendly products, he notes that the heat-transfer process he uses for dyeing his fabrics is also an ecologically sound process because it requires no water.
Representing a bridge between the work of the hand and the work of the machine, Junichi Arai's work provides creative inspiration to those who seek to expand the potential of the textile
products of modern technology.

November 2000