I
nnovation, technology and excitement are all woven together in X-ITE, a new concept in
fabric development from Burlington PerformanceWear (BPW), Greensboro, N.C., a division ofBurlington Industries Inc. The X-ITE program will identify the most exciting new fibers and technologies across all BPW business units and make them available to all customers.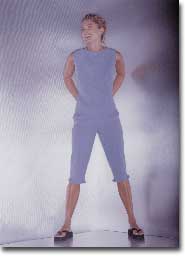 "Sharing new technology across all BPW business units will benefit all of our customers,"
said Larry Himes, BPW president. "For example, a technology that may have been developed for the activewear business could easily apply to our women's sportswear or trousers businesses."Through the X-ITE program, BPW is introducing new technologies and fabric groupings monthly
instead of waiting for seasonal launches.
BPW launched X-ITE in March, when fabrics from three new groupings were released to the market. Innovations unveiled included Emersion, T2TOUCH and an updated collection of multi fiber blends with Lycra®.

Emersion

With the Emersion line, BPW combines ultra-fine fibers with an innovative etched and sueded finishing process to create the next generation of microfiber fabrics. According to the company, the new styles offer a rich, luxurious hand, and they don't have the luster that is usually associated with microfiber fabrics.
"Emersion is a fabric that is as easily dressed up as it is dressed down," Himes said. "And its 'no luster' properties will be a tremendous advantage to consumers. Emersion fabrics take the no-wrinkle, easy-care properties of microfibers to a whole new level."
According to Himes, Emersion offers improved drape and comfort when BPW's Moisture Control
System (MCS), Durepel and SPF performance finishes are added.
"With the addition of these finishes," he said, "we believe that we'll see many creative uses for Emersion in the marketplace."

T2TOUCH
The T2TOUCH line of nylon multifiber blends have their origins in activewear, where extreme performance is essential.
"T2TOUCH embraces the active, extreme working environment in which we live, and adds a little 'attitude' to the workplace wardrobe," Himes said.
According to the company, garments made with these fabrics have a clean, dry hand and move in harmony with the body for maximum comfort.

The Lycra Collection

A subtle amount of stretch provides consumers with ease of movement and added comfort. In BPW's new Lycra collection, the familiar and the new are blended together to create a wide variety of textures and constructions, with the distinct hand that comes from a finer denier Lycra. Lycra is blended with micro-poly, rayon, flax and super 100's wool, adding a modern look and touch.
Several fabrics offer two-way stretch, a BPW innovation. "We were the first to offer stretch in both the warp and filling," Himes said.
---
For more information on BPW's X-ITE program, contact Tina Miller, Quixote Group, at (336)
605-0363.
June 2000