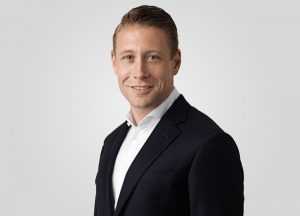 WINTERTHUR, Switzerland — June 20, 2023 — The Board of Directors of Rieter Holding Ltd. has appointed Oliver Streuli to the Group Executive Committee of Rieter Group as CFO, effective August 1, 2023.
Streuli was from June 2019 until April 2023 CEO at PCS Holding AG in Frauenfeld (Switzerland), a private institutional investment company, where he was responsible for developing the investment strategy as well as the financial and strategic supervision of the industrial portfolio companies. He was also project manager for the IPO on the SIX Swiss Exchange at Stadler Rail AG, Bussnang (Switzerland). Previously, he held different positions at UBS.
He is currently a member of the Board of Directors of Swiss Steel Holding AG, Lucerne (Switzerland), and of Autoneum Holding AG, Winterthur (Switzerland).
Streuli was a member of the board of directors of several industrial and financial portfolio companies of PCS Holding AG in Switzerland, in Austria and in Türkiye, which are active in fields of electric propulsion systems, green mobility and rolling stock leasing.
The Board of Directors of Rieter voted unanimously to elect Streuli CFO. "Rieter has gained with the election of Oliver Streuli an expert for the function of Chief Financial Officer whose skills are an excellent complement to the Group Executive Committee," said Thomas Oetterli, member of the board of directors and CEO.
Streuli was born in 1988 and is a Swiss citizen. He holds a Master's degree in Accounting and Finance from University St. Gallen (HSG).
Posted: June 20, 2023
Source Rieter Holding Ltd.