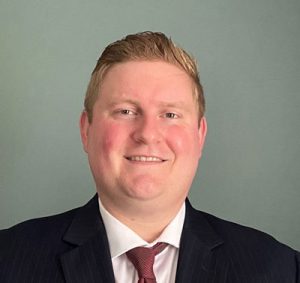 PUTNAM, Conn. — March 30, 2022 — Dimension-Polyant — a producer of sailcloth and manufacturer of X-Pac® lightweight, durable and 100 percent waterproof laminates developed for packs and bags — has hired Jonathan Mersereau as its new X-Pac sales manager.
Mersereau brings his diverse sales and marketing roles in team sports, consumer beverage, and the home building product industries to the world of performance textiles developed for outdoor, urban and fashion markets.
He has held managerial positions with the New Hampshire Fisher Cats baseball team, Coca Cola Bottling Company of Northern New England, and most recently, DRIcore wood flooring products. Jon holds a Bachelor's Degree from Colby-Sawyer College in Sport Management and a M.B.A from the University of Hartford.
"In the short time Jon has been with us, we are incredibly impressed with how he has immersed himself with getting to know our products, customers and industry," said Taylor North, head of Technical Fabrics, Dimension-Polyant. "We are very happy to have Jon on our team and we're both looking forward to attending the Functional Fabric Fair Portland, Oregon this April."
"My role at Dimension-Polyant and X-Pac® bring me full circle roots in sports management and business development," Mersereau said. "I am thrilled to be joining such a growing company and vibrant outdoor industry."
Posted: March 31, 2022
Source: Dimension-Polyant