Germany-based
Messe Frankfurt GmbH has appointed
John P. Gallagher president and CEO of Messe Frankfurt Inc., Atlanta.
Calhoun, Ga.-based
Mohawk Industries Inc. has appointed
Brian Carson president, Mohawk Flooring business unit;
John "J.T." Turner Jr. president, Dal-Tile business unit; and
Jeff Meadows senior vice president of sales, Home Centers and Aligned Groups.

Meadows
The Arlington, Va.-based
American Apparel & Footwear Association has promoted
Susan Lapetina to vice president, industry relations.
Germany-based
Mahlo GmbH + Co. KG has named
Rainer Mestermann CEO.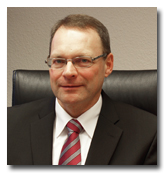 Mestermann
The
German Engineering Federation (VDMA) Garment and Leather Technology Association
has elected the following to its 2012 Board of Directors:
Dietrich Eickhoff, Dürkopp Adler AG;
Alexander Mesdaghi, Ferd. Schmetz GmbH; and
Joachim Richter, Pfaff Industriesysteme und Maschinen AG.
Duncan, S.C.-based
Erhardt + Leimer Inc. has named
Al Wright Textile Sales division manager.
New York City-based
Anvil Knitwear Inc. has named
Doug LeRoy vice president of retail sales.
The
Industrial Fabrics Foundation (IFF), Roseville, Minn., has awarded scholarships to
the following students: IFF Student Scholarship —
Vinitkumar Singh, Texas Tech University, and
Morgan Bennett, Auburn University; Industrial Fabrics Association International
Membership Scholarship —
Maggie Will, University of North Carolina at Charlotte; Architect Student
Scholarship –
Simon Chiu, University of Southern California; Fabric Graphics Association
Membership Scholarship —
Noah Thompson, University of North Florida; and Tent Rental Division Membership
Scholarship —
Becca Barth, Bowling Green State University; Marine Fabricators Association Member
Scholarship —
Larissa LeClair, Towson University.
Paris-based
Lectra has appointed
Jean-Patrice Gros director, Middle East and North Africa.
The
Outdoor Retailer Winter Market has named
Margaret Mussman, University of Cincinnati, winner of Project OR.
Grand Rapids, Mich.-based
X-Rite Inc. has appointed
Vic Stalem senior vice president of sales and marketing.
Shirley, Mass.-based
Bemis Associates Inc. has appointed
Tom Mendl director of marketing, apparel and footwear.
New York City-based
F. Schumacher & Co. has named
Maria E. Parasugo vice president, merchandising.
The
Fashion Institute of Technology, New York City, has named
Steven Frumkin dean of the Jay and Patty Baker School of Business and Technology.

Frumkin
Santa Monica, Calif.-based
Hologenix LLC has appointed
Alexander Foyle managing director, Europe, Middle East and Africa.
Propex Operating Co. LLC, Chattanooga, Tenn., has named
Robert F. Dahl II vice president sales – specialty products.
Greenville-based
Safety Components Fabric Technologies Inc. has named
Jamie Martin to handle sales and market development, WeatherMax®.
Aurora, Ill.-based
Bernina of America has appointed
Paul Ashworth president.
The
Northern India Textile Mills Association has elected
K K Agarwal, Alps Industries Ltd., president;
Sharad Jaipuria, Ginni International Ltd., senior vice president; and
H.S. Cheema, Cheema Spintex Ltd., as vice president.

January/February 2012