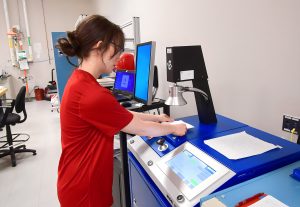 RALEIGH, N.C. — October 3, 2023 — The Nonwovens Institute (NWI) is excited to announce its newly expanded Filtration Testing Lab, featuring services for facemasks and respirators, along with filter media for automotive, HEPA and HVAC applications. Importantly, NWI's Filtration Testing Lab is A2LA Accredited for ISO 17025*, enabling it to meet NIOSH requirements for testing materials used in respirators, and it is outfitted with equipment to perform ASTM F2299 testing for the measurement of Particle Filtration Efficiency (PFE) at 0.1 microns.
Testing equipment available in NWI's Filtration Testing Lab includes:
PALAS MFP-3000-S fractional aerosol filter test;
Two TSI 8130 machines for filtration efficiency;
Two TSI 3160 machines for filtration efficiency;
Two offline charging and discharging units;
Two environmental chambers for aging and conditioning masks and filter media;
TSI Portacount respirator fit tester;
Testex TN 139 synthetic blood tester;
Testing apparatus for the measurement of fluid resistance for surgical masks; and
Prototyping facility to produce masks per NIOSH Standard Test Protocol.
NWI's Filtration Testing Lab is managed by Amy Minton, who has more than 20 years of experience in administering a wide variety of analytical, physical and filtration test methods for nonwoven materials.
"NWI's Filtration Testing Lab is an important addition to the Institute's impressive nonwoven fabrication and testing capabilities," said Minton, who also manages the NWI Analytical and Physical Testing Lab. "Having an ISO 17025 accredited lab for the testing of nonwoven filter media allows us to serve the needs of nonwovens companies who are targeting the fast-growing filtration market. ISO 17025, our decades of testing experience, and our strict adherence to GMP and Standard Operating Procedures provides our industry partners assurance that the tests they conduct at NWI will be executed with the highest level of quality and accuracy."
Why test your filter media at NWI?
Decades of in-house material testing experience;
A2LA accredited for ISO 17025;
ISO 9001 accredited;
ASTM F2299 testing capability;
Strict adherence to GMP and SOPs;
Highly competitive pricing model; and
Quick turnaround times.
ISO/IEC 17025:2017 accredited test methods include:
TEB-APR-STP-0059: N95;
TEB-APR-STP-0058: N99;
TEB-APR-STP-0057: N100;
TEB-APR-STP-0056: R Series;
TEB-APR-STP-0051: P Series;
ASTM F3502;
ASTM F1862;
ASTM F3407;
ASTM F1980;
ASTM F2299;
BS EN 14683:2019 Annex C; and
16 CFR Part 1610.
In addition to NWI's Filtration Testing Lab, NWI offers a fully equipped Analytical and Physical Testing Lab with more than 60 tests available for nonwoven materials. NWI also offers lab- and pilot-scale capabilities for Fiber Spinning, Meltblown, Spunbond and Hydroentangling, Staple/Carded Nonwovens, among others.
NWI will be exhibiting at FiltXPO 2023, October 10-12, Navy Pier in Chicago. Visit us at Booth No. 826 to learn more about our Filtration Testing Lab and capabilities.
* The Nonwovens Institute's ISO/IEC 17025:2017 accreditation is administered by A2LA. Accredited test methods are shown in the list above. Certificate No.: 6402.01.
For more details about NWI Filtration Testing Lab, visit https://thenonwovensinstitute.com/filtration-testing-lab/.
For more details about NWI's Fabrication and Testing capabilities, visit https://thenonwovensinstitute.com/fabrication-testing/.
October 3, 2023