DEERFIELD BEACH, Fla. — October 25, 2023 — Serge Ferrari Group, a designer, developer, and manufacturer of innovative composite fabrics, is proud to officially launch a new custom anniversary color for its best-selling exterior solar protection fabric at the Advanced Textiles Expo on Nov. 1-3, 2023, in Orlando, Florida. To celebrate 25 years of Soltis Proof 502, Serge Ferrari Group is presenting this industry-leading waterproof membrane fabric in Revival Blue. Attendees are invited to visit booth #917 to learn more about the Soltis Proof line and other exterior solar protection materials from Serge Ferrari Group.
Soltis Proof 502 is a waterproof, durable, lightweight, and easy-to-clean fabric that delivers superior flexibility and strength to allow creative freedom of shape and size for various outdoor applications. This cutting-edge fabric is ideal for awnings, pergolas, shade sails, light structures, and fixed shading systems.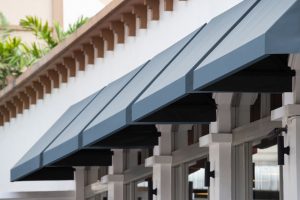 "Serge Ferrari Group now proudly offers Soltis Proof 502 in Revival Blue, addressing the current urban renewal trends and the resurgence of textile innovation within the awning industry," said Jeff Dellinger, Business Development Manager, Marine, Solar & Distribution, Serge Ferrari North America. "In an ever-evolving urban landscape, we recognize that urban design keeps pace with our evolving human needs. Revival Blue serves as a symbol of our cities' ongoing evolution and their ability to adapt to changing times."
In addition to Revival Blue, the Soltis Proof 502 range is available in 40 other colors, which offer a unique, satin finish and a modern, high-end look suited for commercial and residential applications. Serge Ferrari Group's patented Précontraint technology guarantees exceptional durability and dimensional stability for Soltis Proof 502. This technology prevents tearing or stretching, while the company's meticulous pigment selection and thicker yarn crest coating outperform competing products. Proven through rigorous testing, this membrane fabric provides year-round comfort against heat and the elements, offering 100% UV ray protection (UPF 50+). Soltis Proof 502 is GREENGUARD Gold certified and comes with a 10-year warranty. For more information about Soltis Proof 502, please visit www.sergeferrarigroup.com/us.
Posted: October 25, 2023
Source: Serge Ferrari Group