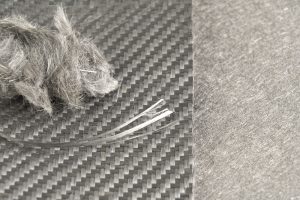 AACHEN, Germany — November 23, 2021 — FibreCoat GmbH, an innovative composite materials spin-off from the Institut für Textiltechnik (ITA) of RWTH Aachen University, announced it has closed a $3 million Series A round of financing with Goose Capital, Phoenix Venture Partners, b.value AG, NOVA by Saint-Gobain and the TiE Houston Angels, led by Ashok Rao (Goose Capital). The capital raised is being used to expand the FibreCoat team to increase sales and marketing activities as the company looks to increase capacity and to allow FibreCoat to build new partnerships in the construction, electronics, and automotive industry.
"These strong investors offer a knowledgeable background in materials and a diverse network into the markets we serve as we lay the foundation for scaling our technology to increase our capacity from 10 tons per month by the end of 2021 to 60 tons per month in 2022," said Robert Brüll, CEO, FibreCoat.
FibreCoat offers a revolutionary coating technology for fibers in composite and shielding applications as a basic building block for tomorrow's mobility and construction industries. Developed by co-founders Robert Brüll, Alexander Lüking, and Richard Haas as part of their doctoral studies at the RWTH Aachen University (Germany), FibreCoat's product lines include AluCoat, metal-coated basalt fibers used for electromagnetic shielding and conducting applications, and PolyCoat, thermoplastic-coated glass fibers used for strengthening and light weighting applications.
The coated fibers provide substantial quality advantages due to the single-filament coating and the tunability of the materials — for example, adjustable coating thickness, homogeneity or thin core fibers. FibreCoat produces application- and customer-specific bicomponent filaments for a wide range of applications resulting in disruptive advances in the composite and EMI shielding industries. It provides a significant advantage over other technologies due to its high speed and one-step technology process, with substantial-quality advantages resulting from the single-fiber coating. The high-performance fibers not only improve existing products but enable completely new mass market applications in areas ranging from light-weight EMI shielding in electric vehicles and defense applications to drape-able EMI shielding fabrics for smart textiles or wallpapers in hospitals.
"In addition to high-coating flexibility, our extensive network for customer-specific processing of coated fibers differentiates us from our competitors," Brüll said. "Our first market-ready product, AluCoat, saves up to 90 percent in CO2 emissions during production when compared to alternative materials, such as solid metal fibers, and aluminum foils and sheets, while also being fully recyclable."
Goose Capital began 15 years ago as a small group of successful executives committed to supporting emerging entrepreneurs and has evolved into a professional investment organization providing capital, mentorship, and board members to early-stage companies. Members of Goose Capital have broad experience across multiple industry sectors. Goose Capital has invested over $50 million in start-ups, and currently has around twenty companies in its portfolio. Goose Capital provides the Grand Prize at the Rice Business Plan Competition and often provides much more, having invested over $20 million in RBPC winners alone. "We are thrilled to be part of this incredible competition, delivering high quality teams to Rice, from Universities in Europe and Asia," said Ashok Rao, past chairman of TiE Global and the founder of this feeder competition program along with Brad Burke, managing director of the Rice Alliance. "Our teams from Europe and Asia have acquitted themselves admirably for the 10 years this program has been in existence with 4 teams having made it the finals while obtaining over $10 million in investment from Goose."
And in his role of Board Director of Goose Capital and future Chairman of the Board of Directors of FibreCoat, Rao added: "FibreCoat is an exciting investment opportunity for our Goose members. The interest level was so high that this offering was oversubscribed by 200 percent."
The b.value team has more than 40 years of experience in setting up, leading, and developing technology companies and commercializing biotechnological developments. Their investment philosophy focuses on talented entrepreneurs who want to create a passionate company with knowledge and courage from a business model with high scalability and disruptive proprietary technology.
"We are very proud to welcome FibreCoat with their ground-breaking composite fibres to our portfolio. We believe that FibreCoat will revolutionize the composites market in the coming years, and b.value AG is delighted to be part of this journey," said Georg Lentzen, managing director, b.value.
Phoenix Venture Partners (PVP) invests at the convergence of advanced materials, biology and hardware with advanced computation and AI. PVP employs a multi-stage investment strategy, encompassing both seed and venture investment programs, and assists entrepreneurs with customer and supply chain business development.
NOVA by Saint-Gobain, the corporate venturing arm of Saint-Gobain, acts as a bridge by working with qualified start-ups by providing access to Saint-Gobain's internal resources and helping start-ups form long-term partnerships. Rooted in trust, expertise, support, and flexibility, the NOVA team supports entrepreneurs whose focus aligns with their expertise to create a path to market.
"Our partnership with FibreCoat will bring innovative solutions to our customers and aligns well with our mission of making the world the better home," said Minas Apelian, vice president, Internal and External Venturing, Saint-Gobain.
The mission of the TiE Houston Angels is to foster entrepreneurship through mentoring, networking, education, funding, and incubation. With a focus on giving back to the community, TiE's focus is on generating and nurturing the next generation of entrepreneurs. The overall aim is to empower individuals and create wealth in communities by assisting entrepreneurs.
Posted November 23, 2021
Source: ITA – Institut für Textiltechnik of RWTH Aachen University