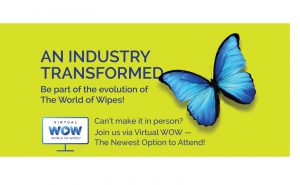 CARY, N.C. — May 18, 2020 — INDA, the Association of the Nonwoven Fabrics Industry, announces the addition of a "virtual" registration option for its World of Wipes® (WOW) International Conference August 24-27 in Minneapolis, Minn. WOW will enable those not able to be there in person to experience the full educational program of this important industry event.
Virtual WOW offers wipes professionals a unique website link that will contain each speaker's presentation with audio and visuals to replay at any time. Details for both Virtual WOW and in-person WOW registration information is available on  www.worldofwipes.org/register.html. 

Content of the 14th edition of the World of Wipes is focused on breakthrough wipe technologies, buyer demographics, sustainability, industrial and flushable wipes, substrates, preservatives, single use plastics, and strategy-setting market intelligence. Presentations will also address industry changes prompted by COVID-19.
"While nothing can replace the value of face-to-face meetings and we look forward to seeing the industry reconvene in person, Virtual WOW is an option for our industry members who cannot attend in person yet want the benefit of the highly relevant program content," said Dave Rousse, INDA president. "Virtual participants will hear and see each speaker's presentation and slides as if they were sitting in a front row conference seat. We're adapting to the "new normal" to better serve the dynamic wipes industry. With this Virtual WOW option, no one should miss this exciting event."
WOW 2020 will connect senior-level wipes professionals during four value-packed days combining relevant technical and educational content with business engagement opportunities.
Over 400 senior-leadership participants attended WOW in 2019. For the full conference agenda and full line-up of industry speakers, visit: www.worldofwipes.org/conference.php
Preceding the conference, INDA's WIPES Academy will be led by instructor Chris Plotz, Director of Education & Technical Affairs, INDA, August 24-25. The WIPES Academy is the first and only comprehensive wipes training for the entire wipes supply chain.
Posted May 18, 2020
Source: INDA, the Association of the Nonwoven Fabrics Industry