Automotive interior fabrics including upholstery, headliners and door panels make up a significant
portion of the total textile utilization in an automobile. According to information compiled by
United Kingdom-based consultancy PCI Fibres, man-made-fiber upholstery fabrics, largely polyester,
comprise 70 percent of total upholstery materials, and — at the rate of 5 pounds per vehicle, with
an estimated 14.2 million vehicles produced in 2012 in North America — amount to 22,000 tons of
fabric. Headliners, weighing an average 1.5 pounds per vehicle, account for 9,700 tons of fabric.
Together, these two categories comprise nearly 14 percent by weight of the total 229,300 tons of
textile materials used in 2012 in the North American automotive industry. Subtracting the 30
percent of vehicles that do not have fabric seat upholstery, they comprise between 20 and 22
percent by weight of the total textile component per vehicle.
Other automotive textiles include some 38,500 tons of tufted and nonwoven carpet; some
10,000 tons of tufted floor mats; 50,070 tons of tire cord; 32,000 tons of molded parts and
insulation; 20,000 tons of seat belt fabric; 3,200 tons of polyester under-the-hood items; and
41,000 tons of air bag fabric; among other textile products.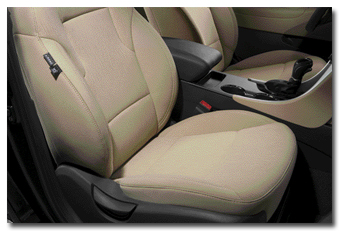 Sage's YES Essentials® automotive seat fabrics feature repel-and-release stain resistance
as well as antistatic and odor-eliminating properties, and also reduce the amount of VOCs in the
cabin.

Sage At A Glance


Sage Automotive Interiors Inc. — a manufacturer of seating, headliner and door panel fabrics
— is one of several U.S. textile manufacturers serving the the automotive interior textiles market.
Its headquarters are located on the Clemson University International Center for Automotive Research
(CU-ICAR) campus in Greenville. The company operates five manufacturing plants in South Carolina
and Georgia, and a sales and design office in Detroit; a fabric formation and finishing operation
in Brazil; and design/engineering/sales offices in the United Kingdom, China, Japan and Korea.
Manufacturing partners are located in the Czech Republic, Poland, Sweden, Turkey, Egypt, South
Africa, China, India, Japan, Korea and Thailand. Its customer base comprises major global
automakers including Ford, General Motors, Chrysler/Fiat, Toyota, Honda, Mazda, Suzuki, Nissan,
Hyundai, Kia and Volkswagen.
Sage originated in 1948 as the Automotive Body Cloth Division of Milliken & Company,
Spartanburg, which sold it in 2009 to the division's management team — including CEO Dirk Pieper
and COO Brian McSharry — and Azalea Capital LLC, Greenville. In 2011, Los Angeles-based private
equity firm The Gores Group LLC replaced Azalea in the partnership, and is helping Sage implement a
strategy to expand its global operations and its product portfolio. Over the last three years,
Sage's employee base has grown from 900 to some 1,300 worldwide, including more than 1,100 in the
United States.
According to Pieper, Sage's primary strengths are its global footprint, with world-class
manufacturing underpinning its operation and its design and engineering expertise; innovative
product offerings that have solved consumer issues; and leadership in the area of sustainability,
not only through its use of materials with recycled content, but also through the design and
engineering of its fabrics.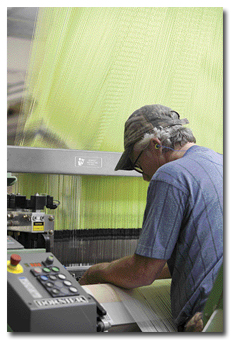 An associate reviews a weaving machine setup at Sage's Sharon Plant, a state-of-the-art
facility poised for growth in the woven automotive textiles market.
"Since we spun out of Milliken, we have worked to improve upon the Milliken DNA in areas
like lean manufacturing, with a very heavy concentration of visual metrics, which drive our
processes," Pieper said. "We have worked very diligently to become a global supplier, and we
continue to expand our global platform as we target investing in certain regions to support local
supply," he added, noting that Sage aims to increase its presence in the European and Chinese
markets through such actions as having its own manufacturing operations in China and Eastern Europe
instead of commission manufacturing as it currently is doing.


Pieper also said the company is very close to making a decision as to what sorts of textiles
it will add to its portfolio.

Processes And Products


In the United States, Sage's Avalon Plant in Toccoa, Ga., processes and textures raw yarn
and fiber sourced from companies such as Unifi Inc., Greensboro, N.C.; Nan Ya Plastics Corp. USA,
Lake City, S.C.; and other sources globally. The textured yarn is then sent to the company's Sharon
weaving plant in Abbeville, S.C.; and its Gayley knitting, dyeing and finishing plant in Marietta,
S.C. Additional dyeing and finishing operations are located at its Abbeville Plant in Abbeville,
which processes both woven and knitted fabrics.
Current upholstery products include YES Essentials®, a repel-and-release stain-resistant,
antistatic, odor-eliminating fabric line that also reduces the amount of volatile organic compounds
(VOCs) in the cabin. Yes Essentials fabrics are covering the seats of more than 5 million
automobiles including Hyundai Santa Fe and Sonata models; Kia Sorrento; Toyota Highlander and
Sequoia models; and a number of Chrysler, Dodge and Jeep models.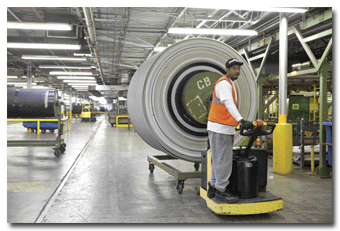 An associate transports a batch of fabric between processes at Sage's Cotton Blossom
Plant.
Another innovative upholstery line, FXC® (fabric for extreme conditions), is a more rugged,
stain- and water-resistant, fast-drying, microbe-resistant fabric line designed for sport utility
vehicles and targeted to customers who love outdoor activities. It was developed partly because
Honda was designing a vehicle that would appeal to wind-surfing, mountain-biking, outdoor-active
customers who would want a textile product that could be completely hosed down and retain its
cleanliness. A next-generation FXC fabric is going into the Toyota Tacoma model.
Sage also has a portfolio of more conventional fabrics as well as a fabric made with Unifi's
Repreve® 100-percent recycled polyester fiber. That fabric is featured in the Ford Focus EV and, as
of the 2013 model year, the Ford Fusion.
With regard to recycled-content fabrics, Pieper said: "We have been focused on adding
recycled content and sustainable products into cars. Unifi's timing in developing Repreve gave us a
great opportunity with our channels to be able to source Repreve and open the door for Unifi."
Unifi also supplies materials used in some Yes Essentials fabrics.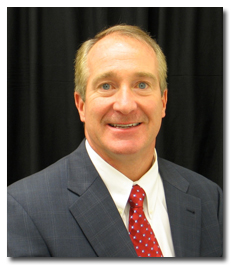 Sage CEO Dirk Pieper began his career with the company more than 30 years ago, when it was
still the Automotive Body Cloth Division of Milliken & Company.
Sage sends finished fabrics to third-party tier 1 cut-and-sew locations, mostly in Mexico,
to have them made into seat covers.
Headliners and door panels are laminates of knitted fabrics and polyurethane foam. They are
processed at Sage's Cotton Blossom laminating plant in Spartanburg and then sent to converters,
usually near the assembly plants, that have special molding operations.

People


Pieper spoke enthusiastically about the people working at Sage, from management to line
associates. "We've invested heavily in our people, and our people are heavily invested in Sage," he
said. We operate very much like a family, and there's not a lot of hierarchy. We can make decisions
quickly, and we value our people's opinions."
Sage's top-line management has a total of 230 years of experience, which is one inspiration
for the company's name. "We bring thought leadership and wisdom to the industry," Pieper explained,
adding that another inspiration relates to sage as a natural, green plant and a consequent
association with the idea of sustainability.
The company's design group includes 35 people globally, and they are brought together
several times a year to exchange ideas. "The amount of thought leadership that takes place within
that group is phenomenal, particularly when we focus on consumer research, trends, material trends
and their interaction with OEM [original equipment manufacturer] designers," Pieper said.
Sage's engineers work not only with the company's products, but also with unrelated problems
a customer may have. "The problem may not even be with our material, but the customer may ask our
engineers to engage and solve functional problems through making adjustments to the textiles,"
Pieper said.
The company has been named one of the Best Places to Work in South Carolina for 2012.
Companies are chosen for the honor based on assessments of employer benefits and policies, and
employee engagement and satisfaction.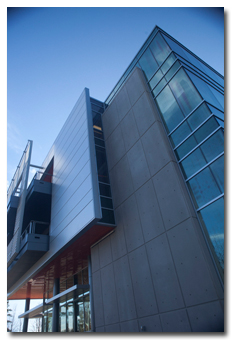 Sage's new headquarters on the CU-ICAR campus in Greenville give it access to research
facilities and opportunities to collaborate with other companies involved in the automotive
sector

CU-ICAR Campus: Innovation Central


In August 2011, Sage moved its headquarters from Spartanburg to the 250-acre CU-ICAR campus
in Greenville, where it has access to research facilities and ready opportunities for collaboration
with other companies involved in the automotive and motorsports sector.
"CU-ICAR is a real hub of automotive expertise, philosophy and technology," Pieper said. "We
work very closely with Clemson on research, but also with students and professors here on their
projects, like Deep Orange [an electric concept car focused on providing a totally integrated
lifestyle experience and featuring elements such as electronic integration and Yes Essentials
seating fabric]. We also get exposure to projects like Innomobility, a forum for the exchange of
ideas and innovative concepts in the automotive industry, and we are participating actively in that
program. We have a whole module of very independent research on what's the next cutting edge in
textile technology combined with other technology. By moving to CU-ICAR, we have had a lot of
interaction with BMW, Michelin and other industry leaders."
Through its participation in Innomobility, Sage has opportunities to engage in what might be
called a "whole car" comprehensive transportation-oriented networking system that includes leading
thinkers and visionaries who are designing and engineering technologies and products not only for
the present, but also for the future, with consideration for all aspects -— from the user
experience to the supplier base and producers.
---
Quality Control: A Team Approach
Quality control is an important aspect of any manufacturing business, as quality problems
can impact production efficiencies, employee morale, customer satisfaction and profits. One way
Sage has tackled quality problems has been to utilize Knoxville, Tenn.-based QualPro Inc.'s
multivariable testing (MVT®) system, which recently helped the company bring a new headliner it had
developed beyond the accepted quality standards and also helped it achieve a significantly improved
throughput for the product.
According to Brian Gardze, then-plant manager at Cotton Blossom Plant and now project
manager for Sage, the process involved teamwork among all levels of employees at the plant, where
problems were encountered related to bond strength in a knit/polyurethane foam laminate. "Bond
strength is critical throughout the industry," Gardze said. "We were seeing similar concerns in a
competitor's product."
In brainstorming sessions, employees contributed more than 100 ideas, which were whittled
down to 17 factors related to process, foam cure, line speed, temperature, tension and other
factors. Simultaneous testing carried out over three days, with no additional investment required,
resulted in an initial 464-percent bond strength improvement – with faster line speeds contributing
to that improvement – and, ultimately, a 751-percent improvement in foam tear performance.
---
---
The State Of The Industry
Sage Automotive Interiors CEO Dirk Pieper believes the U.S. automotive industry is in a
healthy state at present. "This year, we anticipate about 14.8 million vehicles will be produced in
the United States," he said, noting that while the number isn't as high as the 16 million produced
in 2007 before the Great Recession, it is much better than the low of 6.5 million in 2009.
"China continues to grow, although it has leveled off from 30-percent growth to 8-percent,
which is still good," he continued.
Markets in other parts of the world are not as strong, Pieper said: "With the difficult
situation in the European Union, most of our customers there are struggling. India has a fantastic
growth percentage-wise, but vehicle growth is not so great. Japan is flat or declining because of
the exchange rate, and the market in Brazil is somewhat depressed."
---
September/October 2012