S

o, what's a high mobility multipurpose wheeled vehicle — a.k.a. HMMWV or Humvee — doing
on the exhibition floor at a textile trade show?
Well, if the Humvee is at Techtextil North America (TTNA), it's showing off the engineered
ballistic composite components that can protect it from small arms fire, improvised explosive
devices (IEDs) and other like hazards encountered in combat. The highly specialized textile
application is just one of many that will be on view at the biennial North American edition of
Techtextil, International Trade Fair for Technical Textiles and Nonwovens, taking place April 1-3
at the Cobb Galleria Centre in Atlanta.
ArmorWorks LLC and its subsidiary, TechFiber LLC, both based in Phoenix, will be exhibiting
the Humvee as well as the cab of a M915 A2/A3 truck, another military tactical vehicle, fitted with
ArmorWorks' battle-tested Ballistic Advantage Kit at this year's TTNA. According to ArmorWorks — a
designer and manufacturer of body, vehicle, aircraft and marine armor — the kit, featuring the
company's C2 (ceramic/composite) technology, offers the lightest-weight armor available, comprising
a ceramic material covering an aramid fiber composite branded as T-Flex® HA (hard armor) and
manufactured by TechFiber — a developer of fiber-reinforced unidirectional composites for ballistic
and other protective applications. The modular system includes components for all parts of the
vehicle, including cabin and rear saloon doors, windshields, underbody, bed and tail gate, and
turret and gun mounts.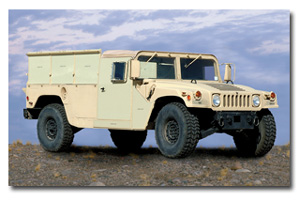 ArmorWorks' easy-to-install Ballistic Advantage Kits provide lightweight, highly effective
ballistic protection for military tactical vehicles, such as the Humvee and others, as well as
commercial and police vehicles.
According to Miles Rothman, general manager, TechFiber, the Flex-Tech™ engineered composite
construction comprises unidirectional layers laid at cross directions and laminated together with
layers of thermoplastic polymer between and around them. "It's better than a traditional woven
fabric because you don't have any yarn crimp, and by having it smooth or uniform, it has better
back face protection, which means a bullet won't travel as far back in the package as with a woven
material," he said.
"This armor exceeds IED specifications," said Robert Codney, vice president of business
development, ArmorWorks. "The US Army took the HMMWV onto the streets of Al Fallujah [Iraq] where
actual IED attacks resulted in only minor abrasions to the troops using this armor."
Rothman said TechFiber also will unveil a flame-resistant composite at TTNA that will enhance
the heat-resistant properties in ArmorWorks' armor products.
"By showcasing such a relevant end-use, we are hoping to grow the awareness of what the
high-performance materials exhibited at Techtextil are capable of," said Stephanie Everett, group
show manager — textile shows, for TTNA organizer Messe Frankfurt Inc., Atlanta. "It is an honor for
us to have the ArmorWorks team joining us this April, and we believe that the display will be of
great interest to our attendees."



March/April 2008