T

he Roseville, Minn.-based Industrial Fabrics Association International (IFAI) will head
to San Antonio next month to put on its annual conference, trade show and related events. IFAI Expo
2005 will be held Thursday through Saturday, October 27-29, at the Henry B. Gonzalez Convention
Center, just a stone's throw from the historic Alamo and the scenic River Walk area along the banks
of the San Antonio River that passes through the city.
Each year, IFAI Expo presents the latest specialty fabrics developments from manufacturers,
suppliers, research and educational institutions, service providers and other providers within that
sector. Applications include: architectural structures such as awnings, canopies, tents, and air
and tension structures; banners and flags; marine products; medical, safety and protective
textiles; geotextiles; and nonarchitectural inflatable structures; among others.
IFAI expects 8,000 visitors and 450 exhibitors at this year's event, which also will offer
more than 90 educational opportunities within two pre-conference symposia and 12 educational tracks
scheduled during the expo.
A special event this year is the Advanced Fabrics Exhibition, directed by Marie O'Mahony, a
London-based consultant and author of several books on textiles and technology including
"Sportstech: Revolutionary Fabrics, Fashion, and Design." On view will be a collection of objects
and prototypes and the fabrics that inspired them. Artists and designers from a number of countries
have contributed a range of articles including furniture, clothing, architectural systems and
smaller objects, among others.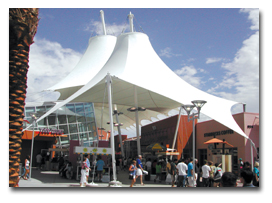 Tensile structures at the Premium Outlet Las Vegas Food Court serve as a 15,000 square-foot
shading device and cover between buildings.

Pre-Conference

Symposia And Expo Educational Tracks


This year's pre-conference symposia – Fabric Structures 2005 and Textiles & Graphics
2005 – are scheduled to take place Wednesday and Thursday, October 26 and 27, at the convention
center.
Fabric Structures will look at fabric as a building material, and will include sessions
covering the design of fabric structures as well as environmental, durability, aesthetic, energy
efficiency and high-performance considerations. The symposium, cosponsored by Fabric Architecture
magazine in cooperation with IFAI's Lightweight Structures Association and Professional Awning
Manufacturers Association, will open with a keynote address by fabric structure engineer and
designer Horst Berger, PE, principal consultant, De Nardis Engineering LLC, White Plains, N.Y., and
Distinguished Professor, Community College of New York School of Architecture.
Textiles & Graphics – organized by IFAI and its Banner, Flag & Graphics Association
– will explore the use of textiles as digital print substrates, highlighting both indoor and
outdoor applications, and recent advancements in these applications as well as in the equipment,
ink and textiles used for them. Keynote speaker Patti Williams, consulting partner, IT Strategies,
Hanover, Mass., will discuss opportunities and markets in this area.
A joint session on Thursday morning will bring participants in both symposia together to
consider areas where structural and graphics applications coincide.
During IFAI Expo itself, additional educational opportunities are scheduled under 12 tracks
including: Automotive; Filtration; Geosynthetics for Landscape Architecture; Medical Textiles;
Safety & Protective; Sports & Recreation; Awning & Canopy; Banner & Flag;
Inflatable & Tent; Marine; Upholstery; and Business & Leadership. Each track will offer
several programs covering various aspects of the particular topic.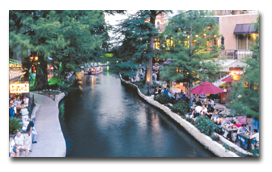 The River Walk in San Antonio offers a shady respite from the comings and goings in the
city streets one level above it.

Other Expo Events


The 2005 International Achievement Awards will be presented and winning entries showcased
during IFAI's Annual Meeting/International Achievement Awards Breakfast Thursday morning. The 27
competition categories include two that are new this year – Air Structures and Free-standing
Canopies.
On Friday morning, expo keynote speaker Doug Lipp, Fair Oaks, Calif., former head trainer at
Walt Disney University, will talk about "The Changing Face of Today's Customer." Lipp will discuss
globally expanding businesses that serve culturally diverse local markets and the problems they
encounter in such an environment.
On Saturday morning, IFAI's Professional Certification Programs will offer an orientation
session to potential candidates to outline testing phases and eligibility requirements for
professional certification. Also, candidates who have previously completed Phase One of the
certification process will be tested during the expo for final certification in several specialty
areas including industrial fabric manager – marketing, production, personnel or finance; awning and
canopy; banner and flag; marine exterior; marine interior; and truck cover and tarpaulin.
That evening, expo participants will have a chance to unwind and celebrate during the
Chairman's Gala reception and banquet at the Marriott Rivercenter, near the convention center. The
program will include recognition of certification recipients, International Achievement
Award-winning projects and individual contributions by industry professionals.
---

A Dynamic And Changing Industry


From its founding in 1912 as the National Tent & Awning Manufacturers Association, IFAI
has evolved into an international organization comprising 13 divisions focused on specific sectors
of the specialty fabrics industry, as well as two country sectors to serve members in Canada and
Japan. The evolution reflects the dynamism of an industry that seems to reinvent itself every few
years, according to Stephen M. Warner, president and CEO.
Warner, who has been with IFAI since 1976, has witnessed this evolution firsthand. "When I
came to IFAI, the emphasis was on canvas products. Now it's industrial fabrics," he said. "Every
week I hear of new applications – there seem to be thousands of them. And what keeps it exciting
are the thousands of potential applications on the horizon." Areas of innovation he noted include
filters, medical textiles and aerospace – even the space shuttle has textile components, he said,
referring to the shock-absorbing ceramic fiber fabric that fills the gaps between the heat shield
tiles.
Warner said the term "specialty" seems preferable to "technical" to describe the industrial
fabric sector. "All fabric properties are technical, whether they be wicking, antimicrobial,
permanent press, or whatever," he said. "'Specialty' refers to the niche applications that a
particular fabric might serve.
"There is so much innovation in this sector," he continued as he discussed globalization and
the removal of trade barriers. "Because specialty fabrics are not commodities, it is easier to
protect against the threat of imports. Manufacturers produce limited runs and customize their
products for unique applications."
Warner predicts 2- to 4-percent growth this year in the sector, and IFAI membership
continues to grow as well, with a net gain so far this year of 83 members.
"We're on the right track," he declared. "With this year's expo, we anticipate good
international participation, especially from Latin America. San Antonio is a unique destination,
and this year's symposia are very attractive. We also have our magazines [Industrial Fabric
Products Review and several others for IFAI's assorted divisions]; we provide advice and resources
to our members; and we're concerned with best practices and promoting textile applications."
September 2005