The California Fire Chiefs Association (CFCA) presented its 2002 Award for Innovation in Fire
Protection to Charlotte-based McKinnon-Land-Moran (MLM) LLC's upholstered furniture flame resistant
(FR) barrier technologies. When used together in upholstery or mattresses, MLM's Alessandra® woven
FR barrier fabric and Basofil® FR highloft nonwoven prevent flames from penetrating the
polyurethane foam, and reduce the smoke and heat released during a fire.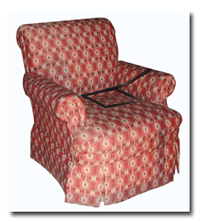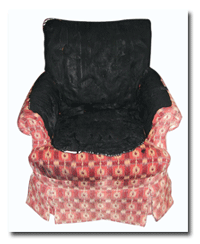 Before and after shots show how well an upholstered chair featuring Alessandra® and
Basofil® fiber technoloies survived when burned to the CAI 133 standard.
"We believe the Alessandra and Basofil fiber highloft flame resistant barriers are new and
significant technologies that will reduce the severity of home and commercial fires and help save
lives," said John Malmquist, executive director, CFCA.
January 2003