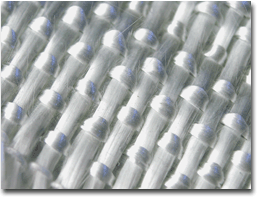 3TEX's 3WEAVE Glass Preform News today is full of plant closings, massive layoffs,
reduced shifts and production decreases. If one formed all impressions of the U.S. textile industry
by the headlines that scream from the pages of newspapers almost daily, it would be difficult to
think that there might be a sunbeam or two ripping through the dark storm clouds that seem to hover
perpetually over this oldest and most basic of industries.But those sunbeams are there and they are
actually growing in number. For every Spartan that closes its doors, for every Mayfair that is
forced to shut down multiple plants, for every corporation that must abandon its roots, there is a
small, specialized company opening somewhere. And these entrepreneurial ventures are not just
holding their own against the massive onslaught of cheap, imported textile products; they are
thriving, generating impressive volumes and margins.Consider, for example, the story of 3TEX, a
weaving company that, while only two years old, is growing at a remarkable pace. And in that
growth, there is a lesson this small company can teach about product innovation, research and
development, and the pursuit of highly specialized markets.You wont find row after row of
high-speed weaving machines churning out commodity fabrics in this companys manufacturing
facilities. That, as the saying goes, would be like making ice at the North Pole. Theres more than
enough product in that arena and far too few buyers. 3TEX, however, has bet the farm on the fact
that it can develop and weave certain specialized fabrics better than anybody else. So far, that
bet is paying off handsomely.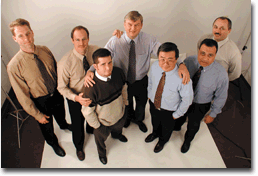 (left to right): 3TEXs R and D team includes Dr. James Singletary,Dr. Larry Dickinson, Don
Wigent, Dr. Alexander Bogdanovich,Dr. Pu Gu, Dr. Mahmoud Salama and Dr. Dima Mungalov. Getting
StartedThe seeds for the founding of 3TEX were actually planted more than a decade ago, when Dr.
Mansour Mohamed, an Egyptian-born professor at North Carolina State University (NCSU), Raleigh,
N.C., and a
Textile Industries contributing editor, received a grant from the NASA-supported Mars
Mission Research Center to use his research on three-dimensional weaving to develop lightweight
structures for space applications.Ten years later, in May 1998, Dr. Mohamed who had retired from
NCSU two months earlier armed himself with some private financing, licensed his patents from the
university and put on his entrepreneur hat to become the first employee at 3TEX. Twelve months
later, in May 1999, after incubating on NCSUs Centennial Campus, he and 10 employees moved to a
30,000-square-foot facility in Cary, N.C., which now serves as 3TEXs headquarters and technical
center for research and development. In May 2000, 3TEX expanded its operations to include a
30,000-square-foot facility in Rutherfordton, N.C., and officially made the jump from research and
development to commercialization.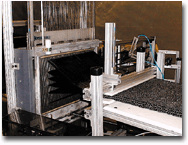 Today, Dr. Mohamed is the chairman and chief scientific officer of 3TEX. Dr. Mohamed and the
company have developed a three-dimensional orthogonal weaving technology that enables the
production of competitively priced composite materials that are stronger than steel and lighter
than aluminum. Using its computer-directed looms, 3TEX puts together two sets of fibers such as
Kevlar®, glass, ceramic and carbon or a hybrid of the four piling up to 15 layers.A third set of
yarns, what 3TEX calls the Z-yarn, vertically ties the layers together into a compact shape to
create a preform that resembles the end product. Currently, 3TEX is building a machine that will be
capable of weaving up to 60 layers into a 6-inch-thick fabric. 3TEX has a total of 19
two-dimensional and three-dimensional weaving machines, having widths of up to 72 inches. The
company is in the process of building a 120-inch machine that will be ready next year.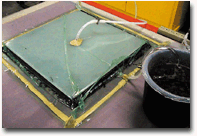 After the preform is inserted into a mold of the end product, the company injects resin into
the vacuum-packed preform to create the finished composite. Developed with 3TEXs automated 3-D
orthogonal weaving process, the resulting composite exhibits improved strength; a high resistance
to corrosion, fatigue and fracture; and an architecture that prevents delaminating. It doesnt
expand and shrink, Dr. Mohamed said. It has tremendous properties because of heat dissipation,
better thermal properties, and very low coefficient of thermal expansion. Vacuum infusion also
means the process isnt hazardous to the environment.Traditional composites are created by a
labor-intensive lamination process, in which multiple layers of fabric and resin are molded
together to build up thickness. Having layers in the composite means its susceptible to
de-lamination in the event of severe stress or impact. With 3TEXs process, manufacturers can save
money because less resin is used and time, because it takes much less manpower to infuse a preform
with resin. For example, it took 3TEX only 30 minutes to inject a 10-foot boat with resin. On
average, we can reduce the weight of conventional composites by 20 percent, while improving their
performance, Dr. Mohamed said. Going Ballistic And Getting DefensiveFrom aerospace parts to
bulletproof vests to kayaks, 3TEX is proving that, using its 3-D technology, it can revolutionize
and grab a slice of the $24-billion-a-year composites industry. 3TEX has received contracts from
the U.S. government to develop armor materials for ground vehicles; carbon rocket nose cones;
pistons; and other high-temperature, high-stress engine parts all using 3-D woven composites.The
government isnt the only one that has caught on to the potential of 3TEXs technology. American
Technology Applications Knowledge (ATAK) Inc., San Jose, Calif., and Second Chance Body Armor Inc.,
Central Lake, Mich., the largest manufacturer of soft, concealable personal body armor in the U.S.,
are teaming up with 3TEXs Ballistic/Defense Development market segment to develop and design a wide
variety of ballistic and defense products. These products include police and military protective
gear, such as shields and barriers, helmets, body armor vests and combat vehicles.These markets are
all turning to composites as alternatives to steel, said 3TEX President and CEO, Brad Lienhart,
because it helps them lighten their loads, and expand their carrying capacity and the speed at
which they can move. Moving The Marine IndustryLightening up is particularly important to the
marine industry, because its always on the lookout for new ways to speed up boats, kayaks and
canoes. Sonic USA, a Hollywood, Fla.-based builder of performance power boats, has signed a
long-term deal to produce annually more than 200 26- to 85-foot-class boats using 3TEXs composite
products. Were very excited about the potential of building lighter, faster boats with 3TEX
preforms and new state-of-the-art vacuum infusion processes, said Richard Hewitt, owner, Sonic USA,
while not reducing boat safety or durability.3TEXs materials and composites have already been used
in the construction of a 45-foot Sonic USA racing boat for award-winning racer Byron Unger. Its
superior performance was proven at the New York State Poker Run 2001 race, when Unger won the
80-plus mile-per-hour class, as well as the Best Looking Boat award.A team of undergraduate and
graduate students at the Savannah College of Art and Design (SCAD), Savannah, Ga., have followed
suit with the design and construction of a 22-foot family sport boat. SCAD Professor Tom Gattiss
goal is to continue to use 3TEXs innovative materials and technology to create attractive,
low-maintenance boats that will outperform current boats. The SCAD boat will be on exhibit at the
Composites Fabricators Association (CFA) show in October.But boats arent the only ones picking up
speed with 3TEX composites. Confluence Watersports, Archdale, N.C., has turned to 3TEX to help it
design lighter, stronger, more durable kayaks and canoes. 3TEXs composite materials allow for the
design of a variety of shapes, which means the composite paddlesport can be suited for a wide range
of paddlers whether its a longer design for speed, or a shorter design for better mobility.
Regardless of length, the end result is a canoe or kayak that is easier to transport and capable of
withstanding harsh water conditions.Resins giant Reichhold, Research Triangle Park, N.C., has
joined forces with 3TEX to get in on the marine action as well. Together, the two companies have
developed a boat in the box program, in which Reichhold brings the resins and 3TEX offers the
preforms, to help marine manufacturers increase productivity and lower their overall manufacturing
costs per boat. 3TEX composites can be applied to paddles and helmets, as well as being used in
many other applications. Ramping Up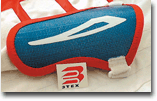 3TEX is already using its patented 3-D weaving technology to develop soccer shin guards for
sporting goods manufacturer Brine Inc., Milford, Mass. And the company is in talks with medical
research centers about using 3TEX composites in prostheses.The applications for 3TEXs technology
appear endless, and thats becoming evident in the companys revenue growth and the amount of
interest its generating with investors. The startup has secured $15 million in venture capital and
private placement. DB Capital Inc., an affiliate of Deutsche Bank AG, led 3TEXs most recent round
of funding. Lienhart expects sales to more than double in 2001, to approximately $10 million, and
in anticipation of increased demand for its composites, the more-than-50-employee company has
leased another 20,000-square-foot building in Rutherfordton. The company also hopes to identify a
location for a manufacturing facility in Europe by next year.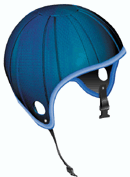 In May, 2001, 3TEX was featured in Fortune Magazine as one of a handful of textile companies
that are turning to technology and innovation to develop new high-performance products. This
development has turned the company from a dream into a thriving business. In years to come, others
will have to follow in the pioneering footsteps of this upstart if the U.S. textile industry is to
flourish in the new millennium.

October 2001