Toyota Industries Corp., Japan — manufacturer of textile machinery, automobiles, material handling
equipment, electronics and logistics solutions — and textile machinery manufacturer Trützschler
GmbH & Co. KG, Germany, have announced a cooperation to develop, manufacture and market combing
machines. The companies introduced the first jointly developed product, a prototype
Toyota-Trützschler TCO 12 combing machine, last month at ITMA Asia + CITME 2012 in Shanghai.
The new comber features Toyota's servo motor technology using individual motors to
synchronize operation of the combing element drives on both sides of the machine, thereby
minimizing torsion of the elements as well as machine vibration. The companies report the comber
produces sliver of improved quality owing to considerably reduced combing condition variance of the
eight comb heads.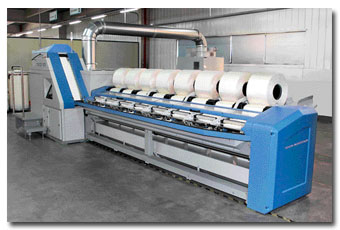 Toyota-Trützschler TCO 12 combing machine
The TCO 12 also features a new head stock with draw box and can changer designed by
Trützschler based on the company's know-how from building draw frames with individual drives and
featuring highly dynamic leveling. It also features Trützschler's Disc Monitor draw frame quality
sensor, which provides data to enable the machine's automatic self-optimization, and continually
monitors sliver count and corrects lap weight deviations as necessary.
July/August 2012