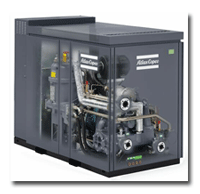 Atlas Copco's
Belgium-based Oil-free Air Division has developed the ZR 75-90 VSD-FF range of water-cooled,
oil-free rotary screw compressors, equipped with an integrated heat recovery system. The system,
which the company reports offers a payback period of less than six months, reclaims up to 94
percent of heat created by air compression and transforms it into a source of energy that can be
used to power other processes, such as heating water to be used in dyeing.
In addition to the heat recovery system, the new compressors also are equipped with variable
speed drive (VSD), and full feature (FF) integration of all production units including an
integrated MD adsorption dryer. According to the company, the VSD reduces energy consumption by up
to 35 percent by correlating air demand and supply: When air demand is minimal, supply frequency
from the frequency converter is reduced, reducing the motor's speed and compressor output. The VSD
also minimizes unload losses; prevents blow-off of compressed air; eliminates load/no load
transaction losses; ensures a tighter pressure band; and a reduced average working pressure.
The new range also is available without the VSD and FF options. All models in the new range
are housed in compact enclosures.

---

September/October 2007