Premier Pneumatics Inc., Salina, Kan., now offers the ProRate/Gravimetric Feeder for the handling
of plastic pellets and regrind. The machine comprises one to eight independently operating feeders
and a central microprocessor-based proprietary controller. The feeder is designed to provide
accurate, continuous measurement of raw materials into a central station hopper.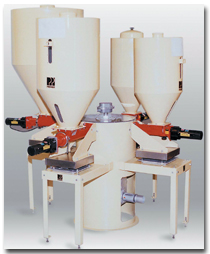 ProRate/Gravimetric Feederfrom Premier Pneumatics
The ProRate/Gravimetric Feeder features a production capacity of up to 80,000 pounds per hour
and easy recipe selection, storage and editing, according to the company. Inventory and usage data
may be displayed or sent to a printer.

February 2005