Electromatic Equipment Co. Inc., Cedarhurst, N.Y., has introduced the Checkline® LS Series of
high-intensity xenon linear stroboscopes, which it says is suitable for visual inspection of
labels, textile fabrics, nonwovens and other web-type products.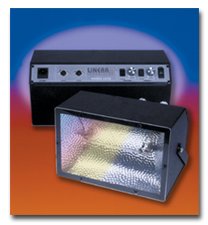 Electromatic Equipment's Checkline® LS Series linear stroboscope

The strobes feature a highly polished reflector, a rugged steel enclosure designed to
dissipate heat, and flash frequency ranging from 0 to 6,000 flashes per minute. Synchronization of
flash frequency to web speed may be accomplished automatically using an external sensor or manually
using a precision adjustment knob. Flash intensity also is adjustable manually or
automatically.Available in 10-inch and 15-inch models, the strobes inspect webs up to 36 inches
wide. Units may be combined to accommodate wider webs.

December 2004