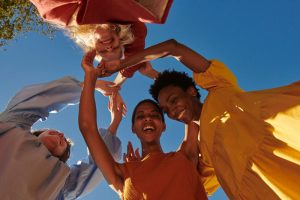 DUSSELDORF, Germany — September 26, 2023 — C&A published today its new sustainability report, which highlights the retailer's key achievements in 2022. In an era marked by complex environmental and social challenges, C&A remains committed to its ambitious 2028 Sustainability Strategy.
Through this report, C&A transparently shares the measures taken and steps made, highlighting achievements such as:
CO2 emissions decreased by nearly 32 percent compared to the 2018 baseline;
78 percent of core raw materials sourced more sustainably;
87 percent of factories conducted a verified SLCP assessment, versus 46 percent in 2021; and
Expansion of resale pilot project in Germany and launch of denim made from 100-percent recycled cotton.
"At C&A, our purpose is clear and guides us: we inspire you every day to look, feel and do good. Our ambitious 2028 Sustainability Strategy plays a big role in ensuring we are on course for a more sustainable future. The 2022 Sustainability Report shares both our successes and our challenges: it's about transparency, collaboration, and the willingness to inspire the industry and enable our customers to do good.", says CEO Giny Boer.
Navigating Environmental Challenges
The fashion industry is not on track to meet its climate targets and more progress is needed to reduce emissions in apparel supply chains. In 2022, C&A has reduced its GHG emissions by nearly 32 percent compared to baseline. As the fashion retailer evaluated its own science-based climate target, C&A decided to raise its ambition, convinced that further reducing environmental impact within its supply chain and own operations is critical.
Significant Sustainability Initiatives
C&A explores more sustainable materials, circular fashion, and combating plastic pollution. One of the ways to achieve this is to collaborate with startups and partners to increase the availability of next-generation materials and promote recycling. In 2022, 78 percent of C&A's core materials (cotton, polyester, and man-made cellulosic fibers) have been sourced more sustainably, aiming towards 100 percent by 2028.
C&A is committed to the circular economy and its principles, meaning integrating recycled materials, adapting product-design and testing and scaling viable circular business models such as second-hand stores. In 2022, 11% of all C&A products complied with these principles, paving the way for a targeted 70% in 2028. One cooperation on circularity is the pilot with the start-up traceless which uses bio-degradable materials for clothing hooks with the plans to scale this across C&A's operations.
Engaging with Workers and Customers
C&A is committed to workers' wellbeing and safety in its supply chain and promoting informed customer choices. An encouraging 87% of suppliers' factories underwent a verified Social & Labor Convergence Program assessment in 2022, nearly doubling the rate from the previous year (46 percent). Additionally, C&A adopted a new Human Rights and Equity Policy in 2022 as an overarching guideline for these closely intertwined areas.
To follow C&A's ambitious journey on sustainability and find comprehensive details and data on the measures taken, please visit C&A's sustainability report 2022 here: https://www.c-and-a.com/eu/en/corporate/company/sustainability/reporting.
Posted September 26, 2023
Source: C&A