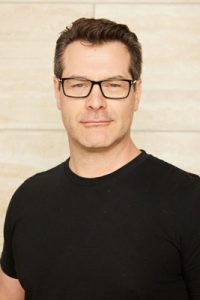 SAN FRANCISCO — July 24, 2023 — Gap Inc. today announced that it is appointing Chris Blakeslee as the new president and CEO of Athleta, joining the company August 7. In this role, Blakeslee will drive strategic growth for the portfolio's nearly $1.5 billion women's active and lifestyle brand, and certified B Corporation, building on the foundation of Athleta's product innovation and its mission to ignite a community of active, healthy, confident women and girls who empower each other to reach their true potential through the 'Power of She.'
Blakeslee brings broad expertise in the apparel retail and wholesale industries, holding roles across marketing, sales, product portfolio management, operations, and supply chain, serving most recently as president of sister companies Alo Yoga and Bella+Canvas since 2017. In that time, Alo Yoga grew to over $1 billion in sales in 2022, nearly doubling its year-over-year growth.
"A true brand champion, Chris is known for driving results in high-growth businesses through the blend of creativity and operational rigor," said Bob Martin, executive chairman and interim CEO, Gap Inc. "Chris is a strong, decisive leader and proven business driver across multiple industries, including active apparel and wellness — one of the fastest and most aspirational retail sectors — making him well suited to guide Athleta into long-term, sustainable growth rooted in delivering high-quality performance product and a rich omni shopping experience."
"I'm thrilled to join the Gap Inc. team and to lead Athleta — a brand I've long admired. I see incredible runway for the brand to capitalize on its unique, purpose-led positioning and performance product innovation, leveraging its assets across marketing, stores, product and community to deliver consistent growth," Blakeslee said. "There is something really captivating about the 'Power of She' when it comes to engaging women and girls in all aspects of life, and I can't wait to jump in with the teams to harness this in a way that will further serve customers' wants and needs."
Blakeslee joins a strong and dedicated Athleta leadership team, including Chief Creative Officer Julia Leach who was appointed in May to clearly and consistently articulate the brand voice and vision across all its touch points.
About Chris Blakeslee
Blakeslee most recently served as President of sister companies Alo Yoga and Bella+Canvas. Under Blakeslee's leadership, Alo Yoga focused on a fashion-forward approach to wellness, building community and brand awareness with high-profile influencers, as well as store and category expansion to drive growth. At the same time, Blakeslee led the expansion of premium apparel wholesaler Bella+Canvas into the retail space, offering customers direct access to product both online and in stores.
Prior to this, Blakeslee held several senior positions at Broder Brothers (now Alphabroder), a wholesale distributor of branded products and services. He began his career in industrial manufacturing and distribution. Blakeslee holds an MBA from Johns Hopkins University.
Posted: July 24, 2023
Source: Gap Inc.