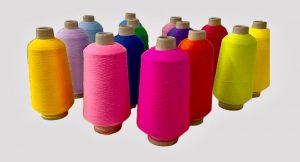 NEWARK, Del. — June 14, 2023 — Covation Biomaterials LLC (CovationBio), a global biomaterials company today announces its newest innovation in collaboration with Oscar Chandler & Co. Inc., a company with decades of experience serving mills in North and Central America. The collaboration delivers Sorona® polymer treated with a specialized dyeing process to the knitting world. Together, the teams will work to target new applications such as socks, sweaters, and tape fabrics to deliver a two-way and four-way stretch enabled by the Sorona polymer, which can be used as a spandex replacement in some applications.
This cooperation also combines the rich tradition of innovation from CovationBio with a long history of customer relationships that Oscar Chandler & Co. Inc., has demonstrated in the North and Central American regions.
Oscar Chandler & Co. Inc. will now offer a yarn that combines exceptional stretch and recovery, comfort, moisture management, luxurious drape, and a superior hand feel. Targeting their mill partners, this offering expands the future of sustainable textiles for use in casual fashion applications in the region, streamlining the method for dyeing Sorona polymer and reducing the processing time for colored stretch fabrics made with Sorona polymer.
Sorona polymer, made from 37 percent annually renewable plant-based ingredients, offers a high-performing, responsibly sourced material option. Fibers made with Sorona polymer are currently used in various apparel applications, including athleisure and athletic wear, insulation, swimwear, outerwear, suiting, faux fur, and more. Sorona polymer is a USDA Certified Biobased Product, has earned Class 1 certification as an OEKO-TEX® STANDARD 100 product and is bluesign approved.
"At Oscar Chandler & Co. Inc., we have a long history of bringing innovative yarns to the industry in North and Central America. We have dealt with both natural and synthetic fibers and are happy to add Sorona polymer to our portfolio. Our customers are always looking for new innovations that deliver clear value to the end user and we strongly believe that this offering is one where the end user will immediately be able to perceive its excellent value," added Sridhar Suddala, senior associate, Oscar Chandler & Co. Inc.
"Oscar Chandler & Co. Inc., stands for trust and commitment. We have been in this business for several decades and honestly, we have not seen anything like the Sorona polymer. We are excited to bring this yarn in dyed format to customers in North and Central America. We are confident the Sorona® polymer will be a breakthrough innovation in the Americas," said Mark Freedson, president, Oscar Chandler & Co. Inc.
"Garments containing monomaterial — or materials of the same kind — are a key growing trend in the textile industry globally. We are excited to work with the Oscar Chandler & Co. Inc., team and their network in North and Central America to be able to reach a wider range of mills," said Binita Bhuta, vice president, Sustainability and Marketing, CovationBio.
Posted: June 15, 2023
Source: Covation Biomaterials LLC