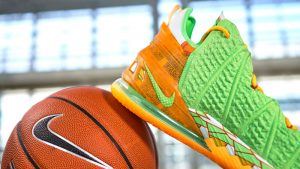 BEAVERTON, Ore. — March 4, 2021 — Florida A&M University Athletics announces a six-year partnership with NIKE Inc. to make Nike its official athletic footwear, apparel and equipment provider. Beginning July 1, 2021, Nike will supply Florida A&M Athletics with footwear, uniforms and apparel, extending a relationship that began more than 20 years ago.
The FAMU men and women's basketball teams will be outfitted in LeBron James signature-branded uniforms, apparel and footwear, including colorways designed specifically for the university.
"Nike has long supported Florida A&M Athletics, and I'm committed to lifting up HBCU's, so I was happy I rocked a pair of the PEs in-game and showcased a piece of what's to come for the men's and women's basketball programs," said James about the shoes he wore during his March 2 home game."
The partnership expands Nike's focus in deepening its relationships with HBCUs, working together with schools who share a long legacy in developing the next generation of global changemakers. NIKE Inc. will also support Florida A&M Athletics' student-athlete development programs, offer internships and coordinate networking opportunities for Florida A&M students.
"Florida A&M has a rich tradition of excellence on the court and field, which not only includes athletic success, but equally important in academics, preparation for future careers and community engagement," said Sonja Henning, Nike's vice president of League Partnerships for North America. "Through our continued relationship with Florida A&M Athletics, we'll have the opportunity to partner with some of the country's preeminent student-athletes and the next generation of leaders."
As part of Nike's commitment to diversity and inclusion, Nike increased its HBCU hires from 8 percent in 2019 to 18 percent in 2020 through new partnerships with organizations that include the National Black MBA Association and Reaching Out MBA.
Posted March 5, 2021
Source: NIKE Inc.