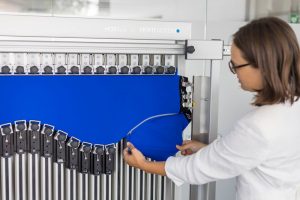 BÖNNIGHEIM, Germany — November 2, 2020 — In cooperation with partners, testing service provider Hohenstein has created the new DIN SPEC 4868, which will define the market standard and testing protocols for compression behaviour of sportswear.
Until now, there has been no uniform standard in the booming sports and leisure segment. Claims of textile compression properties could not be checked transparently and understandably. The DIN SPEC 4868 test method combined with the HOSYcan compression tester will enable objective comparison of products and materials and provide analytical performance data with regard to the desired properties.
Florian Girmond, the Hohenstein expert in charge of developing the new standard, is convinced of the opportunities it offers to the entire industry: "The objective and precise data obtained with HOSYcan will serve as the basis for innovative product development as well as for quality assurance and competitive comparisons."
In addition to the test scenarios defined in DIN SPEC 4868, HOSYcan can also be customised for special requirements and covers the entire range of products, from compression cuffs and socks to shapewear, for example, shirts, underwear and trousers.
Posted November 2, 2020
Source: Hohenstein