Interfilière recently made a visit to New York. Sponsored by Wichita, Kan.-based Invista and organized by France-based Eurovet, the show was well-attended and received. There were 21 exhibitors from around the world and a presentation of upcoming intimate apparel and swimwear looks.
TVB GmbH, Germany, a supplier of fine-gauge technical knits, showed functional, high-performance single jerseys and interlocks. A single jersey of 92-percent silk/8-percent LYCRA®, designed for lingerie and bodywear, was knitted on a circular, fine-gauge machine. There are cotton/spandex and nylon/spandex jerseys, bra-cup fabrics and super-micro polyester shiny shoulder-strap fabrics.
Tianhai Lace Co. Ltd. Inc., China, sells to manufacturers of swimwear and intimate apparel. Lycra BEAUTY is blended with nylon for swimwear.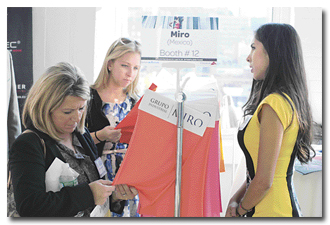 Interfilière exhibitor Grupo Industrial Miro showed its fabrics, which are made of U.S.-grown cotton and feature modal, rayon or polyester blended with LYCRA®.
Rosset, Brazil, knits all of its fabric in Brazil. Most of it is nylon/Lycra for lingerie, swimwear and athletic markets; or polyester/Lycra for special orders. One fabric moves in all directions. For swimwear, there are digital prints.
Italian knitter and printer Piave Maitex produces all of its fabrics in Italy. It has installed equipment for circular, warp and raschel knitting; and digital printing. Most of its fabrics are nylon/Lycra or cotton/Lycra. It offers metallic printing and manufactures engineered bands.
At Noyon, France, laces are woven in France and knits are made in Sri Lanka. Most of the line is nylon/ spandex. There are cotton, silk, wool and other natural fibers in the couture line. Narrow fabrics of 23 centimeters are available for intimates; and Chantilly lace, for couture.
Liebaert, Belgium, sells ultrafine knitted fabrics to the swim and intimate apparel markets. There are 50-gauge warp knits of nylon/Lycra that have a compact, woven look with a sheen; and digital and pigment prints and panel fabrics that have reinforced edges, thus eliminating the need to sew a hem.
Tricots and lightweight mesh in solids and prints are available at Darlington Fabrics Corp., part of The Moore Co., Westerly, R.I. The company sells to swimwear, performance and on-field athleticwear manufacturers. There are matte surfaces, metallics and neon shades. A 6-ounce matte tricot of nylon/spandex is its best seller.
Another U.S. firm, Elastic Fabrics of America Inc., Greensboro, N.C., sells warp and circular knits to manufacturers of intimates, swimwear, activewear, and medical textiles. Basic fabrics are made with nylon, polyester, cotton or rayon blended with spandex.
At Willy Hermann, Austria, a blend of MicroModal®, nylon and Lycra is selling for lingerie. There are dense, double-faced cotton/nylon/Lycra bra-cup fabrics that don't need lamination; men's underwear fabrics in gray, black, and white stripes; and MicroModal/Lycra scented fabrics. The scent lasts through 30 washings.
Grupo Industrial Miro, Mexico, spins, knits, dyes, prints and finishes its fabrics made of U.S.-grown cotton. Modal, rayon or polyester are blended with Lycra. Neon shades of turquoise, emerald and coral are best sellers. Customers include Target, Kohl's and Macy's.
Lingerie and swimwear trends for Spring/Summer 2015 were presented by Eurovet. Overall, there is a feeling of wellbeing. Although the first direction featured white, the season ahead will be colorful.
Heritage is seen in the trends, but it has an active look. There are seamless garments and microfibers. And corsets are back. There are a lot of lace, beading and prints. Fabrics can be airy, transparent and voluminous.
One trend features sumptuousness, with Venetian splendor and Gothic twists. There is a sexy look to garments dyed in black, burgundy and navy. Creature comforts are in a playful group that features bright colors. Look for reds and citrus shades, small prints and colorful solids. There is swimwear that is resistant to chlorine, and long-lasting fit with a lot of performance.
January/February 2014