Twice a year, international apparel textile trade shows open in New York City with news of what's
ahead in fashion. According to Jacques Brunel, managing director, Première Vision S.A., Paris, "the
market wants to see something new" — and there was a lot of it at the most recent shows. Première
Vision Preview, Texworld USA and Kingpins all showed innovation from fiber producer through to
fabric knitter and weaver.

Première Vision Preview


Fiber producer Mitsubishi Rayon Co. Ltd., Japan, a first-time exhibitor at Première Vision
Preview, introduced Miyabi, a micro acrylic fiber, to the United States. The fiber is ultralight,
anti-pilling and warm.


Newlife™, developed by Filatura di Saluzzo, Italy, is polyester made from plastic bottles
recycled using a mechanical process. Its production consumes 94-percent less water and 60-percent
less energy, and produces 32-percent fewer emissions than virgin polyester production. Available in
yarn counts of 25 to 2,000 decitex, Newlife yarns are found in a wide range of fabrics from major
Italian producers including E. Boselli & C. S.p.A., Frantissor Créations, Frizza S.p.A., and
Tessile Fiorentina Co. S.r.l.
Japanese textile machinery company Shima Seiki Manufacturing Ltd. presented its all-in-one
design workstation that will create fabric patterns, prints and colorways; simulate texture; scan
yarns; and drape fabrics onto photos
or illustrations of garments. The company also showed its WHOLEGARMENT® flat-knitting
machines and other products.
Several years ago, French fabric exhibitor Philea purchased Velcorex since 1828, an old
corduroy company that was about to fold. Now, both lines complement each other. Philea has
purchased Tissage des Chaumes, a French tweed producer that sells to Chanel and has been in
business since 1908 — because today, "there is a mix of luxury with casual in a creative way."
Summer tweeds have been reinterpreted: Some have glitter or are dyed in pastel and bright colors;
and there is a lot of white.
One popular fabric at Philea is a viscose satin-backed stretch that is enzyme-washed to give
it a casual look. Other fabrics include monotone, drapy romantic jacquards that look used. There
are flockings for texture, spots on linen knits, laminated lightweight fabrics and washed-down
whitened camouflage prints — and, for early winter 2014, an uncut stretch jacquard corduroy.
Esenteks Tekstil, Turkey, has breathable woven and knitted coated linens and metallic prints
that are shiny without feeling coated. Another Turkish company, BTD Tekstil, has summer tweeds with
small spots of metallic yarn or random thick-and-thin stripes. Its new pantweight double cloth
"fits like a girdle." Deveaux, France, has solid and jacquard slinky matte jerseys, irregular
ethnic jacquards and Aztec stripes.
High-tech at Frizza can be dimensional; coated with aluminum; color-washed; crinkled and
coated; or double-faced with a shiny, laminated side reversing to a washed, aged surface or high
gloss on indigo denim. Olmetex S.p.A., Italy, has ultralight coated cottons and double-sided coated
fabrics woven with recycled polyester.
Luxe looks include laces from Solstiss S.A.S., France, that are coated on one or both sides.
Coatings are slick and shiny or soft and rubbery. Denis et Fils, France, has stretch lamé in
countless colors. Another French firm, Goutarel S.A., has colorful flowers and stripes on silk
brocades. Carlo Pozzi & C., Italy, has sheer bubble-textured double cloths, stretch shantung
and one-color jacquards.
Printed fabrics at KBC, Germany; Liberty Art Fabrics, United Kingdom; and Sprintex S.A.S.,
France, range from small ditsy shirtings to large photographic flowers, big paisleys, ethnics,
tie-dyes and stained-glass windows.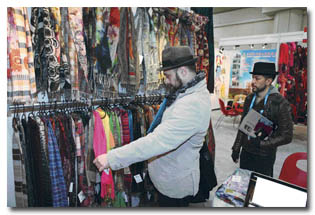 Texworld visitors view fabrics on display at Jain Shawls, an India-based manufacturer of
shawls, scarves, and home textiles.





Texworld USA


Cellulosic fiber producer Lenzing AG, Austria, showing at both Texworld and Kingpins,
presented a lot pertaining to the 20th anniversary of Tencel®. At Texworld, the company introduced
to the United States dope-dyed Lenzing Modal® COLOR, whose production uses 80-percent less energy
and 75-percent less water than conventionally dyed Modal.
Buhler Quality Yarns Corp., Jefferson, Ga., spinner of yarns made with Modal and Tencel as
well as Supima® cotton, noted that a lot of knitting is returning to the United States, especially
to California.
Three U.S. knitters showed novelty. Vernon, Calif.-based Mansfield Textiles Inc.'s knits
showed a lot of surface interest including not-so-neon stripes that sometimes are raised or
combined with waffles, as well as knitted denim. Laguna Fabrics, Los Angeles, has French terry
sweater knits with streaked stripes in cotton/polyester/linen blends, ultralight and soft jersey of
Micro Tencel, and a lot of neps and nubs. At Vernon, Calif.-based SAS Textiles, there are denim
looks, small bubble checks, French terries, jacquards and a lot of novelty stripes.
Miroglio Group, Italy, was at Première Vision Preview and Texworld. At Texworld, the company
showed prints and fabrics that are styled in Italy but made in China. Prints are classic, sweet or
sophisticated; and feature dots, paisleys, monotones, tile-type geometrics and stripes.
Textil Santanderina, Spain, exhibiting at Texworld and at Kingpins, showed denim with animal
and geometric digital prints, flocking and doublefaces in pale/neon color combos.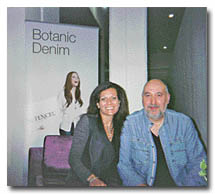 Lenzing AG's Tricia Carey, merchandising manager, and Michael Kininmonth, project manager
marketing apparel, Textile Fibers business unit, were on hand at Texworld and Kingpins to show
Lenzing's Tencel® and Modal® offerings.
In the Turkish Pavilion, Parlamis Tekstil sold dress shirtings, some with stretch. The range
includes crepes, chiffons, satins, prints and pleats. Kotonteks Tekstil showed stretch jacquards,
dobbies, and crinkles. There were animal skins, two-color flowers with dots, and small geometrics.
Hemp Fortex Industries Ltd., China, spins, weaves and knits organic cotton and hemp. Some
fabrics are blended with silk or LYCRA®. The line goes from basic poplins to light linen shirtings
and knitted stripes.
Labtex Co. Ltd., Taiwan, has knits and wovens that range from activewear, shirting and
uniform fabrics to novelty jacquards, crochet laces, French terry spotted with Lurex®, ribs, and
stripes. There are a lot of drirelease® fabrics.
At the Apparel Sourcing Pavilion, the National Association for the Sewn Products Industry
(SEAMS) and Panjiva specialize in sourcing. SEAMS, a not-for-profit organization based in Columbia,
S.C., supports the sewn products supply chain in the United States by providing networking
opportunities. If the Parks Department needs new uniforms, SEAMS will alert its 180 members, and
those interested may bid. New York City-based Panjiva is a subscription-based global organization.

Kingpins


With a focus on denim, Kingpins is the fastest-growing of the three shows and has the largest
number of fiber company exhibitors. This season, Lenzing joined the roster. With denim trends
moving to lighter weights, softer hand and stretch, Tencel and Modal are well-established. One of
the most interesting aspects of the Lenzing exhibit was to see the same denim fabric available in
two different garments — a long gown from Prada, available at Saks Fifth Avenue; and a blouse from
H&M.
Cotton Incorporated, Cary, N.C., focused on prints and finishing, showing 3-D digital prints
on jeans and T-shirts, delustered prints, washdowns and COOLTRANS™, a cold transfer printing
process from Shanghai-based Newtech Textile Development Co. Ltd. that is faster and cheaper than
digital printing. One new finishing treatment comprises thermal plastic resin coatings that can be
applied by spray or brush and heat pressure.
Invista, Wichita, Kan., developed three fashion trends, showing jeans made with its fibers in
each. In Fantasy, there are a lot of shine, prints and four-way stretch. Fabrics from Panther
Textiles Holding Co. Ltd., China; Artistic Denim Mills Ltd. (ADM), Pakistan; and Seazon, China, all
contained Lycra or Lycra T400®. Reality has authentic looks with performance stretch. One fabric,
from ADM, is woven of 65-percent TOUGH MAX™/35-percent Lycra T400. In the Harmony group, there are
jacquard denims and knit looks shown in fabrics from Prosperity Textile (HK) Ltd., Hong Kong;
Arvind Ltd., India; and Panther Textiles.
Denim producer Tavex Corp., Spain, is selling stretch and lighter weights for men and women.
Tavex's newest treatment for denim fabrics is called Waxfit, a resin with pigment that comes from
South American palm trees and is soft, breathable and when washed takes on an aged look.
Cone Denim, Greensboro, N.C., showed denim made with recycled denim, and luxury stretch denim
with a soft hand and Tencel/ rayon/cotton warp. Also new is back-coated and dyed denim; stripes are
up-and-coming.
March/April 2013