A

t New York City-based Pratt Institute's annual fashion show, designer Ralph Rucci
received the Pratt Institute Fashion Icon Award, presented annually to a recognized designer. Rucci
is the fourth designer to receive the award. Three senior students were named winners in an
eveningwear and bridal design competition funded through a competitive grant presented to Pratt by
the Importer Support Program of the Cotton Board and Cary, N.C.-based Cotton Incorporated, which
also were sponsors of the fashion show.
Introducing the show, Pratt Institute President Thomas F. Schutte noted that Pratt was the
first school in the United States to offer a degree in fashion. "Our seniors will soon depart for
the exhilarating world of fashion, but we are sure to see their names again as they progress in
their careers," he said.
Rucci, a native of Philadelphia, started his business, Chado Ralph Rucci, in 1994. In 2002,
he became the first American designer in 60 years to be invited by the Chambre Syndicale de la
Haute Couture to present his collection at the official showings in Paris. In accepting the Pratt
award, Rucci said clothes are an outward expression of the inner self.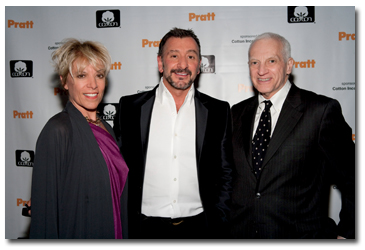 Left to right: Pratt Fashion Design Department Chair

Rosie DePasquale, 2009 Pratt Fashion Icon Award

Recipient Ralph Rucci, and Pratt President

Thomas F. Schutte share a moment at Pratt's annual

fashion show. Both photos by René Perez

Student Collections Shown On The Runway


Rosie DePasquale, chair of Pratt's Department of Fashion Design, commented: "This year's
student collections are at extremes. Some chose to reflect the economic times with layered,
multi-seasonal looks, while others designed with a more experimental, avant-garde approach."
Fashions created by more than 16 fashion design students went down the runway. All designs
were preselected by a jury of fashion industry professionals. Collections ranged from sportswear
and eveningwear to children's wear and costume design. The show ended traditionally with
bridal.
The design competition, now in its third year, challenges students to think beyond
traditional boundaries. Requirements were to create evening or bridal fashions – designs usually
created in silk or viscose chiffons, organzas, taffetas and satins – in fabrics containing at least
98-percent cotton.
The First Prize winner, John Renaud of Midland, Texas, was awarded $5,000. He created a black
sateen cocktail ensemble with a low-cut, long, tucked and fitted jacket and matching ball-shaped
pants. Second-place winner Sarah Friedlander of Akron, Ohio, was awarded $1,500. She used
cotton organdy for a cream-colored empire-waist bridal gown with pleated bust and hem detail.
Ashley Piacenza of Hope Valley, R.I., received a prize of $1,000 for her flower petal-like peach
organdy short bridal gown.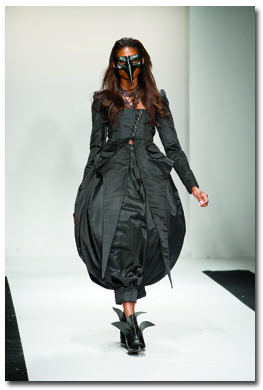 This black sateen cocktail ensemble

by 2009 Pratt graduate John Renaud

won First Prize in the eveningwear

and bridal design competition.


July/August 2009