T

hree juniors at The Fashion School of Kent State University, Kent, Ohio, were awarded
prizes at this year's RadiciSpandex "Stretch to the Future" Design Competition. Fashion designer
Marc Bouwer was this year's honorary judge.
Established nine years ago, the Radici competition was created to educate students about
designing apparel using fabrics containing spandex.
The awards ceremony was held at the Italian Trade Commission's town house in New York City.
Luciano Radici, regional director, Americas, for the Italy-based Radici Group, the parent company
of Gastonia, N.C.-based RadiciSpandex Corp., presented the crystal Stretch to the Future Award to
Bouwer.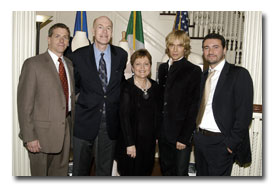 Left to right: Marty Moran, Barry Ross, Dr. Elizabeth Rhodes, Marc Bouwer and Luciano
Radici
Marty Moran, RadiciSpandex CEO, gave awards to the three student winners. Jenni Smas,
who designed a floor-length evening gown molded and draped in fabrics provided by Spartanburg-based
Milliken & Company, took the Grand Prize along with the Eveningwear Award. Andrew Spargo
received the Swimwear Award for a black one-piece swimsuit and cover-up designed in fabrics
provided by Darlington Fabrics and Sextet Fabrics. The Lingerie Award went to Sydney Sustarsic, who
used fabrics from Milliken and Startex. The Underfashion Club co-sponsored the lingerie prize.
Dr. Elizabeth Rhodes, director of The Fashion School at Kent State, noted that this year, 18
students entered the Radici Stretch to the Future Design Competition. In addition to its Ohio
campus, The Fashion School has outpost studios in Florence, Italy, and in New York City. The New
York studio is located in the garment district. Design students have the opportunity to study for
one semester at either location.
Along with fabrics from Milliken, Darlington, Sextet and Startex, fabrics containing Radici
spandex fibers were donated for the competition by Brookwood Cos., Charbert Fabrics, Guilford
Performance Textiles, McMurray Fabrics and Symphony Fabrics. All are US-based companies.
Judging was held earlier this year at the school's New York location. In addition to Bouwer,
the judging panel included Kim Hall, marketing manager for Fashion Apparel, RadiciSpandex Corp.;
Deborah Batcha, vice president, merchandising, Lunaire; Virginia Borland,

Textile World
's New York correspondent; David Burnett, vice president, merchandising, InGear Swimwear;
Howard Ellis, vice president, Symphony Fabrics; Kristen Kramer, senior vice president, bra launch
and product development, Victoria's Secret; Camila Perez, swimwear designer, Leonisa; Danielle
Potito, associate fashion editor, Life & Style Weekly; Norman Szychter, raw materials manager,
The Limited; Claudia Velasquez Olarte, lingerie designer, Leonisa; and David Wolfe, creative
director, The Doneger Group.
July/August 2008