S

ix textile trade shows held recently in New York City focused on the Spring 2009 season.
Although each show had its own viewpoint, there was commonality. Sustainability is a prominent
topic. Bold colors, prints, shine and fluid fabrics are in demand, and technology advances offer
new performance fabrics and finishes.

Direction And PrintSource

Exhibitors at Direction and PrintSource, two surface design shows, agree that print design
is overtaking application treatment. Enormous flowers, ikats, global ethnics and unique stripes are
the news.
Florals at New York City-based Tom Cody Design were romantic, bohemian, whimsical, exploding
and graphic. There were spontaneous, bursting blooms; washy flowers that look like warp prints;
bold, outlined flowers with striped petals or dotty stems; exuberant, brightly colored pop art
forms; and countless other garden varieties.
Along with flowers, animal-skin and tree prints turned up at The Style Council, New York
City. Go Green is a strong story. London-based Mirjam Rouden showed large nature-inspired prints
and striped geometrics. There were blurred ikat effects and African ethnics at Catherine B.
Designs, New York City. Sylvie Jessua Creations, France, specializes in geometric and floral
all-overs, and her prints evolve from her own artwork.
A special section at Direction was devoted to sustainability. Exhibitors included the
Netherlands-based Rubia Pigmenta Naturalia, growers and producers of natural dyes; Earth Pledge,
New York City, which offers information and assistance in providing and using eco-friendly
products; and Green Textile, Spartanburg, a circular and warp knitter of organic cotton and
recycled polyester.
Many of the PrintSource exhibitors specialize in childrenswear prints. Purplethum Design,
New York City, showed T-shirt graphics with environmental themes. Whimsy, Pop Art and ikats were in
evidence at New York City-based Splash Ltd., representing global studios. Fresh Squeezed Designs,
New York City, has a collection of bright fruit and heart designs. Australia-based Little Design
Horse is into stenciled and graffiti florals, textured graphics, and folkloric and scenic
conversationals.

Prefab And Kingpins

Technology, innovation and sustainability turned up at two smaller shows, Prefab and
Kingpins. Produced by Phoenix-based Supima®, Prefab features global high-end users of Supima
cotton. Buhler Quality Yarns Corp., Jefferson, Ga., introduced a new yarn spun using Supima and
Outlast® viscose. Orwigsburg, Pa.-based FesslerUSA, another Prefab exhibitor, is developing a range
of knitted products using the Buhler yarn. Fessler has been producing fine-gauge knits for more
than 100 years and recently opened a new facility with 50 additional circular knitting machines.
Dow Fiber Solutions, Midland, Mich., exhibiting at Prefab and a cosponsor of Kingpins,
launched a new product with Arvind Mills Ltd., India. Called Indiego, it is a sheer voile woven
with a high twist Supima cotton/XLA yarn. The fabric has been given an indigo wash and has a dry,
crisp hand.
Zhonghe Group, China, is blending Supima cotton with wool and XLA for a collection of
pant-weight fabrics. Design-Knit Inc., Los Angeles, has a collection of fine jerseys, ribs, French
terries and thermal knits in blends of Supima with bamboo, wool or cashmere. Many of its fabrics
are finished for garment dyeing.
Denim shown at Kingpins goes from fiber to mill to dyeing and finishing. There was a lot of
interest in ecology at all levels.
Bayer Crop Science LP, Research Triangle Park, N.C., is working with Kurabo Industries Ltd.,
Japan, to develop fabric made with FiberMax® Cotton™, an extra-long-staple cotton that imparts a
luxurious, silky hand to fabrics. KITM, a vertical mill involved in sportswear fabrics, uses
natural dyes from Japan. Germany-based DyStar was at Kingpins to promote eco-friendly chemistry for
processing denim.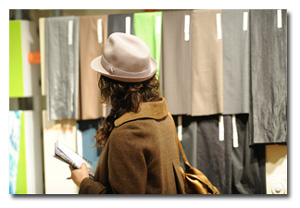 Première Vision Preview highlighted fabrics from global companies.



Première Vision Preview And Texworld USA

Première Vision Preview and Texworld USA showed advanced collections for Spring 2009.
Texworld exhibitors are primarily from Asia. Première Vision represents global innovators and
creators.
Austria-based Lenzing Fibers highlighted ecology and denim. Botanic Principles was one
theme, taking Tencel® from its eucalyptus tree origins through its chemical-free production
process. Authentic jeanswear stressed the natural origins of denim woven with a cotton
warp/Tencel/Lycra® filling and the luxurious hand, comfort and performance.
Handseltex Industrial Corp., Taiwan, showed opaque/sheer jacquards, soft single-knits and
suitings. Along with Tencel, fabrics contained bamboo, Supima, Coolmax® and polyester. Some are
heathered, and others are foil-printed. SFT Inc., South Korea, uses organic cotton, Tencel, SeaCell
and recycled polyester in its line of eco-friendly circular knits. Screen and digital prints have a
botanic theme, tribal influence or abstract design. Along with Tencel, organic cotton, bamboo, and
recycled polyester, Young Textile Co., South Korea, is using metal to create memory fabrics for
sportswear and outerwear. Some are brushed or lightly coated. All of the above were shown in the
Lenzing Innovation sector.
According to Ron Sheridan, agent for Chanitex Co. Ltd., Taiwan, polyester/rayon/spandex
ponte di Roma knits are its number-one sellers. The knits are going into dresses and jackets in a
variety of weights. Major European customers are H&M, Mango and Marks & Spencer. "It is not
uncommon," said Sheridan, "for a US buyer to come to us with a garment, purchased in Europe, made
in one our fabrics, asking if we can knock off the fabric!"
Alok Industries Ltd., an India-based vertical spinner, weaver and finisher, certifies
organic cotton through every step of production. Linen fabrics at HLC Linen & Cotton Group,
China, range from sheer to heavy burlap, and include indigo dyes, pigment prints, chintz finishes,
jacquards and foil prints.
There was a lot of innovation in sportswear and outerwear fabrics at Première Vision
Preview. Denim producer Tejidos Royo, Spain, has denim with a leather touch, color-mix denim that
washes down to different shades, white denim and vintage looks. Olmetex S.p.A., Italy, introduced a
new rainwear fabric that is tightly woven with highly twisted, long-staple cotton yarn. The water
repellency comes from the yarn and weave. Lamination and shine are selling at Picchi, also based in
Italy.
Warp prints on jacquards and enormous, dramatic roses printed on satin were pointed out at
Reynaud Rexo, France. Italy-based Erica Industria Tessile S.p.A. showed big, bold, blurred
floral prints; watery and romantic flowers; and North African ethnics in dark and bright colors.
Cotton crepon, silk chiffon and knits are popular print base cloths at Miroglio S.p.A., Italy.
Flowers, skins and swirling circles are early sellers.
Crinkles, luster, and bright colors were pointed out by France-based Billon Crea'lys. There
are clean red/white or black/white checks, jacquards with a touch of Lurex®, and novelty stripes
that zig or undulate; or are tonal, graduated or foil printed.
Philippe Pasquet, CEO of Première Vision S.A., noted that despite the difficult economy and
dollar/euro exchange rate, fashion is selling. Apparel producers are looking for creativity and
innovation in fabrics to give distinction to their lines. Regarding the environment, he warned that
we must be honest. Fabrics that contain 3-percent organic cotton and are dyed and finished with
caustic solutions should not be labeled eco-friendly.
---

Dow Fiber Solutions Presents Spring/Summer 2009 Trends

At a recent meeting at Dow Fiber Solution's New York City office, Bengt Jacobsson, color and
fabric trend consultant for Dow, showed new directions for Spring/Summer 2009. Fabrics developed by
Jacobsson and his team, all containing Dow XLA™ stretch fiber and made by Dow customers, will be
available in upcoming lines. Separate forecasts were given for ready-to-wear and swimwear.
Ready-to-wear trends are organized into four themes and illustrate the fusion of ecology and
technology. Colors in the first group, Gardens of Life, include rose pinks, beeswax yellow, olive,
white and ecru. There are soft, sensual fabrics in blends of XLA with natural fibers. A light and
lustrous rose-patterned jacquard from Sfate et Combier S.A., France, is woven of
cotton/silk/SeaCell/XLA, herbarium prints turn up on silky stretch georgette. There is a slubbed
featherweight linen/XLA knit from Italy-based Loro Piana S.p.A. that has a dry hand.
Solid Ground colors and fabrics are structured and have an architectural feeling. Colors are
steel, asphalt, concrete, adobe, sandstone and cement, with shadows of pink. The looks are clean,
spare and urban. There are liquid satins, dense crepes, silky sheer georgettes, paving-stone
prints, ultralight constructed suitings and metallic knits from Switzerland-based Greuter Jersey
AG; Tissage des Roziers and Texcil, both based in France.
The Infinity group is based on air and water. Colors are vaporous and aquatic blues and
greens. Fabrics can be ethereal, airy and light; or liquid and flowing. There are fluid and sheer
silk blends with subtle lustered surfaces, wavy satin stripes, washed preppy shirtings, bleached
indigo chambrays and denims, rippling seersuckers, and terry knits. Resources include France-based
Bugis Jersey, India-based Arvind Mills Ltd., Taiwan-based Ruentex, and France-based Siat &
Lang.
Body Beautiful colors are energetic or calming. There are cosmetic shades of peaches and
cream; vitamin C lemon and orange; cool white; aqua; and a soft mid-blue shade. There are
low-impact athleticwear fabrics in this range. Some are bonded and double-faced; others are sheer
and lustered. Piqués, ottomans, cloques, geometric patterns, and velvet-touch fabrics are some of
the news.
Swimwear colors are bright, sun-baked and lush. There are a lot of orange shades that are
golden, radiant and sunny. They go from coral, apricot and salmon to amber. Reds range from bright
lipstick to mahogany. Greens tend to yellow-cast shades, and blues are greened teals and aquas.
Rich plums and lilacs, white, gray and tan are other shades. There are tonal stripes and bandings,
color blocking and bold-contrast combinations.
Jacobsson pointed out that stretch swimwear fabrics made with Dow XLA are resistant to
damage from salt water, chlorine, perspiration sun lotions and oils.
---

Body Fashion And

Activewear Trends From Nilit

Israel-based nylon producer Nilit Ltd. has introduced new color, fabric and fashion trends
for its family of fibers. Recently Nilit acquired the licenses to Tactel®, Supplex® and Cordura®,
all registered trademarks of Invista, Wichita, Kan. Added to its group of nylons, Nilit is showing
collections created by Ilana Joselowitz for intimate apparel and activewear markets. Many of her
concepts will be in Fall/Winter 2009-10 lines of major brands. Along with fashion appeal,
Joselowitz points out comfort and performance. Most of the prototype garments have been made using
seamless equipment.
There are three color and fashion stories each for body fashion and activewear. The focus of
the first body fashion group, The Nature of Things, is the environment. Colors are natural with an
organic quality. There are shades of white, chalk and alabaster, along with peach, lavender and
moss. Botanically inspired prints and jacquards of swirling leaves turn up on fine-gauge jersey.
Eyelets and lacy looks, ribs and raised surfaces and trimmings with a handmade look give this group
a vintage quality. There are camisoles and bodywear styles with floral insets combined with mesh
panels. Cotton-touch fabrics are knitted using Nilit® Arafelle yarn plated with spandex-covered
Nilit Bodyfresh.
There is a dramatic cabaret look to the Showtime story. Black and white are accented with
intense shades of crimson, shocking pink, purple and absinthe. Retro-cut corsets and push-ups are
trimmed with frills, flounces and bows. Satin is the fabric of choice. Transparency and matte/shine
combinations are created using Nilit Britex with spandex-covered Nilit Eversheer.
Science Fiction is a futuristic trend. Colors are airy, light blues, greens and purples
harmonizing with mother of pearl and misted gray. Fabrics are ultralight and fluid. Joselowitz
describes them as feeling like a second skin. There is diaphanous tulle, fine voile and transparent
mesh. Garments are body-hugging and weightless. Shapewear is contemporary with a retro flair in
satin/sheer fabrics made with Nilit Britex yarns.
There is a layer of protection to go with comfort and performance in the activewear
collections. Get Fit activewear for women provides freedom of movement with the use of anatomical
cuts and textured panels for support. Colors are vivid and tangy, with black and white accents for
added punch. Garments are layered, and provide anti-bacterial protection and wick moisture.
Soft-touch fabrics in deep colors are achieved using Nilit® Microsilk Full-Dull yarns with
spandex-covered Nilit Pastelle.
Challenge encompasses high-performance activewear such as apparel for cycling, running and
mountain climbing. Fabrics are created for support and flexibility. They are breathable, and
provide moisture management and maximum mobility. Garments are cut with body-shaping panels, placed
compression zones, structured insets, multipurpose layers and outer shells.
Outdoor Action is designed for high-impact activities such as hiking and skiing. Fabrics and
garments are fashionable and functional. Design focuses on safety and protection, with protective
knee and elbow patches and support panels. Sharp, bright colors combine with heather and charcoal
gray. Black is splashed with one bold shade, and dark/bright tonal contrast creates a patchwork of
effects.
March/April 2008