W

hen the French landed in New York City six years ago with European Preview – an
exposition of quality fabrics from leading European mills – buyers and sellers of apparel fabrics
took note. It was "un succes incroyable," an incredible success. The rest of the world immediately
followed suit, with separate New York events for textiles from Italy, Turkey and Asia. Today these
shows – which include the Turkish Fashion Fabric Exhibition (TFFE), TexWorld USA, Innovation Asia,
Direction and PrintSource New York, in addition to Premiere Vision Preview New York – have
refocused, consolidated and expanded. Exhibitors at each show are looking for ways to gain a
foothold in the lucrative American market.
Premi Vision Preview New York is the new name for European Preview. Along with fabrics from
European Union countries, Turkish and Japanese fabrics were on view at the most recent event. Held
recently at the adjoining Metropolitan Pavilion and Altman Building, it was a full house with 150
exhibitors. Attendance was up 8.5 percent over 2005. Daniel Faure, chairman and CEO of Premi
Vision, said, "There is more confidence in business today than there was a year ago. "
Italian fabric companies have integrated with Premier Vision Preview and represented the
largest group of exhibitors, with 59. Fifteen former exhibitors from TFFE also joined the Premi
Vision Preview group. As a result, this years TFFE was a smaller show, and attendance was light.
Rumor has it the remaining TFFE exhibitors may join Texworld USA in January 2007.
A first-time venture, Texworld USA was held at the Hotel Pennsylvania and Penn Plaza Pavilion
with 157 exhibitors from 18 countries, primarily in Asia. This show is a joint venture produced by
Messe Frankfurt Inc. in concert with Lenzing AG, Austria. Innovation Asia, a small show of Asian
mills, is now part of Texworld USA.
Exhibitors at two surface design shows, Direction and PrintSource New York, report most of
their buyers are retailers, brands and apparel designers. At one time they were converters. Studios
exhibiting at these shows frequently work with global customers to color and scale patterns. With
sophisticated computer equipment, design work can cross continents in a matter of seconds.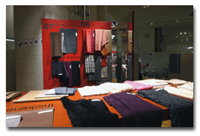 Fall/Winter 2007-08 trends from Premiere Vision New York


Luxe Woolens


Creativity and innovation at Première Vision Preview are boundless. This show caters to better
markets looking for something special.
One of the most crowded booths was France-based Masters of Linen — the promotion arm of the
European Flax and Hemp Confederation. A thickly napped fabric called Cashlin from Michele Solbiati
Sasil S.p.A., Italy, caught buyers' attention. It is a blend of 63-percent cashmere and 37-percent
linen. The linen yarns are double-twisted. The fabric is 350 grams per square meter (g/m2), and has
a supple, warm, dry hand.
Other popular fall fabrics at Masters of Linen are from John England (Textiles) Ltd.,
Northern Ireland, and Italy-based Ratti S.p.A.'s Braghenti Division. One from John England is woven
of 57-percent linen/43-percent wool and washed at a high temperature to give it a crinkled effect.
A Braghenti fabric of special interest is a double-faced, yarn-dyed plaid velour woven of
100-percent linen.
Elegant wool suitings from Italy-based Lanerie Luigi Boggio Casero S.r.l. are woven with
ultrafine compact yarns. There are subtle surface effects, mini patterns and shadowy tweeds. There
are clean, double-faced jacketweights, mohair crepes with a dry hand, almost invisible pinstripes,
seersucker surfaces and checks in dark gray/black colors.
Along with classic plaids woven with mohair, Lanficio Lamberto, Italy, showed cotton/metal
memory cloths and pleated double cloths that are joined with appliqués and embroidery. Picchi
S.p.A., Italy, combines classic with ultramodern. There are shaggy wools that resemble fur, tucked
herringbone tweeds with subtle spots of color, checked tweeds woven with thick and thin yarns,
laser-cut patterns and paisley designs on crinkled surfaces. New this season are silk chiffons.
Some are flocked with narrow velvet stripes.
"Anglo-mania" is how Italy-based Angelo Vasino S.p.A. described its tartan group. Fabrics are
ultralight with mohair relief patterns. Metal, especially gold, is another look. It is used
discreetly in classic patterns such as herringbones that are woven in blends of wool/viscose/metal.
High-twist crepes with mini designs are splashed with small spots of a color.
At two British woolen mills, Anglo is updated. England-based Abraham Moon and Sons Ltd. is
showing tweeds in misted colors of the Scottish Highlands. Blurred olives, aged yellows, grays and
browns predominate. There are chunky patterns and classic chalk stripes. At Neill Johnstone Ltd.,
Scotland, the look is subtle and elegant. There are soft gray/black mohair bouclés with a hint of
glitter, diamond-patterned jacquards in black/beige/gold, checks woven with twisted yarns and
randomly colored nubs, shadow tweeds woven with mélange yarns, and double-faced coatings in
wool/angora that are ultralight, thick and warm.
There is faint surface interest in the woolen line shown at France-based Isoule Textile.
Traditional Chanel tweeds are of less interest. Yarn-dyed plaids are hairy, crinkled or washed; or
have low-relief textures. Black/gray/olive color combinations were pointed out, and there was
discreet shine.
Along with luxury, Wilhelm Becker GmbH, Germany, is showing performance. There are
water-repellent wool/silk/nylon coating fabrics. A double-faced stretch fabric reverses from
100-percent wool herringbone to brushed cotton/Lycra®. There are worsted wool corduroy, 100-percent
wool stretch and silky finished wool fabrics woven with compact yarns.
Ultrafine 105-g/m2 wool georgette at The Japan Wool Textile Co. Ltd. (Nikke), Japan, has a
silky touch. A double-sided, loden-type fabric weighs in at 400 g/m2. In between, there are
small-patterned jacquards and wool/angora herringbones.

Classic And Casual

Turkish woolen mills showed quality classics in wool blends. At BTD Textile Group, there are
washable crepes and flannels of polyester/wool/spandex. One popular fabric is a
polyester/viscose/spandex flannel that has a wool look and touch. Traditional checks and stripes at
Yünsa Yunlu Sanayi ve Ticaret A.S. are woven in wool-rich blends; many contain cashmere and silk.
Another Turkish vertical, Bossa, is focusing on yarn development and finishing. Much of what
it showed was for early fall. There are cotton/wool blends woven with twisted or flammé yarns.
Finishes range from clean and calendered to flannel, brushed, milled, crinkled or distressed.
H. Hecking Söhne GmbH & Co. KG, the only denim weaver in Germany, reported light weights,
bi-stretch and black dyed denim that turns faded gray after washing are popular.
At Spain-based Tejidos Royo, cleaner looks are selling. Premium denim is woven with dyed weft
yarns, and the fabrics are over dyed and brushed. The color holds, and the look is more formal.
Stretch and sueded finishes were pointed out.
Italy-based Olmetex S.p.A. has memory cloths, washable wax finishes and classic plaid double
cloths.
Three France-based companies showed elegant casual looks. Philea Textil is into metal and
vintage. There are crushed voiles, satins, jacquards and double-faced fabrics. Fabien Doligez gives
an antique look to fabrics with subtle touches of tarnished Lurex®. Jacquards coordinate with
satins, taffetas and silk chiffons. There is polyester that has the hand of metallic memory cloths.
Reynaud Rexo sells to the eveningwear trade, showing dark colors spiked with a touch of metal.
There are tonal and matte/shine jacquards, iridescent taffetas and dimensional stripes.
With the return of the dress, prints on stretch jersey, cotton voile, viscose crepe, silk
satin and chiffon are selling. Spain-based Pasarela Textil S.A. has small gray and black
geometrics; some are highlighted with a splash of red. There are small box and mosaic patterns.
Italy-based Miroglio Group has an early group of mini-scaled black/white/gray geometrics, some of
which have a hint of metal. And, it was pointed out, animal skin patterns are still hot. Along with
prints, Confetti Tekstil Pazarlama A.S., Turkey, has yarn dyes with eyelash stripes on stretch
twill and crinkled shirtings.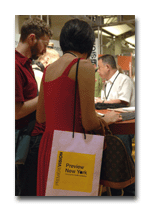 Premiere Vision Preview New York visitors view trend displays at the show.



TFFE


Last year, textile exports from Turkey to the United States totaled $450 million. Along with
twice-a-year TFFE shows in New York, London is another venue, and next year exhibitions will be
held in Milan.
At Kipas Textile Group the trends are to light weights, dark colors and stretch. Faded
7.5-ounce denim was pointed out. Along with stretch suitings at Almodo Altunlar Tekstil San ve Tic
A.S., there are classic checks with elastic puckers, matte/sheen jacquards and tweed looks. Cotton/
wool/polyester fabrics with a vintage appearance are soft and warm at Abaci Tekstil. There are
micro-patterned dobbies and shaded patterns that have a patchwork appearance.
Guny Mensucat showed wool-blend stretch flannels, pinstripes and herringbones. Patterns are
classic and subtly colored. At Urgurteks/Akugur Textile, yarn-dyed bottomweights are overprinted.
There are glen checks and herringbones with blotchy flowers.



Texworld USA

At a press conference held at the inaugural edition of Texworld USA, it was announced
that this show will come to New York City twice a year for winter and summer editions. The next
event will take place Jan. 23-25, 2007, with fabrics for Spring/Summer 2008. This will precede
Texworld Paris by several weeks. Next year, Texworld will move its Paris show to a space in Le
Bourget, a location close to Villepinte, where Première Vision takes place.
China-based Zhonghe Group recently opened a New York City office. June Lauck, director, sales
and marketing, noted this company has the capacity to produce 10 million yards of fabric a month
with 70 percent going for export. The focus is on finishing and quality. Cotton is the basis of the
group's line. It is blended with bamboo, cashmere, wool, metal, spandex and man-made fibers. There
is a wide range of finishes, including coating, bonding, microsanding, Airo®, wrinkle- and
water-repellent, Teflon®, Nano-Tex™, antibacterial, and ultraviolet-resistant. For fall, Lauck
pointed out a group of velvets and corduroys.
Hironen Co. Ltd., Japan, showed suiting weights in blends of polyester/triacetate and Ojo, a
yarn that is made from paper. Satins and crepes were of special interest. Taiwan-based Li Peng
Enterprise Co. Ltd. showed ultralight fabrics woven and knitted of polyester/Lycra. Crushed and
crinkled surfaces, novelty stripes and weave effects were sampling. India-based Siyaram Silk Mills
Ltd. has suiting weights woven in polyester/rayon blends that have a wool touch. Some contain
Lycra.
Embossed, sueded and quilted fabrics were highlights at Taiwan-based De Licacy Industrial Co.
Ltd. There are woven polyester/bamboo/charcoal antibacterial fabrics, stretch shirtings in
cotton/Dow XLA™ blends and Nano-Tex treatments.
China-based Mozartex Co. Ltd. specializes in using Tencel®, which is frequently blended with
silk or linen. The company's focus is casualwear, with fabrics ranging from shirtings to moleskin
and corduroy.
Israel-based fabric producer Polgat Textiles Co. (1960) Ltd. showed luxury-blend suiting
weights in classic and refined rustic weaves. Compact flannel in wool/Lycra, micro-designs with
subtle shine in wool/silk, fine cavalry twills and color-flecked retro tweeds are some of the
highlights. Fabrics woven with twisted yarns, stretch and washable wool-blend suitings are in
demand.

Surface Design


Original collections at Direction and PrintSource New York focus on patterns for prints, yarn
dyes, jacquards, dobbies, knits, appliqués and embroidery. Exhibitors are globally based, with many
representing studios from Europe, Asia and South America. There was a time when designs were shown
on paper. Today, fabric is the base, often cut to suggest a garment.
N'Ketiah, a designer from Ghana who is now based in New Jersey, showed ideas for menswear.
Batiks, paisleys and line-drawn florals are among the popular looks.
HB Brewster from London pointed out blocks of color with a modern art look, playboy graphics
in dark colors, flowers printed over geometrics, and a lot of plaids and checks.
Tom Cody Design, based in New York City with an office in London, had fabrics inspired by
Charles Rennie Mackintosh, creating a modern arts and crafts look. Textural no-print prints; small,
ditsy designs; and tartans are among the ideas.
At New York City-based Marilyn Kern Textile Designs Inc. there are bicolored animal skins,
borders, no-print prints and sophisticated conversationals. Spotty animal skins on the diagonal and
in borders, graphic leaves, and small geometrics are some of the designs at Nancy Parker of London.
New York City-based European Textile Collection has tonal silhouetted florals, printed lace
looks, plaids and amusing conversationals. There is a rich feeling to quilted designs, embroidery
and sequin patterns at David Lee of London.
England-based ChromaShare and Precision Textile Color (PTC) Inc., Brockton, Mass., have
joined forces to collaborate on design and also to present an Internet color library. Using
ChromaShare Internet-based software and PTC's color browser, users can select custom colors and
develop recipes. The software is calibrated to give the exact shades in separate locations around
the globe.
The next Direction and PrintSource
New York will be held Jan. 16-18, 2007; Texworld USA, Jan. 23-25, 2007; and Première Vision Preview
New York, Jan. 24-25, 2007.

September/October 2006