I

n a global marketplace, trade shows increasingly take on the roles of resource centers
and trend-information-gathering places for buyers and sellers. "If I'm not here, it's not the
customer I will lose; it's the customer I will not get," said one exhibitor at a recent show. Along
with exposure, shows can give customers and vendors trend ideas for upcoming collections.
Fall 2007 trends will begin showing in mid-July in New York City at Première Vision Preview
New York — formerly named European Preview — a show presenting fabrics from approximately 150 major
European textile companies. Turkish Fashion Fabric Exhibition (TFFE), with about 50 exhibitors,
takes place during the same week. Also, Frankfurt-based Messe Frankfurt GmbH, producers of TexWorld
in Paris, announced a new joint venture with Austria-based fiber producer Lenzing AG. The
Innovation Asia New York show, successfully produced by Lenzing for the past five years, will be
integrated into Texworld USA, to be held July 11-13. Approximately 135 exhibitors from around the
world are anticipated. Following these events, two surface design shows — Direction and PrintSource
New York — will take place in early August.
Textile trade shows move to Paris in September for Première Vision Pluriel and TexWorld.
Première Vision Pluriel comprises five separate events all happening at the same time in adjacent
locations. High-quality fabrics from more than 850 global resources will be shown at Première
Vision. Other components are Expofil for yarns, Indigo for surface design, Le Cuir à Paris for
leather and Mod'Amont for fashion accessories.

Spring/Summer 2007 Trends

Reports from the most recent shows
put the focus for Spring/Summer 2007 on simplicity, lighter weights, sheen, elegance and
naturalness. There is less embellishment than in past seasons; and surfaces tend to be flatter and
have a soft, dry hand. Lightweight taffetas, low-luster chintz, crinkly crepons, airy sheer gauzes,
monotone jacquards and dressier denims are frequently mentioned. Plain does not mean basic. There
are a lot of hidden assets.

Cotton





Three new developments at Cotton
Incorporated, Cary, N.C., take cotton forward as a performance fiber. The focus of Wicking Windows™
is activewear. It is a finishing process that transports moisture to the fabric surface where it
spreads out and quickly evaporates. Tough Cotton™ is abrasion-resistant with reduced wrinkling and
shrinkage. Storm Denim™ is a water-repellent treatment that is applied to finished garments.
With the demand for rugged bull denim slowing, producers are introducing lighter weights and
high-performance denims. Spain-based Tejidos Royo has 5- and 6-ounce denims. Some are coated to
give them sheen, water repellency and a high-tech hand. At Rockingham, N.C.-based UCO Fabrics Inc.,
denim is flatter, cleaner, dressier and lustrous. Seven- and 8-ounce weights are available, along
with blends containing Tencel® or bamboo. At Burlington Worldwide, Greensboro, N.C., cotton is
blended with Coolmax® for performance.
Germany-based Wilhelm Becker GmbH & Co. KG offers the lightest denim at 3.5 ounces,
woven from ring-spun compact cotton. Turkey-based Kipas Textile Group offers denim dyed in pastel
colors. Another Turkish firm, Birlik Mensucat A.S., has just opened a separate denim division to
produce fabrics styled by Italian designers and woven using US-produced cotton. India-based Gyan
Industries offers lightweight embellished denims.
Water-repellent fabrics — featuring no chemical finishes — are tightly woven using
high-twist yarns at Italy-based Olmetex S.p.A. France-based Frantissor Créations is selling luxury
fabrics in cotton blended with metal, nylon or viscose. Floral, striped jacquard taffeta has a
faded, 18th-century look.

Linen

Linen fabrics also are becoming
softer and lighter. Crepes, gauzes, crinkles, lustered surfaces and metallic touches are popular.
Ulster Weavers, Northern Ireland, had a good response to satiny yarn dyes woven of linen/Supima®
and linen/paper fiber at recent shows. John England (Textiles) Ltd., also based in Northern
Ireland, reports its best sampling fabric is metal-coated, 100-percent linen. Machine washable,
water-repellent coated fabrics; lightweight twills; fishnets; and waffles also are currently
available.
Italian firms are showing new weaves and treatments with linen. Michele Solbiati Sasil
S.p.A. is offering cross-dyed crepe weaves and gauzes that are wash-finished and have a soft, dry
hand. Angelo Vasino S.p.A. has iridescent, metal-coated linens; yarn-dyed, striped gauzes; creased
linens containing iron to impart memory; and crinkles boldly printed in black and white. One
novelty fabric is chemically treated and then washed to create pucker patterns.
At Linea Tessile Italiana S.p.A., there are linen/metal printed sheers that hold a crease;
washed, aged effects; and printed satin burn-outs. Ratti S.p.A.'s Braghenti division has
shadow-striped linen gauze; shirtings with a soft, dry hand; and washed linens. At Picchi S.p.A.
there are laser-cut patterns, crinkled sheers and printed burn-outs. Tessile Toscana has washable
double-faced linens that have an aged look, metallic-striped crushed shirtings and enzyme-finished
washable mini-checked suitings.

Tailored

The classic suit is back in fashion
with lighter-weight, easy-care fabrics and stretch for comfort. Wilhelm Becker uses compact
wool/linen-blend yarns to impart sheen and a silky touch. France-based Isoule Textile offers
lighter weights in cotton/viscose blends. Surfaces range from flat to crinkled. Kowa Co. Ltd.,
Japan, is using long-staple compact cotton yarns for tightly woven fabrics that have a soft,
natural hand. Kowa also offers chintz and enzyme finishes.
At Israel-based Polgat Textiles Co. (1960) Ltd., twills, mini-herringbones, sateens and
crepes are of note. Some feature stretch yarns. Polgat also offers yarn dyes, piece dyes and
double-faced fabrics. This vertically integrated mill is into innovation. Suiting fabrics of
60-percent wool blended with polyester can be machine-washed and -dried. Other suitings are water-
and stain-repellent, temperature-regulating using Outlast® technology, speed-dyed and
abrasion-resistant.
Three Turkish firms report lighter weights are in demand. Ninety percent of Ozbucak's line
is stretch. The company offers shadow stripes and classic yarn-dyed patterns. Customers are
sampling cotton/linen blends. Altinyildiz is showing bamboo blended with linen or wool. There are
yarn-dyed checks and stripes. New products contain washable wool, protein finishes and
nanotechnology.
BTD Textile Group is offering "Cool Touch" linen featuring a washed look and dry hand.
Cotton dobbies with subtle touches of Lurex®, and cotton/wool twills weighing 180 grams per square
meter (g/m2) and resembling denim were highlighted. The best seller in this line is a silk-touch
sateen of cotton/Lycra®.



Knits

Performance, comfort and elegance are
what customers are asking for in knits. Featherweight, luster, silky-touch, lacy and soft fabrics
are in style for spring. India-based Maral Overseas Ltd. and Italy-based Marioboselli Jersey S.p.A.
are showing seamless technology. Maral is selling lightweight sheers for tees, tops and camis to
the Gap and Banana Republic. Silk, cotton, bamboo/cashmere and MicroModal® are going into jerseys,
ribs and mélange stripes. Marioboselli is offering all-over laser-cut patterns, laces and
burn-outs. One new item in this line is an indigo-dyed knitted denim for garment washing.
Greuter Jersey AG, Switzerland, is
knitting ultrafine cottons using 50-gauge machines. Rainbow cottons are a popular new development.
Using a treated yarn from Switzerland-based Hermann Bühler AG, tonal and contrast colored patterns
can be achieved in one dyebath. For active sportswear, the company is producing
temperature-regulating, moisture-management and antibacterial fabrics.
Open crochet work, shiny/dull
patterns, novelty stripes, and high/low relief jacquards in happy colors and black and white are
some of the highlights at France-based Billon Frères. Paris-based knitter Guigou S.A. has a linen
jersey fabric with a washed finish; and light and lustrous, nubbed or lacy linen blended with silk
or cotton. There are bamboo knits with a chamois touch, cotton crepes, ottomans and fantasy
metallics. A new viscose/nylon yarn is going into lightweight pointelles that are piece-dyed to
create a matte/shiny effect.
Sheers at Italy-based Dondi Jersey
are open, opaque/transparent or high/low-patterned. Jacketweight jacquards come in animal-skin
patterns, nautical stripes, fish or mini-geometrics. Shiny, mini-patterned lace is knitted in
cotton/raffia.


Prints

Cotton, linen, viscose and blends are
woven and knitted into a variety of base cloths by Italy-based Miroglio Group. Mix-and-match
monotones; tropical florals in bright or sun-baked colors; soft, romantic florals that look as if
they were warp-printed; finely etched and outlined flowers; and abstract linear designs are
available. In addition, the company is offering a delicately embroidered silk-blend fabric.
Guest, a division of Italy-based Clerici Tessuto & C. S.p.A., coordinates prints,
jacquards and yarn-dyed patterns. Colors for spring are pale and fragile. Summer colors are bright.
Prints include bold monotones in black and white, or one color plus white. Crinkled voiles with a
washed finish, delicate laces, matelassés and matte/sheen jacquards also are available. Designs
include discharge-printed paisleys, upholstery designs, large-scale scarf patterns, blurred
abstracts, ethnics and sweet florals.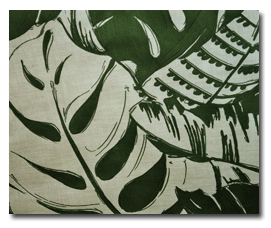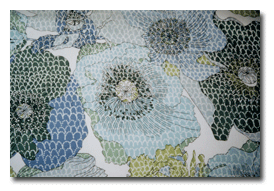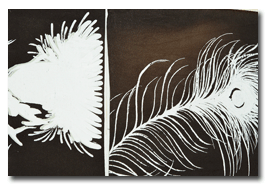 Printed fabrics from Guest (top), Liberty (middle) and Chaitra (bottom) highlight styles
and trends popular for Spring/Summer 2007.
Liberty, England, is currently
printing on cotton lawn, jersey, cord and silk crepe de chine. New prints for spring are inspired
by world climates and regions. The Temperate Zone features delicate stenciled flowers and paisleys.
Wild herb gardens and succulents are Mediterranean favorites. Prairie prints include designs with
patchworks, sombreros and ponies. There are Rain Forest botanicals. Mythical World features
storybook creatures with fairy circles and mermaid gardens. Optical chevrons, galactic vortexes and
dimensional mini-geomerics are in a group called Out of This World.
India-based Chaitra reports abstracts are in greater demand than florals at the moment.
Peacock feathers are popular.
New York City-based Symphony Fabrics is showing silk and rayon burn-outs, stretch ottomans,
crushed taffeta and fabrics with a lot of pucker.



Luxe

Silk, cotton, linen and blends are
the fibers of choice. There are warp prints, ink-jet prints, and treatments and embellishments that
defy copying. Bucol, France, part of the Hermès group, is doing it all. There are softly colored
ombrés, dégradés and sheers with fantasy yarns running through them. Warp-printed florals are large
in scale. Abstract prints are splattered to resemble fossils or reptile skin. Another direction is
bright and fancy, with ink-jet prints in exuberant colors inspired by tropical gardens.
Ratti is showing small cravat-style prints, paisleys and florals in all sizes. Its Rainbow
division offers hand-painted romantic florals, graphic flowers and tropical designs. Base fabrics
include crepe, chiffon, stretch piqué and glittering Lurex blends. The Ramis division produces
prints to coordinate with summer-weight suitings. There are jacquards; fil coupés; and traditional
tweeds woven with linen, silk, raffia, cotton or viscose. Touches of luster and snakeskin-printed
ribbon yarns are used for novelty.
Jakob Schlaepfer, Switzerland, takes fantasy over the top. It offers handwoven cotton ribbon
laces, silk tulle decorated with hand-cut lace, sequined and embroidered jacquards, sequined
chintzes, embellished brocades and ink-jet prints in melting colors.
Switzerland-based Weisbrod-Zürrer AG reports interest in its Cocoontec, a new
stain-repellent treatment for silk that does not change the fabric's hand. According to the
company, tie manufacturers sampled this fabric heavily. For skirts, Weisbrod-Zürrer introduced
jacquards with stretch pleated borders. Other popular fabrics are chintz-finished embroidered
linens, warp-printed jacquards and washed finishes.
French lace weaver Solstiss S.A. cites a return to old, worn, aged looks in gold, silver and
rust colors. Some lace fabrics are ink-jet printed or feature silicone dot applications with a
rubber touch. Narrow laces for trim are sampling well, according to the company.
Kimura, Japan, offers a fabric called Chiffon Petal, which is a crinkled flower that keeps
its shape after multiple washings. Other fabrics are layered and burned-out for tonal pattern
effect.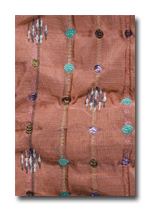 Ratti's Ramis division produces fabrics to coordinate with summerweight suitings.

High-Tech Fabric Technologies


C_change™, a waterproof membrane
applied to stretch fabrics, is a new fabric from Switzerland-based Schoeller Textil AG. It is
water- and windproof, and moisture- and temperataure-balancing. Other fabrics on offer include
stretch sheers in blends of nylon/Lycra/metal weighing 70 g/m2.
Burlington Worldwide's newly launched technical lab is introducing several new products. One
uses TrapTek™ technology, which permanently embeds activated carbon, derived from coconut shells,
into the fiber and yarns to provide comfort and suppress odor. Blended with nylon or polyester,
TrapTek fabrics absorb and evaporate moisture and odors. L.L. Bean is a licensee.

May/June 2006