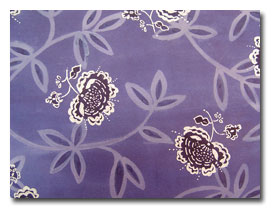 Cotton Incorporated showed a number of print fabric trends as a part of its recent Apparel
Trend Forecast for Fall/ Winter 2006-7. Photograph courtesy of Lisa Designs.


F
ashion
and home fabric forecasts were
recently presented by INVISTA and Cotton Incorporated. Both companies presented fabric trends for
the Fall/ Winter 2006-07 seasons; Cotton Incorporated also displayed home fabric trends for 2007.

Knitwear Innovations At INVISTA


Technology and fashion trends in
knitwear for Fall/Winter 2006-07 recently shown at Wilmington, Del.-based Invista's office in New
York City are based on four lifestyle concepts: Organize; Health and Fitness; Relax; and Having
Fun. Each concept features swatches of directional fabric made on commercial equipment using
yarns from global resources. Fabric construction details are available to knitters, designers
and retailers.
Liz Alexander, team leader — wovens, yarns and flat knits — showed Lycra® Body Care, a
recent development for intimate apparel and knitwear. Microcapsules containing aloe vera,
menthol, vitamin E and other skin conditioners are bonded to the fiber and released upon contact
with the skin. Fabrics containing these moisturizing agents feel softer while
protecting, toning and energizing the skin, according to the company. Sleepwear, intimate
apparel and activewear are target areas.
Fabrics containing microcapsules of scent to give a feeling of freshness is another concept,
developed in partnership with New York City-based International Flavors & Fragrances
Inc. Still in the testing stages, these fabrics keep their aroma through multiple
launderings. Examples shown by Alexander included a sweater of wool/Lycra and an ultralight,
sheer cotton/Lycra knit top.
Sheila-Mary Carruthers, global knitwear consultant, showed collections of innovative and
fashion-forward fabrics developed using yarns containing Lycra, Supplex® and Tactel®
nylons. Many are finished with Teflon® fabric protector.
Fabrics in the Organize category are designed to go to work. Carruthers described them
as tidy, uncluttered and easy-care. This collection includes lightweight fabrics with placed
designs and open stitchery. Teflon®-treated composite yarns with Lycra come from Luigi Botto
S.p.A., Italy, and Filatura di Grignasco S.p.A., also based in Italy. There are super-soft
blends of cashmere/nylon/Lycra and silk/Lycra. Other yarn resources include Wykes, England; AA
Global Ltd., Taiwan; and Italy-based Filartex S.p.A.
Knits in the Health and Fitness group are lightweight and have performance
characteristics. There are heat- and moisture-control fabrics containing Coolmax® combined
with cotton from Joinfair International Ltd., Hong Kong, and Taiwan-based Toung Loong Textile
Manufacturing Co. Ltd. Double-sided fabrics, with wool on the face and Supplex on the inside,
are knitted on standard sweater machines and Teflon-treated. They are completely stain- and
water-repellent. Other fabrics with fleece on the inside and Thermolite® on the outside
are abrasion-resistant and held together with invisible Lycra.
There is stitch interest in the Relax range. Cables, tuck stitches and washed-down denim
looks are some of the ideas. Many of the fabrics are ultrasoft and knitted with brushed
yarns. There are Tactel fleece knits with yarns from Asia-based Chu Long Spinning and
Italy-based Ilaria S.r.l.; and wool/Lycra combinations from AA Global, Grignasco and Taiwan-based
Charming Textile Co. Ltd.
Waffle weaves and other chunky treatments give dimension to fabrics in the Having Fun
category. Colors are bright, and prints are shown. Dots in patterns and vintage
wallpapers are some of the design inspirations. Featured spinners are AA Global, Grignasco,
Spain-based Drescafil and Italy-based Filatura Arlecchino.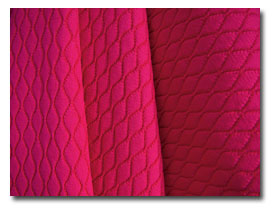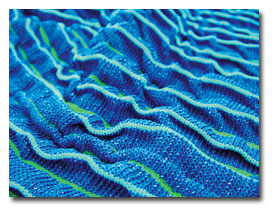 Knitwear innovations at INVISTA include chunky treatments in bright colors.

Fabric Trends At Cotton Incorporated

The Apparel Trend Forecast for
Fall/Winter 2006-07 at Cotton Incorporated, Cary, N.C., shows colors, fabrics and silhouette
directions for men, women and children. Kathryn Gordy-Novakovic, director of fashion marketing, and
her team of specialists organized and presented 36 colors shown in six ranges at the company's New
York City office.
Intrigue contains neutral shades of taupe gray, sable brown and a green-tinged white called
Martini; plus black, white and a bright emerald green for accent. These shades are suggested for
use in tweeds and lacquered fabrics.
Reds in a group called Provocateur are bright, romantic, and warm and cool. They are shown
with dark chocolate brown. Laces, velvets, sateens, jacquards and textured tweeds are some fabrics
mentioned.
Colors in the Muse group are described by Gordy-Novakovic as "Zen-like and meditative." They
are luminous, soft and pale shades of olive and sage greens, putty, peach, pearl gray and lemon.
Whisper-sheer cottons, pointelle knits and sueded surfaces are some of the fabrics in this group.
Spicy shades in a range called Destination are especially suited to menswear. Canvas,
twills, brushed moleskins, corduroys and velvets are highlighted. Colors include pumpkin, nutmeg,
cider, pale almond and a deep denim.
Bright royal, yellow and tomato red are teamed with warm red-brown, eggshell and true blue
in the Triumph category. These are suggested for athleticwear. Ripstop, denim, French terry, piqués
and patterned knits are fabrics of note.
Colors in the last group, Expression, "work with denim," according to Gordy-Novakovic.
Amethyst, jade, lime, turquoise and hydrangea blues are shown with ivory. Yarn-dyed stripes and
plaids, and color-blocked interlocks are some of the ideas.
Fabric direction is divided into five stories. Technology is shown in the Finishing Touch
range. There are luxurious brushed and sanded twills and herringbones, waterproof finishes that
have waxy coatings, embossed velvet-touch basket weaves, blotch-printed denims, and bleached and
printed yarn dyes.
Fabrics with surface effects go into a category called Illusionary. Satin-weave jacquards,
geometric-patterned dobbies on dark grounds for men's shirting, giant chevrons, square-weave
denims, shadow effects and iridescent knits are highlighted.
Updated classics turn up in a range called Object of Desire. There are windowpane checks and
herringbones for menswear, novelty crepe denims, cords, crochet-look jacquard knits, open
constructions, scalloped edges and printed sateens.
Fabrics shown in the Ritual category can also extend into holiday. There are novelty striped
shirtings, subtle ethnic-patterned knits, traditional prints embellished with embroidery, velvets
shown with denims, moleskin and felted fabrics.
Fast Forward offers fabrics such as rib knits with floating yarns running through them,
plaids woven with chenille yarns, variegated corduroys, pinstriped canvas, denim with linear
effects, abstract plaids woven with space-dyed yarns, and novel double-sided and quilted
fabrics.

Cotton Incorporated's Home Forecast

"Simplicity is key," according to
Dana Poor, trend forecaster, home, Cotton Incorporated. Once a year, Home Fabrics Color and Trend
Forecast presentations are given to retailers, manufacturers and textile mills in the home fabrics
industry. Research is conducted worldwide.
Color and fabric trends for 2007 center on smooth lines, soft fabrics and monochromatic
colors with soothing palettes.
"Fabrics are an interesting mix of high-tech and natural in primitive, slubbed and
multitextured fabrics," Poor said. "Colors are clean, fresh and overall upbeat. Look for warm
pink and red tones, soothing greens and blues, and neutrals such as stone, camel, taupe and cream
for grounding."
Color palettes and fabric directions include New Traditions, Serenity, Farmers Market,
Simple Pleasures, Nightlife and Branching Out. Poor noted there is crossover between fabrics
for the home and for apparel.
Traditional colors and fabrics in the first group take inspiration from global cultures.
Ikat- and Peruvian-inspired designs turn up, along with damask florals that have gilded
accents. Rust reds, golden yellows and vintage port contrast with lavender.
Colors found in the second group, Serenity, are cool, gray-cast neutrals accented by
turquoise. Fabrics have an organic quality and take on a feeling of movement. There are
cotton sheers, rice-paper textures, no-repeat prints and subtle stripes woven with twisted yarns.
Farmers Market colors include Berry and Radish reds, Mushroom Brown, Golden Honeycomb, and
Aqua. Fabrics have a handcrafted look. There are crochet patterns, scalloped edges, eyelets,
chenille bedspreads, appliqués and embroidery. Prints take on a vintage look or resemble dish
towels.
The soothing shades found in Simple Pleasures have a feeling of casual elegance. Tinted
whites, pearl gray, warm brown and a vibrant navy are enlivened with a pale orange called
Sherbet. Sheer fabrics and simple designs are in this group.
Cool greens and lavenders in the Nightlife range are accented by fiery
orange. Chromatic prints, snake skin, leaf and patterned dot designs; layering techniques; and
fabrics woven with marled yarns are some of the ideas shown.
In the Branching Out story, pinks, reds and purples that resemble the colors of exotic
flowers are joined by Mallard green, Reservoir blue and a luminous white called Quartz. The
overall feeling is of nature, with prints that resemble stylized botanical drawings, seed catalogs
and plant shoots. There are thick-and-thin textures and towels that have clipped
patterns.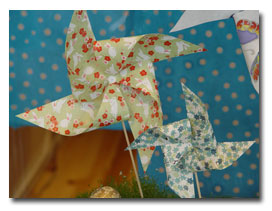 Home fabrics in Cotton Incorporated's Branching out group take inspiration from
nature.


Predicting The Possibilities


Seasonal trend forecasts for the
fashion and home fabric markets seem to offer something for everyone. From lifestyle concepts such
as knitwear and intimate apparel enriched with skin conditioners or scent; colors, fabrics and
silhouettes targeted to a range of tastes; to soothing color palettes for the home; retailers and
customers will have many options to choose from in the upcoming seasons.
November/December 2005