Wilmington, Del.-based Invista
S.A.R.L. recently unveiled its new XFIT Lycra® fabric at the Rock & Republic® fashion show in
Los Angeles. Xfit Lycra is a patented denim cross-weave technology that delivers better fitting and
more comfortable garments because of its four-way stretch delivery, according to Invista.
"Xfit Lycra fabric provides a wider fit to accommodate more diverse body types, giving the
wearer the best, most flattering rear view," said Duane Moosberg, Lycra business development
director. "The new sculpting technique also gives jeans lasting good looks because of the improved
shape memory, while looking and feeling like authentic denim."
Invista worked with Central Fabrics – a division of the Hong Kong-based Central Textiles
Group – to produce Xfit. Central Fabrics is the first production licensee to develop and
commercialize Xfit Lycra fabrics for distribution.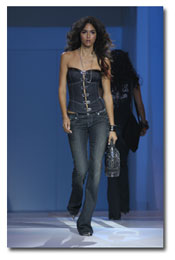 Invista unveiled its XFIT Lycra® fabric at the RockandRepublic fashion show.
November 2005