W

ith
the consolidation of Expofil, Indigo,
Mod'Amont, Le Cuir à Paris and Première Vision into one venue — Première Vision Pluriel — it's
one-stop shopping in Paris for designers, manufacturers and retailers looking for yarns, surface
design, trimmings, leathers and fabrics. Fabric exhibitors showing at Première Vision also can get
an advance look at colors and yarns for the following season.
Only through a careful selection process are the world's leading fabric companies chosen to
exhibit their lines here, enabling this show to maintain a reputation for quality and
reliability.

The Wool Sector


There was a lot of activity in the
wool sector at Première Vision. Brian Hinnigan, design and sales director at Scotland-based
Hinnigan Fabrics Ltd., a new exhibitor, said sales to the United States are excellent.
"We have gone back to our traditional roots and brought them up to modern times," he said,
adding that ultra-lightweight, soft-hand Shetlands "feel as if they were washed in a loch."
Tonal checks are heathered and misted, reflecting shades of Scottish landscapes.
At Abraham Moon and Sons Ltd., England, classic becomes contemporary with new color mixes,
washed finishes and novelty weave effects. There are traditional glen and Prince of Wales checks on
heathered grounds woven with thick-and-thin, bouclé or space-dyed yarns. Subtle touches of sparkle,
geometric jacquards, over-checks woven with thick yarns and combination-weave herringbones are
other offerings.
Surface interest also is selling in the fall line of France-based wool weaver Isoule
Textile. Classic checks and tweeds are crushed and puckered. There are bold ethnic patterns and
stripes that resemble Indian blanket designs. Large plaids and boxy checks are woven with mohair
and thickly brushed.
Technology is a strong suit at Italy-based Milior S.p.A. There are classic fabrics and
patterns with shiny effects, felted designs and seersucker surfaces. Tone-on-tone patterns were
pointed out. A wool/nylon glen check has a superimposed felted flower. The process is the opposite
of devoré. The same treatment is used to create a striped seersucker.
One of Brazil's premiere worsted mills, Paramount Têxteis, focuses on Super 100's flannel,
wool/cashmere/ Lycra® and wool/Lycra. The line is classic and of high quality. For womenswear,
there are mini-houndstooth, glen and Prince of Wales checks; classic stripes; and patterned tweeds.
Subtle color gives character to the line. Traditional gray flannel is enlivened with a pinstripe of
an unexpected color.
For menswear, there are seersuckers, Bedford cords, twills and flannels. Some are woven of
100-percent worsted wool, and have warp and weft stretch.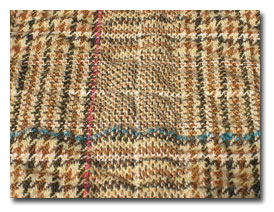 Isoule Textile exhibited classic wool checks and tweeds that are crushed and
puckered.


Man-Made Fibers


DuPont, Wilmington, Del., is still in
the business of fibers, offering Sorona® — a fiber that processes like nylon or polyester.
Dawson Winch, product manager, DuPont Sorona, said Sorona is softer and more resilient than
nylon. It dyes well; blends with other fibers; has natural stretch; and is easy-care, antistatic
and stain-resistant. Carpets and textiles are target areas. Mohawk Industries Inc., Calhoun, Ga.,
has introduced Sorona in carpets in 8,000-plus retail outlets. The fiber also is going into woven
fabrics, and circular and warp knits.
Trevira GmbH & Co. KG, Germany, focused on functional microdenier, stretch,
antimicrobial, low-pill, flame-retardant and moisture-control yarns.
According to Steffi Bobrowski, marketing and sales/communications, each fiber can be
combined with others for multifunctional purposes, and all are easily blended with natural fibers.
Trevira works with customers to develop individual yarns for each specific end-use.
One combination she pointed out is elastic and antimicrobial Trevira Xpand Bioactive for
activewear and functional workwear. The company also uses Bioactive fiber in homewear applications.
Trevira introduced Trevira MC (moisture control), a new filament yarn that provides improved
moisture conductivity and fast-drying properties, according to the company. Target areas for the
new yarn are knitted and woven fabrics for casual and active sportswear.
Korea-based Hyosung Corp.'s focus for creora® spandex fibers is on three specialized
products: creora H-100X alkali-resistant fiber; creora H-350 high-temperature and
chlorine-resistant fiber; and creora C-400 fiber for seamless and hosiery
(See "
Hyosung
Picks Up The Pace,"
TW, September 2005).
"Denim with creora H-350 delivers comfort and lasting fit for all of the key upcoming
trends," said Stephanie Ledru, European marketing and brand director. "This product also imparts a
silky-soft hand, and is lightweight and fast-drying when used in knitted garments."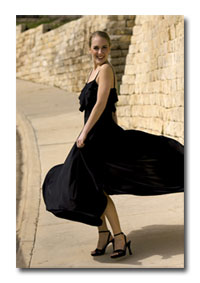 DuPont Sorona®, a fiber that proecesses like nylon or polyester and blends well with other
fibers, is going into apparel fabrics, as well as carpet and other textiles.


Knits And Prints


"Dresses are starting to come back,"
said Federico Boselli, president of Italy-based Marioboselli Jersey S.p.A. "We are selling
beautiful, top-quality, plain fabrics," he said, showing matte jersey with a warm hand knitted of
wool or spun viscose. "It's the perfect fabric."
Novelties in this line are tonal jacquards; soft, lacy transparencies knitted in
angora/wool/nylon blends; wool/cashmere bouclés; Missoni-styled zigzags; burn-outs; and glue
prints. Gold glue printed on velvet and a huge lily burn-out are two fabrics Boselli mentioned.
Zigzag patterns in black and white are popular at France-based Billon Frères. Sheer/opaque
irregular stripes and checked mattelassés are knitted with Lurex®. Jacquards are piece-dyed or
yarn-dyed, supple and lustrous in acetate/Lycra. Novelty knitted corduroys have thick-and-thin or
irregular wales. There are light, lacy crochets; patchwork effects; nubbed tweeds; and viscose
matte jersey.
At Deveaux, France, fabrics are designed to mix and match.
"We are using more cotton for winter," said Marie-Dulce Gourlat, a company representative. "
We feel there will be a lot of layering and a lot of mixing of different fabrics."
Spots, dots, circles and swirls; abstract and geometric patterns; paisleys; and vintage
florals turned up printed on a variety of base cloths at Italy-based Miroglio S.p.A. There are
patchwork paisleys and medallions on silk chiffon with silver stripes. Vintage florals are printed
on corduroy. The company also offers iridescent taffeta embellished with appliqués, embroidery and
sequins; printed acrylic stretch lace; abstract Oriental patterns with touches of glitz on nylon
lace; and swirling mohair circles embroidered on corduroy.

The Silk Sector


Prints in the silk sector are
sophisticated, delicate and colorful. At Bucol S.A., France, colorists have been working with
DuPont to develop special inks. Ink-jet prints are bright and intricate. One theme is Fireworks,
with brilliant splashes of color and blurred effects. Floral prints are handpainted, scanned into a
computer and placed on different backgrounds.
Italy-based silk printer Ratti S.p.A. is printing on double-faced coating fabrics of
alpaca/cashmere/wool. Prints are tonal swirling designs. Silk chiffon is printed with camouflage
effects; coupe de velour au sabre has subtle shine. There are bright, sporty-looking prints on
velvet and corduroy; and elegant, lustrous printed satins and chiffons for evening. Flowers and
paisleys have an antique look.
Two Switzerland-based firms, Jakob Schlaepfer and Weisbrod-Zürrer AG, take fantasy to the
extreme.
At Schlaepfer, fringes of sequins cascade from chiffon, enormous flowers are embroidered on
silk organza using fluffy wool yarns, and laser cutouts are sequin-centered and appliquéd to
printed chiffon. There are circles of plastic applied to transparent silks, velvet lace combined
with net, crinkled mousseline covered in sequins, lustered bouclé yarns woven to resemble tweeds,
and silk net decorated with fragile embroidery and splashes of shine. It is a luxurious and
feminine way to go for evening.
There is a lot of coordination at Weisbrod-Zürrer. Black and white floral jacquards pair
with abstract moving stripes, tartans combine with circle patterns, and graphic designs printed on
satin have abstract counterparts.
Creativity is in abundance at this firm. Sometimes it is opposing designs put together on
the same fabric, such as a shaded gray abstract herringbone jacquard with a bright red rose. There
also are jacquards that resemble ancient tapestries. Others are enormous in scale. One reversible
wool jacquard has a one-meter repeat; another depicts fire-eating dragons at an Asian temple.
Lace at Solstiss S.A., France, is not just for evening. An Adidas garment on display
featured lace insets on sweats. Most of this line is opulent. There are nets; chantilly laces; and
thick crochet laces heavily encrusted with bright sequins, beads and feathers, or embroidered with
metallic threads. Shiny palm fronds, leafy tree branches and bright poppies with long, glittery
stems are some recognizable shapes. Puff and quartz prints and abstract combinations of fringes and
embellishments are dazzling.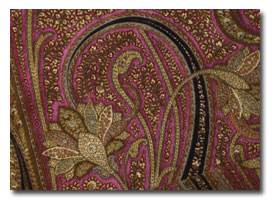 Ratti S.p.A. showed silk prints in tonal swirling designs.



Techno


Mectex S.p.A., Italy, introduced a
new treatment called Plasmaterial™. Fabrics are completely water-repellent, breathable,
bacteriostatic, washable and wrinkle-free. The same treatment is being applied to fabrics
containing Cordura® and Kevlar®. They are being used for motorcycle jackets, hiking gear and bags.
Other fabrics in this line release aloe vera or fragrance to the wearer.
Schoeller Textil AG, Switzerland, has functional wool fabrics that are double-faced, bonded
and stretch; and bonded stretch fabrics woven of metal/ nylon/elastane. Some are embroidered by
hand.
UCO Textiles, Belgium, comes out with a wide range of new denim styles every year. Stretch
denim is in demand, according to Mark Ix, vice president, sales and marketing. The firm is blending
cotton with Lycra or T-400™. Women, Ix explained, prefer the fit of jeans made with Lycra. Men have
resisted stretch but have caught on to the comfort of jeans made with T-400. Selvage denim with
comfort stretch is another popular look.
Embellished jeans are on the wane, according to Ix. "We are selling dressier and more
comfortable fabrics, and in darker colors," he said. Two new denims he showed are a blend of
cotton/merino/cashmere; and a double-faced denim that reverses from blue to flannel gray, and has a
100-percent cotton face and a cotton/polyester back.

Texworld


Texworld — the International Trade
Fair for Garment Textiles — was held at the same time as Première Vision Pluriel. Whereas Première
Vision is rooted in high-quality, innovative fabrics mainly from European mills, the majority of
Texworld exhibitors are from Asia.
The focus at Burlington Worldwide, which has offices in Greensboro, N.C., and Hong Kong, is
on cotton and denim.
"We feel strongly about sustainability," said Nelson Bebo, vice president, sales and
merchandising, showing fabrics woven with yarns made from coconut shell fibers blended with cotton
or polyester. The fibers absorb odors, and have a cool hand and excellent moisture management.
There is a lot of texture in the wool line. "It's more upscale," Bebo said.
Best sellers at warp knitter Hornwood Inc., Lilesville, N.C., have the look of ribbon knits.
Fabrics are knitted in China of polyester and polyester/nylon.
Symphony Fabrics Corp., New York City, is selling fabrics to the bridal market in Poland and
printed chiffons to Turkey. Satin, one of its most popular fabrics, is produced in the United
States, Canada and Korea. Pastel shades and Pucci-styled prints were pointed out.
John Heathcoat & Co. Ltd., a first-time exhibitor from England, produces techno fabrics
for a variety of end-uses — from bridal and intimate apparel to military and health care. At
Texworld, there was interest in bonded fabrics for bras, antimicrobial warp knits for lingerie,
stretch mesh and tulle. Other fabrics are flame-retardant and protective; and woven or knitted with
Coolmax®, Cordura or Kevlar.
Raymond Ltd., a vertical woolen and worsted producer from India, pointed out flannel
finishes, comfort stretch of 100-percent wool and machine-washable suitings. Most of its fabrics
are woven of Australian merino wool. There are solids and traditional patterns. Menswear is the
firm's largest market.
Bebe Cotton Knitting Co. Ltd., Taiwan, sells foil prints on satin. Yarn-dyed plaids,
opaque/sheer crinkles and polyester crushed velvet knits are other popular items.
Jubanitex Inc., the Philippines, uses sheer fabrics woven of pina fiber as a base for its
line of richly decorated fabrics. Fabrics dye well and are sheer and silky. The firm offers a
custom line. Fabrics are piece-dyed, hand-painted, appliquéd, pleated, fringed and embellished with
beads and sequins.
November/December 2005