Sonobond Ultrasonics, West Chester, Pa., has added the new ActiveSeam to its SeamMaster line of
ultrasonic bonders for the apparel industry.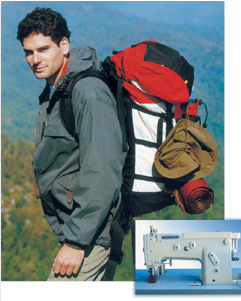 Sonobond Ultrasonics' ActiveSeam is suitable for bonding seams in such applications as technical
outerwear.
The new system, described by the company as the only ultrasonic bonder on the market that is
designed to produce taped seams, feeds fabric and an adhesive layer or tape through the bonding
unit using a feed dog mechanism that enables material and adhesive to flow uninterrupted through
the bonding process. The system uses ultrasonic energy to fuse the adhesive tape into the seam.
According to Sonobond, ActiveSeam produces flat bonded seams up to three times faster than
comparable hot-air equipment. The company also reports the seams exhibit superior waterproofness,
durability and strength.
March 2005