A ribbon-cutting ceremony marked the recent opening of Greensboro, N.C.-based Avery Dennison Retail
Information Services $3 million label-manufacturing operation in El Salvador.The new facility,
which supports Central American apparel manufacturers and their customers, produces and delivers
products such as bar-coded tags and labels, woven labels, printed fabric labels and price tickets.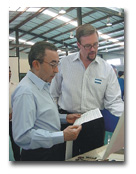 Carlos Quintanilla Schmidt, vice president of El Salvador and president of PROESA (left), and
James J. Rollo at the ribbon cutting ceremony for Avery Dennisons El Salvador facilityThe new
facility will enable us to respond more rapidly to customer needs and to reduce expenses associated
with shipping tags and labels to the United States. This in turn will allow Central American sewing
operations to more easily meet the delivery requirements of their retail and brand-owner customers
in the United States and elsewhere, said James J. Rollo, general manager, Latin America.
June 2003