Quality Yarns, New Look
Reorganized Yarn Fair International show is attracting key buyers. With a change in
time, place and organization, Yarn Fair International is attracting a new group of quality
exhibitors and buyers. The 1,963 attendees looking for new yarns from international resources came
from a diverse group of greige mills, knitters, hosiery manufacturers, fashion designers and
retailers. Key people from Burlington, WestPoint Stevens and Springs, among others, were shopping
for weaving yarns.Among the knitters visiting the show were representatives from Ge-Ray, Malden
Mills and H. Warshow. Hosiery manufacturers included Dominion Hosiery, Hot Sox and Royce. Fashion
designers and yarn buyers came from Calvin Klein, Ellen Tracy, Tommy Hilfiger, Jones Apparel Group
and Ralph Lauren. JC Penney, J.Crew, Victorias Secret and Nordstrom were among the
retailers. On display were yarns for outerwear, underwear, casualwear, activewear, dresses,
suits, hosiery, sweaters, hand knitting, home furnishings, floor coverings, blankets, trimmings,
automotive interiors, protective clothing and insulation. With close to 100 exhibitors from 17
countries, there was variety at every level.Robert Lachow, director of sales, home furnishings,
J.B. Martin Velvets, was looking for solution-dyed and novelty yarns. We are doing well with our
mohair velvets and other high-end upholstery fabrics, he said. To be competitive in world markets,
we are also looking for resources for commodity yarns.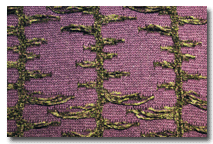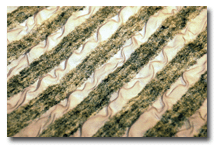 Fabric samples on display at the Trend Forum showed exhibitors' products for the Fall/Winter
03-04 season to buyers and stylists. Elizabeth Amoroso, president, Hathaway Textiles, was
looking for yarn for suede-type fabrics. Patricia Lounis, JC Penney, said, This show is very
helpful. I am looking for novelty, space-dyed yarns and textures such as chenille bouclfor
knitting.Anne Ewing, senior designer, intimates, Jockey Brand, Jockey International, was a
first-time visitor. It is incredible to have all of these spinners together. I am getting an
overview of the season and expect to find new resources. Nilit And Unifi OfferingsThe Unifi
and Nilit stands were adjacent. Both were promoting Arafelle, a nylon 6,6 textured heather effect
yarn with a cotton-like touch (See Under Cover,
TW, April 2002). We are introducing Sensil Arafelle for the seamless market for underwear
and outerwear, circular knitting, legwear hosiery and socks, as well as yarn covering, said Molly
Kremidas, merchandising manager, Nilit America, Greensboro, N.C. Kremidas noted that flat, bright
yarns combined with dull yarns were of special interest. We have seen a lot of sock manufacturers
here and buyers from South America.Greensboro-based Unifis Kimberly Lewis, director of marketing,
said, We are focusing on innovation and economics. Its all about how we can make our customers more
successful. Lewis said Unifis Novva, Augusta, Reflexx and Mynx yarns were of special interest.
Ge-Ray has developed fabrics that have drape and a soft touch using Novva. The fabrics are going
into sportswear and intimate apparel garments. Victorias Secret has adapted Mynx, which offers
ultraviolet protection, for yoga attire. Burlington will be using Augusta in menswear fabrics, both
tops and bottoms, this Fall.Lee Gordon, senior vice president, who handles product development at
Unifi, said that some of the new yarns the company is working on include super microdeniers,
odor-control yarns, polymer additives and modifications, and NatureWorks PLA, the corn-based fiber
from Cargill Dow.At Meadowbrook Inventions, Bernardsville, N.J., Vice President Roberta Ruschmann
said new end-uses for Angelina® metallic yarns are swimwear, upholstery and automotive interiors.
We are selling all areas of the contract market, from hospitality and healthcare to office seating
systems, she said. On display were flame-resistant products for upholstery and drapery
fabrics.Iridescent, metallic and holographic Angelina fibers have been blended and spun by Brodnax
Mills, Brodnax, Va. Two-way stretch fabrics blending Angelina and Lycra® with wool, nylon, cotton,
silk and flax are being used for swimwear, intimate apparel, activewear, outerwear and pile
fabrics. Some of the textile mills involved are Absecon Mills, Culp, Newcastle Fabric Corp., Bentex
Mills, Phifer Wire Products, Dorr Woolen Mills and H. WarshowandSons.Ilaria, an Italian spinner of
fancy yarns for knitting and weaving, showed Angelina blended with kid mohair, and in combination
with wool and nylon. Hologram fibers adhered to wool/alpaca yarns give irregular spots of
luster. Opossum Yarns From India And New ZealandWorsted spinner Jaya Shree Textiles of India
shared a booth with its joint venture partner, wool spinner WoolYarns of New Zealand. Both firms
showed a yarn blending ultra-fine merino wool with opossum a hollow fiber that is lightweight,
ultra-soft, warmer than wool, pill-resistant and less costly than cashmere. Another innovation at
Jaya Shree is Finolana, a line of ultra-fine worsted wool yarns that have been stretched and set
using a process called Optim, developed by Woolmark. Filati Maclodio of Italy showed yarns
containing a new wood-based fiber called Lenpur®, produced by Texinpro, located in Brescia, Italy.
It has been in the market for a year and is going into yarns for both weaving and knitting. The
first garments woven with Lenpur are in a collection of mens shirts that will be in Dillards stores
this Fall. Yarns can be mercerized on the cotton system or self-mercerized in dyeing. Maclodio is
blending Lenpur with wool, cashmere, linen, cotton, silk and acrylic fibers.Belgian linen spinner
Procotex showed flax yarns for knitting and weaving that have exceptional elongation. Spun on the
cotton system, the E-lin (for E-lasticity and E-longation) yarns are fine, long and strong, and
have 6.5-percent elongation. Davis L. McNulty, agent for Procotex, is also sales manager for
Pickens, S.C.-based Kent Manufacturings worsted yarns. Kent was showing basic natural, undyed wool
yarns and total easy-care wool called Superwash. Cotton/Wool BlendsThere was an increasing
amount of cotton blended with wool at the show. Reiner Elend, sales manager, export, Schoeller
Eitorf AG, Germany, said, America likes cotton, even in the winter months. Europe likes wool, even
in summer, so we blend them to please everyone. Cotton/wool blends at Schoeller range from tweeded,
coarse-gauge yarns that are light in weight to fine, washable yarns with a cashmere touch.French
spinner Groupe Saint Lin showed yarns for knitting and weaving, as well as technical yarns from its
Paul Bonte division. Damien Lestienne, sales director for the knitting division, is also president
of Expofil and Yarn Fair International.Yarns of special interest at Saint Lin include space-dyed
yarns of wool/acrylic/mohair, multi-colored yarns with elastane and a new bouclith stretch. For
Fall, there are 12 new yarns in the Saint Lin knit collection. The Paul Bonte collection includes
Chimere, a dissolvable yarn. There are lightweight stainless-steel yarns that provide
electromagnetic protection, retro-reflective yarns and yarns that have special telecommunication
properties.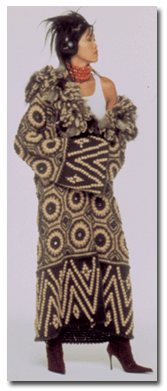 Giuliano Marelli is using Grignasco yarns in a unique collection of knitted garments.The most
heavily sampled yarns from Italian spinner Grignasco are ultra-lightweight with a soft touch. They
can be fine or bulky. There are multi-colored yarns, heathers, tweeds and printed yarns. Most are
spun using extra-fine merino or blends with cashmere. A lot of the merino yarns are total
easy-care, including wool/cotton blends. Stretch yarns contain either Lycra or ElitGrignasco spins
on the woolen and worsted systems, and the company sells to the knitwear, hosiery and weaving
industries. High-performance yarns contain silver. They are antistatic and antibacterial, and have
thermal-regulating properties. Another Italian spinner, Lanerossi Yarns, part of the Marzotto
Group, spins yarn using fine, extra-fine and ultra-fine merino. Most yarns are anti-pill. A lot
contain Dorlastan® or Elitor stretch. Andrea Saccardo, sales manager, said intimate blends of
extra-fine merino/cotton are selling well, especially in the South. The hand is soft, but not too
wooly, and fabrics knitted or woven from these yarns can be machine-washed/tumble-dried.
Cotton/wool yarns at Italy-based Overfil are heathered and twisted. According to agent Roger Markay
of Yarn Sales Corp. Inc., New York City, a lot of the same yarns are going into knitted and woven
fabrics for matched separates. There are lightweight bulky yarns, boucl#44; brushed yarns,
bicolored and multicolored yarns in blends of wool/acrylic/nylon.Luxury Fibers From
ArgentinaHilanderia Capen, Buenos Aires, Argentina, spins luxury fibers cashmere, angora, alpaca,
silk and wool. Of special interest are dehaired llama yarns. The hair is exceptionally soft and
fine, and according to Alejandro Battistelli more beautiful than alpaca. There are 100-percent
dehaired llama yarns and blends with cashmere or cotton. Another yarn unique to Capen is spun of
wild Argentinian rabbit hair. The hair is so fine that each rabbit can provide only 0.30 grams of
hair. Capen yarns are sold for circular and flat knitting, and for weaving.Spanish yarn producer
Himiesa showed classic and fancy acrylic-based yarns and blends for knitwear, hosiery and weaving.
Mnge tweed yarns, wool/acrylic bouclwith space-dyed loops, and moulines were pointed
out.Coren-Indik Inc., Feasterville, Pa., a wool spinner with mills in Millbury, Mass., and
Newburgh, N.Y., is selling wool blended with cotton, silk or acrylic. Some of the novelty twisted
yarns have a tweed or homespun look. They are especially popular for hosiery and sweaters.
Upholstery and industrial yarns of nylon or polypropylene are selling well.Another firm selling
polypropylene yarns for technical end-uses is Spanish spinner S. Vilarassa. Half of its line is
geared to technical and home textile products, while the rest goes into apparel. The best-selling
apparel yarns are indigo and black-dyed cotton for denim. U.S. Spinners Offer Variety And
PriceU.S. companies were pleased with the turnout at the show. Jim Laney, executive vice president,
marketing, Meridian Industries Inc., Valdese, N.C., said, I saw more quality customers in one day
here than I expected to see in three days.Laney noted that with space-dyed yarns and color in
fashion, Meridans business is excellent. Our sales to the automotive and woven sectors are way up,
he said. According to Laney, there is interest in novelty yarns. With our hollow spindle twisters
we can make hundreds of different novelty yarns.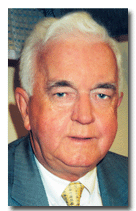 Jim Laney, executive vice president, marketing, Meridian Industries Inc. For the
decorative market, Meridian is selling shiny, textured chenille yarns and flame-retardant yarns.At
S&O Industries, New York City, Richard J. Flaster, vice president, sales, said 100-percent
indigo-dyed cotton chenille is its best-selling yarn. When the chenille is cut, it has an aged
appearance. Other yarns are spun with acrylic that has a wool touch or with Micromattique for a
suede touch. S&O is selling high-tenacity core-spun yarns to the carpet industry. Ninety
percent of its yarns go into products for the home.Amy Seiler, director of sales and marketing,
Kennetex, Kennett Square, Pa., said sheen and texture are selling. Polyester space-dyed yarns and
novelty bouclare two she mentioned.Nortex Yarns, Fall River, Mass., a division of Quaker Fabric
Corp., sells fancy yarns for home furnishings, knitwear, hand-knitting and industrial end-uses.
According to Jennifer Doyle Fischer, yarn sales representative, 80 percent goes to home textiles
and 20 percent to apparel and hand knitting. The hand-knitting yarn business is growing, Fischer
said. We are selling smaller quantities to more high-end buyers. Chunky bouclwith slubs and nubs
are yarns she pointed out. For the home, Fischer noted multicolored chenilles and bouclare selling,
especially those with a vintage look.Jimtex Yarns, Philadelphia, spins its yarns with recycled,
predyed cotton waste. Jimtex stocks more than 50 colors of open-end, blended yarns. Current
favorites are novelty marls that have the look of space-dyed yarns. According to Peter Sagal,
president, Silk City Fibers, Paterson, N.J., more of its line is going into woven fabrics for the
decorative market and specialty trimmings and fringe. Matte viscose with good drape, finer-gauge
yarns and linen are in demand. For apparel, there is a greater interest in wool. Textile
Machinery Producers Sell ServiceTwo German textile machinery companies showing at Yarn Fair, Stoll
and Schlafhorst, showed off the advantages of their equipment for end-product quality and
performance. At Stoll, the display focused on the variety of knitted fabrics that can be created
using its equipment. Schlafhorst promoted its Belcoro® quality trademark.

September 2002