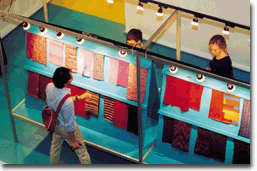 The new management organization of Yarn Fair International and CADExpo Plus, T.F.E.A. Inc.
(Textile and Fashion Expo in America), has given the show a new look. Trading on its French fashion
heritage and show organizational skills, T.F.E.A. made dramatic changes in the 2001 show.A Trend
Forum, featuring some 400 swatches of yarns and fabrics provided by exhibitors, was displayed in an
area measuring 3,000 square feet at the entrance to the show. Organized with input from Expofil,
the France-based counterpart to Yarn Fair International, the Trend Forum gave buyers a clear
direction of new colors, textures, yarns and fabrics for 2002/03 and provided yarn resource
information.We are trying to bring to the American market what we do best fashion and service,said
Philippe Pasquet, general director, Expofil. The response has been good from our American and
European exhibitors.Most exhibitors reported an increase in the number and quality of contacts.
French spinner Saint-Lin said sample orders were up 20 percent.There were close to 2,000 visitors
from 32 countries at the show. Twenty-nine percent were from Canada and 20.5 percent from Latin
America.Dan Samuelson, director of menswear, The Forstmann Company, New York City, liked the
representation of exhibitors. To compete globally in todays textile industry, you have to source
yarns from all over the world, he said. I am seeing a return to the classics in wool and worsted
yarns and luxury blends.Howard Silver, president of New York City-based Jasco Fabrics, said, Theyve
brought the flavor of Expofil to New York. Joan Beer, May Merchandising, St. Louis, liked the trend
area and general ambiance of the show. Elizabeth Amoroso, Hathaway Fabrics, Waterville, Maine, was
looking for luster without shine, something elegant, she said. Jules Lavner, Bedford Weaving Mills,
Bedford, Va., was looking for solution-dyed filament yarns for weaving. They all found new yarns to
sample. Unifi Introduces New YarnsUnifi Inc., Greensboro, N.C., introduced two new yarns at
the show, Insulyte and A.M.Y.
(See Fiber World News, TI, this issue).We will have two more polyester yarns before the
end of the year, said Unifis Kim Lewis. Merano, which is disperse-dyeable for heathered looks, and
Reflexx, which is a stretch performance yarn. It has up to 17-percent stretch through processing.
We are also working on a flame-retardant yarn.Meadowbrook Inventions Inc., Bernardsville, N.J.,
producer of Angelina® ultra-soft metallic fibers, showed its newest products 100-percent metal
aluminum, titanium, copper, carbon black and heat-bondable angelina fibers.These specialty fibers
not only have a luminescent appearance, but also have technical features, said Roberta Ruschmann,
vice president. In other words, its not only about how they look, but what they do and how they
perform. For example, Angelina aluminum fibers are thermal-regulating. They can hold body heat from
within and reflect it directly back to the body. They shield against UV radiation.On display were
alpaca/Angelina yarns from Peru Naturtex. Angelina blended with mohair, acrylic, and nylon was
shown from a variety of international resources including Edgarfil, Spain; Lineapiu, Cotonificio
Ferrari, Binicocchi and Emme Filati, Italy; Daniel Houard and Groupe Saint-Lin, France; Canadas
Ormspun; Lanas Merinos, Mexico; and Wayne Trading, China. Domestic mills include Broadnax, Kraemer,
North Carolina Spinning and Yarn Mavens.Two other new Meadowbrook products are Suede Cord, which is
sampling for knitting, weaving, embroidery and edging; and Jelly Cord, which is going into
accessories.At the Masters of Linen stand, there were soft-touch yarns blending linen with wool or
cashmere, iridescent and lustrous yarns in linen/silk or linen/nylon blends, tweedy linens, stretch
linen and chunky knits. Pauline Delli-Carpini, U.S. representative, reported there was unusual
interest in linen velvet and fabrics for the home. We had a lot of visitors from the Carolinas, she
said. Chenille Makes A ComebackJim Laney, executive vice president, marketing, of Valdese,
N.C.-based Meridian Industries Dyed Yarn Group, also noted keen interest in the home furnishings
area. Today, apparel represents only 7 percent of the companys business. Automotive and industrial
end-uses are strong. We are beginning to see a slight recovery in apparel, he said, especially from
weavers and knitters in California. Chenille is one specific yarn Laney mentioned.In April 2001,
Meridian purchased Calhoun, Ga.-based Astro Dye Works, bringing space-dyed, novelty and twisted
yarns to its stable. Today, we are a $300 million company, Laney said, and are totally debt-free.
The Belmont, N.C., and Valdese facilities have a capacity of 650 pounds of yarn per week.Richard
Flaster, SandO Industries Inc., New Hyde Park, N.Y., also mentioned a chenille comeback, especially
in the home furnishings area. Its just beginning to sell in apparel as well, he said. In apparel,
rayon is the fiber of choice. One new yarn, developed for piece-dyeing, is a polyester/rayon blend
using dyed polyester and natural rayon.Gardiner of Selkirk, a Scottish wool spinner represented by
Textron Sales USA, recently merged with Brierley Bros. Ltd., another woolen system spinner. Both
are part of Brook Group, a United Kingdom-based dyer. Gardiner is noted for bulky yarns, while
Brierley spins fine yarns.Stewart Henry, sales director, Gardiner, showed cotton chenille yarns and
Shetland wool twisted with cotton chenille. The twisted yarns are colorful and bulky. They are
selling well to the sweater industry. Lambs wool, melange and silk nep yarns are other heavy
sampling yarns. Luxury WoolsItalian spinner Zegna Baruffa has three distinct lines. The
Baruffa line has innovative, quality yarns. The B-Active line includes high-tech specialty yarns.
B-Exclusive has luxury yarns, featuring super-fine cashmere from baby goats, silk, camel hair and
baby alpaca.For Fall 2002, popular yarns in the Baruffa line include pebble and flat merino yarns
that have a textured look due to shading. Merino is sometimes blended with cashmere, mohair, alpaca
or silk. Baruffa has developed a new technology it calls Spun Air to create bulky yarns that are
ultra-soft and light. It reduces the weight of the yarns by 40 to 50 percent and gives them a rich
hand and brushed look.Spun Air is also going into the B-Active line in blends with merino/nylon.
Superwash 100-percent merino wools, which are completely machine-washable and dryable, are in the
current L.L. Bean catalog. Another new yarn is Travel Wool, which is Teflon®-coated,
crease-resistant and non-pilling.Filarc, another Italian spinner, was a first-time exhibitor at
Yarn Fair. Lorella Massola, export manager, was pleased with the contacts she made at the show.
Filarc has a basic line and a higher-priced line, Manifattura Di Biella. In the basic line, there
is a lot of merino in blends with acrylic and nylon. Twisted yarns and double-dye yarns are
popular.The specialty of Manifattura Di Biella is classic and fancy yarns of precious and natural
fibers for knitwear. Alpaca/merino yarns are selling well for menswear. There are mnge yarns with
cashmere, moulines and nubbed yarns. One new development is top-treated merino. Three yarns can be
combined, knitted and then piece-dyed in fabric or garment form. Each yarn dyes differently, giving
a novel pattern effect. Fine chenilles and bouclare other yarns that are sampling well.French
spinner Saint-Lin, represented by R&M International, also mentioned the comeback of chenille,
as well as mohair bouclarns. Many of its yarns contain Lycra®. There are merino blends, tweed
effects, space-dyed yarns and multi-colored yarns. A lot of the same looks and blends are available
in several weights. Among the most popular yarns are: Cocoon a blend of acrylic/wool/nylon/Lycra;
Forban a blend of acrylic/wool/mohair; and Lolita and Iceberg blends of acrylic/wool/nylon.Himiesa,
a Spanish company represented by Yarn Mavens, has a basic line and a fancy line. The basic line
contains fine-gauge classic yarns in acrylic fibers and blends. There are twisted yarns and a lot
of stretch. The fancy line features novelty bouclin wool/nylon/acrylic that are spun in graduated
colors, brushed merino, smooth yarns and fluffy elastic yarns.Vilarrasa of Spain, represented by
Florence Textiles, is a specialist in cotton/acrylic open-end yarns for circular knitting.
High-bulk acrylic yarns and cotton/acrylic twisted with polyester or nylon metallic yarns are some
of the novelties. One popular yarn is a cotton/linen/viscose blend. Indigo yarns are selling for
flat and circular knitting. Techno Yarns From GermanyThere was a large contingent of German
spinners. Kock Spinnerei opened an office in New York City Spinnkock USA earlier this year. The
company specializes in technical yarns for industrial textiles, advanced clothing, transportation
and home fabrics. High-flame-retardant yarns spun with Trevira CS are selling to specialty apparel
areas such as clothing for fire fighters and race car drivers. Nomex®, Kevlar® and Outlast® are
other high-tech yarns in this line.Schoeller showed cotton staple ring-spun, open-end and core-spun
yarns. Most of its yarns go into woven sportswear, knitted underwear and T-shirts or rugs. Some are
blended with Modal® or elastane. There are core-spun yarns of high-tenacity filament polyester
covered with cotton.Schlafhorst, Germany, a member of the Saurer Group, provided information on
services offered and information about its Belcoro quality standards program. Yarns and fabrics
that have been successfully tested receive the Belcoro certification. Separate tests are conducted
for cotton, synthetic and blended yarns; and for knitting and weaving yarns. Fabric testing is done
according to product category.Schlafhorsts yarn and fabric research and development program is
conducted in cooperation with Lenzing. Generally, it is conducted on an individual basis with each
customer.CNS, a Montreal-based spinner represented by Yarn Mavens, produces cotton and blended
yarns for knitting, hosiery and sweaters. Recently, the company added weaving yarns to its product
mix. Inexpensive novelty yarns are developed on an exclusive basis with each customer. Boucl44;
crepe and fancy twisted yarns are in demand.Ronile, Rocky Mount, Va., an integrated manufacturer of
space-dyed and polypropylene yarns, sells to both knitting and weaving trades. Its yarns go into
fabrics for apparel, crafts and the home. The contract carpet market forms its core business.
Ronile is selling chenille in the United States for both apparel and home fabrics.Novelty yarns in
rayon and blends are the focus at New York City-based Globus Mercantile Co. Inc. Ronald Osborne
noted that Tencel®, Modal and MicroModal® are currently selling very well. Siro core-spun yarns of
rayon/Lycra are another best seller. Siro spun yarns have the look of filament yarns with low pill.
Currently they are selling to Liz Claiborne and Adidas. Silky, fine yarns; high-twist crepe yarns
and heathers were mentioned. Recycled Cotton WasteJimtex Yarns announced that its new plant,
opening this fall in Lincolnton, Ga., will have twice the capacity of the Woodruff, S.C., facility,
which was destroyed by fire last March
(See News, TI, this issue). The company spins coarse-count, open-end singles and plied
yarns from recycled and pre-dyed fiber. Yarns are bleached, solid, tweeded or heathered. Major
apparel end-uses include sweaters and socks. Right now, we are looking for textile waste, said
Stefanie Zeldin. There is an increasing demand for our product.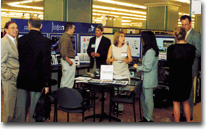 Jimtex is the only U.S. manufacturer exclusively dedicated to producing recycled, open-end,
cotton-blend yarns for apparel, upholstery and crafts.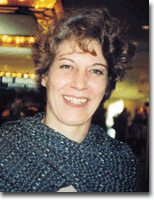 Sylvie Tastemain, fashion director for Expofil, presented color, yarn and fabric trends for
Spring/Summer 2003 that will be shown in December at Expofil in Paris. Her overall theme is
NatureandArtifacts. What is natural and what is artificial are becoming blurred, she said. Natural
is taking on a synthetic look, artificial is feeling more natural.Colors with a natural ambiance
warm neutrals, green shades and vegetable tones are mixed or contrasted with intense brights.
Tastemain mentioned fabrics and treatments that have a dry hand or a wet look. There are ribs,
weathered finishes and polished surfaces. Ethnic contrasts with classic, sophisticated with rustic.
November 2001