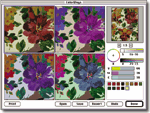 In the mid-1980s, Stork, the Netherlands, spent several years and significant sums of money
trying to find a CAD system that would facilitate color separations and screen engraving to drive
its rotary screen printing equipment. The net result of the search was its own development of the
first proprietary CAD system for the industry. The Image 3000 System, which was first introduced at
the 1991 ITMA show in Hanover, Germany, listed for $250,000.Today there are approximately 30 to 35
vendors offering proprietary CAD software and hardware systems that range in price from $695 to
more than $100,000 and are designed to meet the changing needs of an industry where technology is
rapidly becoming a competitive advantage.These systems dont just replace the designers pen and
color markers but support a variety of time-consuming and costly tasks such as color reduction,
color separations, the creation of multiple colorways, putting patterns into repeat, creating
weaves and plaids, engineering stripes and jacquards, rendering 3D models, fabric draping and even
driving some of the actual production equipment. Important InvestmentsWhile the need for these
systems is self-evident, there are many for whom these systems are either too costly or just plain
more than is needed. With a variety of off-the-shelf graphics applications available, including
Adobe Photoshop, Adobe Illustrator, Corel Draw, MetaCreations Painter and Macromedia Freehand, with
prices that range between $400 and $700, it is often asked: Do I need proprietary or commercial CAD
softwareWhile commercial graphics software is designed to be used for a broad range of products and
industries, apparel industry proprietary applications are designed specifically to address the
unique needs of apparel and textile designers.Whereas 80 percent of a designers work might be done
using only 20 percent of a commercial applications extended features, proprietary software offers a
more limited but focused range of functions.For proprietary software, less is more, with specific
and even customized functions that are often programmed to work with specific types of external
devices, including monitors, printers, engraving equipment, weaving looms and knitting
machines.According to Holly Henderson, president of H4 Designs, a CAD consulting firm in New York
City, as well as a CAD instructor at the Fashion Institute of Technology, the real advantage of
proprietary software lies in the expertise of the software vendors.Sure, anyone can go out and buy
off-the-shelf software and draw pretty pictures, she said. But how functional or useful will the
digital information be if thats all that is created With proprietary software, you are buying not
just specialized and functional software, but technical support, industry expertise and, in some
cases, production capabilities. You are buying color management across devices, a relationship with
a vendor that knows your system and products, as well as valuable consulting services.The major
drawback to proprietary systems has always been the price, which has been dictated by high
development costs and a smaller market potential than that of commercial applications. Proprietary
systems also lock you into a relationship with a vendor and re-quire specialized training that can
be costly if a company is growing or experiencing a high turnover in design staff. For this reason
alone, it is not ill advised to shop for proprietary software through both the schools and the
service bureaus in the geographic location of a company, both of whom could offer trained help as
needed. Market ResearchWhile proprietary implies a closed system, i.e. that designs created on
that system can only be worked with in that particular system, the days of truly proprietary CAD
systems are fading.The market has dictated that only open standards are acceptable, with TIFF 6.0
having been established several years ago by CItdA (Computer Integrated Textile Design Association)
as the industry standard. While some proprietary systems still write code in a closed file format,
most of these now offer a save as option, which allows the user to save the file in a more widely
used file format that can be read by other software applications, including the commercial
software.The undisputed king of commercial applications is Adobe Photoshop, a feature-rich,
faster-imaging program available for both Macintosh and PC platforms that lists for $995, but is
available from most mail order houses for around $629.With an impressive 88 percent of the
commercial graphics market using Photoshop, finding designers who are skilled in using the program
is relatively easy. In fact, Photoshop is so widely used that many proprietary software vendors
bundle the program along with their own custom software.While many companies have hoped that
Photoshop would satisfy all of their design illustration needs, the program falls short in some of
the industry-specific design requirements.These shortcomings include the ability to create repeats
and multiple colorways, color naming and rotation, and the ability to create plaids and stripes
with embedded structures.Several savvy proprietary software vendors have recognized both the trend
away from proprietary systems, as well as Photoshops limitations.These companies, each of whom also
offer their own proprietary software, have developed Photoshop plug-ins that add some of the
requisite functions for apparel and textile designers. Plug It InA plug-in, as the name
implies, is a mini program that is simply dropped into the plug-ins folder in Photoshop and results
in the addition of menu items that add new features and functions to Photoshops
capabilities.Hi-Techs International, Carlsbad, Calif., offers its Colorways Photoshop plug-in,
which is actually two plug-ins in one.Color Separation allows the user to compress or reduce any of
the colors from a scanned image in seconds. It also contains a special editing feature for cleaning
up the image.The Colorways plug-in has an automatic color generator that can create up to four
colorways of the same image at the click of a button, or the user can change colors one by one
using RGB or CMYK color formulas. Colorways sells for $950, which includes both plug-ins.Companies
can also add the Repeat accessory to Hi-Techs Colorways plug-in, which has the ability to create a
repeat from either a single motif or minimum repeat image in seconds. The original motif can be
reduced, rotated and shifted to the vertical and horizontal directions. Repeat sells as an addition
to Colorways for $300.Monarch Design Systems, Glendale, N.Y., offers ColorExchange and
PlaidsandStripes.ColorExchange is a plug-in that enables designers to automatically generate and
view colorways of patterns, prints, backgrounds, wovens, knits or any graphic design. Multiple
colorways are generated by shifting the position of the original colors used in a pattern, or by
adding new colors either by picking from the 16.7 million available or from saved, specialized,
seasonal or other color palettes.Users can also name their own colors and colorways, making it
simple to track, reuse and distinguish between the different options.Monarchs PlaidsandStripes is a
plug-in that enables designers to easily and quickly create simple to complex plaid and stripe
patterns. It also includes a library of structures, such as twill and oxford, which can be, with
the touch of a button, applied to the designs to create graphic simulations of woven or knit
fabrics.Info Design, New York City, is offering the latest entry into the Photoshop plug-in market
for the design industry.Vision Easy Step actually consists of four separate plug-ins, which include
Easy Repeat for previewing customized repeat and step types; Easy Incrust with Color Expander,
which supports click-and-drag cropping as well as advanced color controls; Easy Change Origin,
which supports fluid, real-time origin movement in a variety of repeat and step types to simplify
seamlessly meshed repeats; and Easy Duplicate, which converts the original single repeat into a new
repeat based on the repeat and step-type selected. The Easy Step plug-in suite sells for $495.Age
Technologies in Montreal, Canada, is the only vendor marketing plug-ins for both Adobe Photoshop
and Illustrator software.Their Clicdesign modules include Plaidmaker; QuickRepeat for the creation
of cascading repetition, horizontal rotation, superimposed and inversion of images horizontally or
vertically; and ColorVision, which lets designers recolor scanned fabric images instantly without
the need to reduce the number of colors.While these plug-ins have been developed specifically to
address the needs of apparel and textile designers, there are a variety of other Photoshop plug-ins
available on the market that offer frequently needed features such as the ability to create drop
shadows, movable light angles and 3D movement for multiple perspectives. Proprietary Vs.
CommercialAccording to Eric Rosenberg, Marketing Manager for Monarch Design Systems, the CAD
software landscape is now best defined not as proprietary vs. commercial, but as high-end vs.
off-the-shelf.Off-the-shelf really represents a subset or subsets of the high-end software, he
said. We have essentially pulled out discrete functionality from our high-end software and offer
them individually.Rosenberg states that the companys rationale is that not every company needs the
high-end software, at least not on every workstation, so why not package sets of tools that address
specific needs. Product developers are therefore not forced to purchase a lot of features they
might never use in the high-end software.The off-the-shelf products can also be an unintimidating
introduction to the benefits of CAD and sometimes a stepping stone to the higher-end options as
companies needs or awareness of these applications grows.So, to answer the question of proprietary
vs. commercial or high-end vs. off-the-shelf, it is clear to see that there is no simple
solution.The CAD software needs of a designer or company are as varied as the products they
produce. Software needs are a reflection of the type of products being developed, the methods of
marketing and manufacturing, the size of a company, and most certainly the end-use of the CAD
designs.With technology bringing about a convergence and re-engineering of business processes, CAD
is not just about drawing pretty designs, but about being a pivotal front end to product
development, pattern making, production and even marketing.CAD designs are now being used to drive
weaving and knitting looms, for desktop, textile and offset printing, as well as for Internet
publishing. Each of these end-uses presents its own unique challenges for linking different
software systems as well as color definitions, which makes it clear to see that there is not one
single solution.However, regardless of the tools used, the premise to keep in mind is that any CAD
software is only as good as the operator who runs it. Get In Touch Hi-Techs International
www.hi-techs.com Monarch Design Systems www.monarchcad.com/colorex.htm
www.monarchcad.com/plaids.htm Info Design www.idivision.com/main/es.html Age Technologies
www.agetechnologies.com Plug-Ins Party website http://pluginparty.i-us.com/
Editors Note: Teri Ross is president of Imagine That! Consulting Group, Inc. and publisher of
the award winning Technology Exchange www.techexchange.com. To contact Teri, call 612/593-0776 or
e-mail her at tekguru@techexchange.com.
February 1999