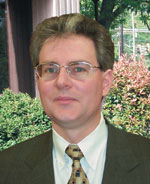 By Jim Borneman, Editor In Chief
In this issue of Textile World, the cover story, "CiCLO®: Just One Arrow In The Microfiber Pollution Solution Quiver" highlights three impressive points.
It is refreshing to see the U.S. textile industry acknowledge, address and invest in solving serious environmental challenges.
Environmental issues facing the industry have always been taken seriously, but on some level the industry has had a contentious relationship with environmental regulators.
There is a strong history of progress on improving the relationship and impact of
textile manufacturing on the environment — who doesn't want clean air, clean water and efficient use of clean power?
In truth, the relationship between textile manufacturing and the environment really has moved to the next level.
Now, in some cases, effluent leaving the plant is cleaner than the water entering the plant. Technological improvements in textile dyeing, printing and finishing have reduced both consumption and waste of water, dyes and chemicals. Digital printing, new indigo technology, waterless dyeing, and improved foam and spray application of finishes are perfect examples.
The next level of improvement is focused on embracing sustainability and the full life cycle of products the industry creates.
Recycling technologies have moved from a fringe group of manufacturers to the mainstream with recycled polyester in common use. Apparel brands have been supportive and demanded sustainable solutions for their products which has encouraged manufactures to invest and innovate with new technologies.
Acknowledging the man-made microfiber pollution challenge — the impact fiber and plastic five millimeters in length loose in the environment — goes a long way to developing serious solutions.
The CiCLO story is a prime example of developing a serious solution. As Co-founder and CEO of Intrinsic Advanced Materials and Co-inventor of CiCLO technology Andrea Ferris explained: "CiCLO technology gets blended with conventional or recycled polyester and nylon during melt extrusion at the very beginning of the fiber manufacturing process. It becomes permanently embedded in the fiber, so it never washes out."
CiCLO provides nutrients that encourages microbes to biodegrade the polyester or
nylon within which the CiCLO is embedded. One can only imagine the breadth of
environmental impact this technology will have and the proof is in the partnership.
In 2018, Intrinsic Textiles Group LLC and Parkdale Advanced Materials — the fibers
and yarns innovation division of Parkdale Inc., Gastonia, N.C. — formed a joint venture named Intrinsic Advanced Materials.
Ferris stated: "As the largest spun yarn manufacturer in the Western Hemisphere, Parkdale's production of polyester-containing yarns exceeds 500 million pounds per
year. It has taken a leadership position in delivering sustainable solutions for the
textile industry and CiCLO is the proven technology to mitigate microfiber pollution generated by man-made textiles."
It is that kind of leadership — acknowledging, addressing and investing in solving serious environmental challenges that takes the textile industry's relationship with the environment to the next level — and into the future.
September/October 2022