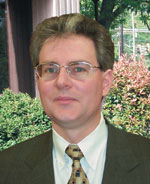 By James M. Borneman
This issue, Textile World is focused on technical textiles with a tip-of-the-hat to the excitement swirling around the upcoming Techtextils. The industry has two opportunities to experience technical textiles with Techtextil 2017 in Frankfurt, Germany — to be held May 9-12 — and Techtextil North America — to be held June 20-22 in Chicago. This issue includes a preview of the Frankfurt event and the North American event will be previewed in TW's May/June issue.
TW editors focused on preparing articles that would profile the more technical sectors of the industry — composites, filtration, wearable electronics, an interview with Kimberly Clark's Robert Martin, and more.
Even if your career is more traditional textiles focused, attending Techtextil might be worth consideration. Over the years, traditional textile manufacturers have taken the plunge into these new markets and actually innovated with their knowledge on tradition textile manufacturing. Denim companies have addressed more technical applications, spinners have expanded into nonwovens, knitters have pursued medical and other applications — examples abound.
"Technical textiles rank among the most important forces of growth in the textile sector,"stated Olaf Schmidt, vice president, Textile and Textile Technologies, Techtextil organizer Messe Frankfurt.
An early look at show registration supports that view.
On another front, TW's editors would like to thank the National Council of Textile Organizations for sharing Inman Mills Chairman and CEO Robert "Rob" H. Chapman's view on the future of U.S. textiles. He presents an interesting thesis on how the industry survived tough times through innovation and, in his words, "has a bright future."
Chapman is the fourth generation of the Chapman family to operate Inman Mills, which was founded in 1901 — his opinion has a strong frame of reference.
To that end, it appears there is optimism in the textile industry. This optimism seems to be in response to the promises of the new administration in Washington. Although, privately, there is confusion over the unintended consequences of change — whether that is changes in trade law, taxes or regulation. But the confidence seems rooted in the president's commitment to domestic manufacturing. That recognition, and having an ex-textile executive Wilbur Ross confirmed as Secretary of Commerce, is well received.
In a televised Bloomberg interview cited in "Business Insider," Ross stated, "We are in a trade war, we've been in one for decades. That's why we have the deficit."
For those who have invested to leverage existing trade agreements like NAFTA and CAFTA-DR, renegotiations of these agreements will impact those investments. It is hard currently to get a sense of positive verses negative effects any renegotiations may cause.
A focus on bilateral trade agreements will demand study, and ideas like border taxes and addressing currency manipulation also will change the game. For some manufacturers, change may call for adjustments, but in the longer term, playing on more level playing is a new and novel factor for the industry to deal with … imagine that!
March/April 2017