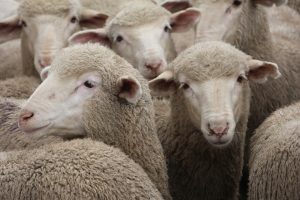 PARIS — October 31, 2023 — NATIVA™ a supplier of sustainable luxury merino wool. Part of 150-year-old French Chargeurs Group, NATIVA was born out of a passion for a fiber of incomparable quality, while supporting animal and soil welfare, as well as farming communities around the world.
A pioneer of regenerative farming, NATIVA is based on four fundamental pillars: Animal Welfare, Corporate Social Responsibility (CSR), Environmental Practices, and Land Management. NATIVA is committed to transparency and integrity with a certification process conducted by independent groups which independently visit farms and industry partners for approval.
When it comes to industry standards, NATIVA wool holds a dual RWS- NATIVA certification. This states that NATIVA wool complies with the Responsible Wool Standard (RWS), while incorporating additional requirements, guaranteeing the highest wool standards. All NATIVA wool incorporates NATIVA Blockchain, which digitally tracks and logs every step of the wool's journey, from farm to brand.
"NATIVA is pioneering a new way of producing the world's finest Merino wool. By supporting our farming partners through regenerative farming practices and instilling trust and traceability throughout the fashion supply chain with Blockchain, consumers can feel confident in the quality and strictest environmental and ethical standards when they see the NATIVA name." said Nicolas Sapelli, NATIVA Sourcing director.
At the heart of NATIVA's identity are its farmers with NATIVA working hand-in-hand with regenerative farmers in Australia, Uruguay, Argentina and USA. NATIVA's partnership network also extends to leading research institutes, universities, and sustainability pioneers, such as Quantis, a leading environmental sustainability consultancy.
Taking sustainability further, NATIVA Regen is NATIVA's global Regenerative Agriculture Program. NATIVARegen improves the quality of the soil and restores natural biodiversity at farm level, resulting in better nutrients, cleaner water and a healthier overall habitat. NATIVARegen assists nature in what it does so well — providing balanced ecosystems where all beings, large and small, cohabitate. This restores hope in a system in which animals, plants and people can work together to thrive.
NATIVA is honored to introduce its farmers by name and to collaborate with partner brands such as Stella McCartney, Gucci and Pangaia to share their stories. Having worked with Stella McCartney since 2019, NATIVA was recently invited to participate in the 'Stella Sustainable Market' held during the brand's Summer '24 Paris Fashion Week catwalk show.
By joining NATIVA, the world's leading fashion brands are able to prove their commitment to transparency, sustainability and responsibility. NATIVA incapsulates and embraces the standards of responsibility expected by today's global fashion consumers.
Posted: October 31, 2023
Source: NATIVA™ — A brand of Chargeurs Luxury Fibers, a division of Chargeurs Group