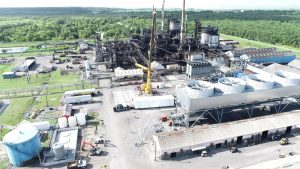 HOUSTON — April 20, 2023 — Orion Engineered Carbons, a specialty chemicals company, announced today that cogeneration technology that produces renewable energy has been installed at its Ivanhoe plant in the southern U.S. state of Louisiana, making the facility more efficient, reliable and sustainable.
The cogeneration system, which includes a steam turbine generator, uses the waste steam from the carbon black plant's production process and converts it to electricity. The energy can be used to power the facility as well as be exported to the local grid.
"The new technology will reduce our reliance on the grid, which should result in less downtime at the plant and more consistent production," Orion CEO Corning Painter said. "This is especially important in the Gulf Coast region of the U.S., where severe weather can pose a threat to the power supply. With this cogeneration system, we expect to be better able to continue safely operating and producing the products our customers need."
Another anticipated benefit of the technology is improved equipment reliability. Any power failure can shut down the plant suddenly, causing fatigue and degradation with carbon black production equipment, which requires significant cool-down and warm-up periods.
Similar cogeneration technology is used at many of Orion's plants worldwide.
This is the second significant upgrade at the Ivanhoe plant in the last three years. In late 2021, Orion installed air emissions control technology that captures pollutants and converts them to sulfuric acid, commonly used in a wide range of products — from fertilizers and glue to dyes and car batteries. The project was a major milestone in Orion's commitment to developing circular solutions for its waste streams.
Posted April 25, 2023
Source: Orion Engineered Carbon