Verdezyne Inc., a Carlsbad, Calif.-based industrial biotechnology company dedicated to the
production of biobased chemicals and fuels, has opened a pilot plant for the production of adipic
acid derived from nonfood-based vegetable oils using a cost-effective engineered yeast-based
fermentation process. Adipic acid is a component of nylon 6,6, which in fiber form is used for
carpet, apparel and other textile applications. The company anticipates that ultimately it will be
possible to produce a 100-percent biobased nylon 6,6 polymer using its biobased adipic acid.
"Verdezyne is a green chemistry company focused on the production of renewably sourced
building-block chemistries that will be economically advantaged or competitive with incumbent
processes," said E. William Radany, Ph.D., president and CEO, Verdezyne. "We believe we are the
first company to produce adipic acid from biological sources at scale," he added.
Verdezyne gets the feedstock for its adipic acid from a variety of vegetable-oil-processing
waste streams such as soap stock or fatty acid distillates. "We are not competing for food or
biodiesel resources," Radany said. "We can use waste streams from production of soybean, coconut,
palm or other oils."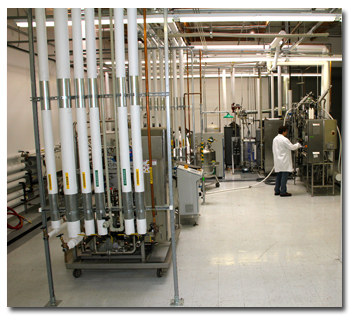 Verdezyne's biobased adipic acid pilot plant
In addition to economic advantages over current petroleum-based adipic acid production,
Verdezyne expects its biobased adipic acid production process will offer ecological advantages
including reduced emissions of carbon dioxide and other pollutants.
As Verdezyne progresses toward full-scale production, it is in discussions to form
partnerships to accelerate its process to commercialization. "Our intent is to be able to validate
the process and then through partnerships bring it to commercial production," Radany said. "We have
a very aggressive timeline to be in production by the end of 2012."
Radany also noted that in addition to having a pathway to convert biobased adipic acid into
hexamethylenediamine to make 100-percent biobased nylon 6,6, the company also could use its
metabolic processes to produce other 100-percent biobased nylons.
December 6, 2011