T

extile development today is seeing a growing demand for performance – performance that
starts with fiber. Whether it is for high-technology products or better-performing traditional
textiles, fiber can make all the difference. A recent survey of leading fiber producers revealed a
common trend of delivering value and performance alternatives for fabric and product developers.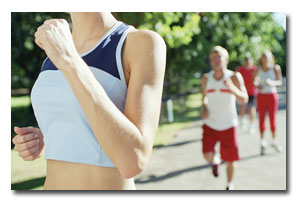 DAK America's HydroPur™ fiber is incorporated

into a range of activewear.

Flame Fighting

William Younts, vice president, business development, Basofil Fibers LLC, Enka, N.C., stated
that Basofil® melamine fiber for thermal insulation and fire resistance has been in full production
for more than 10 years. Recent breakthroughs have come in dyeability. "It is unique," Younts said.
"It is complementary by stabilizing meta-aramid-containing fabrics, reducing the shrinkage in
blends with modified acrylic. It has a higher thermal insulating value when compared to
meta-aramid, para-aramid, wool or [Polybenzimidazole]." According to the company, as a fiber blend
component in fire-retardant apparel fabrics and bedding, the fiber offers high thermal insulation,
char stabilization, no melt or drip, very low shrinkage and high inherent fire retardance.
Currently, Basofil is used in industrial workwear, military and filtration end-products; and allows
for the manufacture of fire-retardant apparel that does not contain California Proposition
65-listed additives.

Also on the flame-retardant front, Lenzing Group, Austria, plans to expand capacity at its
Lenzing-based fiber-manufacturing facility for the production of Lenzing FR® flame-resistant (FR)
cellulosic fiber. The expansion will enable the company to supply increased volumes of the fiber to
TenCate Protective Fabrics, Union City, Ga., in its Defender™ M Lenzing FR/para-aramid-blend
fabrics to be used for US armed forces military combat uniforms (See "
Quality Fabric Of The Month: Saving Our Troops," September/October 2007).
A special amendment to the US National Defense Authorization Act for Fiscal Year 2008
exempts FR rayon fiber for five years from requirements that it be manufactured in the United
States in order to be used in garments supplied to the US armed forces. Lenzing FR is produced only
at the Lenzing facility, which devotes about 50 percent of its capacity to the production of
specialty fibers. TenCate's Defender M fabric, specified by the US Army and Marine Corps to replace
the nylon/cotton uniform fabric used currently, offers inherent FR properties in addition to
moisture management and breathability.
Pyron Products Account Manager Mark Davidson of St. Louis-based Zoltek Technical Fibers
represents Pyron® oxidized polyacrylonitrile (PAN) fibers, which often are used in the manufacture
of woven and nonwoven textiles and garments for fire and thermal insulation. Pyron is easily
processed on conventional textile equipment and can be made into nonwovens, staple fiber, yarns,
wovens and knits to offer inherent FR properties with no additives. "Industrial applications
requiring high protection levels like high-performance garments and products in areas such as auto
racing, firefighting or industrial metalworking and smelting are common applications," Davidson
said. Benefits include little or no toxic gas generated, very good resistance to acids, as well as
competitive price and good availability. New products include strataTek two-layer fabrics with
Pyron that open the door to combining the high fire-blocking performance of Pyron with bright
colors and/or high abrasion resistance. "The strataTek with Pyron is an exciting development,"
Davidson said. "Now applications requiring the high protection levels delivered by Pyron, but also
needing color and abrasion resistance, can have both!"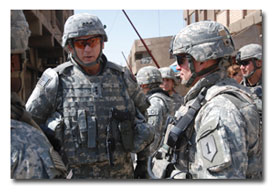 Lenzing Group supplies Lenzing FR® fiber to TenCate Protective Fabrics for its Defender™ M
Lenzing FR/para-aramid-blend fabrics to be used in US armed forces military combat uniforms.
Photograph by Staff Sgt. Curt Cashour, MNC-I Public Affairs.

Adding Value

Performance takes many forms, and Ricky Lane, communications manager, Charlotte, N.C.-based
DAK Americas LLC, said the company's HydroPur™ antimicrobial and moisture-management polyester
staple fiber provides a dual function. HydroPur combines the moisture management of Delcron®
Hydrotec Fiber and the antimicrobial properties of SteriPur® AM. Both of these properties are
integrated into the fiber during the polymer stage and are permanent. "Our antimicrobial component
contains Antimicrobial AlphaSan® from Milliken, which is silver-based," Lane said. "Silver is a
naturally occurring element and is safe for human contact. It also inhibits the growth of a wide
variety of microorganisms. The silver is added to the fiber in the polymer stage, making it
permanent – it cannot be washed out." According to the company, HydroPur has been commercially
available for several years, with continued growth in the markets it enters. "Primary uses of
HydroPur are in performance apparel, where the permanence of its dual functionality of moisture
management and antimicrobial properties are best put to use," Lane said.
Putting a twist on stretch, Kim Henley Hall, marketing manager, Gastonia, N.C.-based
RadiciSpandex Corp., cites growing interest in Radici's collection of colored spandex fibers
including SRB black spandex; and S-17 Green, S-17 Pink and S-17 Blue. "We launched SRB (Spandex
Radici Black) in 2006 in response to inquiries from our fabric mill customers for a fiber that
results in a cleaner shade of black," Hall said. "SRB is meeting with good response from fabric
companies serving the swimwear, activewear and ready-to-wear apparel markets. Knitters find the
fiber has tremendous potential as a design element for intimate apparel.
"Last fall, we placed renewed focus on the nonwovens trade and initiated customized product
programs that provided added value to our customers, especially in the baby diaper market. Our S17
fiber for nonwovens can be colored to add a decorative touch to baby diaper elastics and narrow
fabrics and also can be used as a design element in other apparel. To date we have spun green,
pink, and blue fiber, but have the capability to spin any color for which the pigment can be
purchased."
Wichita, Kan.-based Invista recently announced that the demand is significant for black
elastane fiber. According to the company, its T400® Black fiber is permanently made black at the
fiber spinning stage, and when incorporated into denim fabrics, it offers benefits such as darker,
richer colors; elimination of grin-through or glitter; and improved color retention after wear.
"The T400 Black fiber allows designers to create garments that offer comfort, style and fit as well
as a long-lasting color," said Jean Hegedus, Invista's global marketing director for denim. "A
number of mills [showcased] their fabrics with T400 Black fiber at Denim by Première Vision and we
look forward to adoptions by some of the world's most prestigious denim brands."
"With T400 fiber we can design jeans that maintain their performance after washing and even
after several months of wear," said Antonio Zatti of Italy-based denim brand Diesel. They do not
lose their shape or bag out at the knees and waist, plus they retain their original color and have
a rich, cottony touch."
South Korea-based Hyosung Corp., well-known in the United States for its creora® brand of
spandex, recently developed an ultrastrong polyester (PET) yarn for industrial use that won the
IR52 Jang Young-Shil Award from the Ministry of Science and Technology. According to Hyosung, it
developed an ultrastrong PET yarn for industrial use that is much superior to competitors' products
in terms of physical properties, counting on its advanced technology in order to effectively
compete on price with Chinese firms and also with high-quality products from advanced countries.
The yarn has 10- to 15-percent higher strength than conventional PET yarns for common industrial
uses, according to the company. Hyosung announced that the new product came out of a 26-month
research effort. The technology could possibly be applied to other products for similar purposes as
a result of progress in yarn production technology, and has contributed to improved industrial yarn
production technology. The company cites extensive applications in ropes, fabric-reinforced
compound materials and fiber optic cables.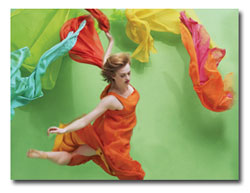 Premiere Fibers specializes in nylon 6 and nylon 6,6

solution-dyed yarns.



Green's Growing Importance

Tracey Campbell, manager, market development, at Chapel Hill, N.C.-based American Fibers and
Yarns Co. (AF&Y), reports progress with the company's Innova® polypropylene fiber. The fiber's
primary markets are in athletic and outdoor apparel, mattress ticking, blankets, residential
upholstery, and indoor and outdoor upholstery – particularly where inherent performance, low
environmental footprint and a recycling program resonate. The fiber has a McDonough Braungart
Design Chemistry (MBDC) Cradle to Cradle (C2C) certification. Architect William McDonough and Dr.
Michael Braungart founded MBDC, Charlottesville, Va., in 1995 to promote and shape what they call
the "Next Industrial Revolution" through the introduction of a new design paradigm called C2C
Design and the implementation of eco-effective design principles. AF&Y's certification followed
an assessment for all raw components that make up its polypropylene yarns, and the evaluation
included a comprehensive analysis of resin, pigment and additive concentrate formulations, as well
as all finish ingredients.
Greensboro, N.C.-based Unifi Inc. also is focused on green. According to Roger Berrier,
executive vice president, Repreve® polyester was introduced at the Outdoor Retailer (OR) Summer
Market 2006 and has been in production for almost two years. Unifi will be launching Repreve nylon
this August at the OR Summer Market.
Repreve nylon, like Repreve polyester, is a first-quality yarn made from 100-percent
recycled materials. Repreve nylon fabrics will be available through partnerships with
Greensboro-based International Textile Group Inc. and Cleveland, Tenn.-based United Knitting during
the OR Show (See "
Textile World News," this issue). "The primary benefit of developing
eco-friendly products like Repreve is to the environment," Berrier said. "The production of
100-percent recycled Repreve yarns reduces energy consumption and conserves petroleum resources by
offsetting the need to produce virgin polyester and nylon yarns. From crude oil refining to yarn
texturing, a significant amount of energy is used during the production process. On average, every
pound of Repreve manufactured conserves the equivalent of a half gallon of gasoline. This year
alone, Repreve is estimated to conserve the equivalent of 6 million gallons of gasoline."
Susan McGreal, global sales and marketing manager of Duluth, Ga.-based FiberVisions Inc.,
reports CoolVisions® dyeable polypropylene staple fiber is currently manufactured in Covington,
Ga., with future plans to make the product at the FiberVisions Suzhou, China, plant. She adds there
are no concerns about production capacity.
McGreal pointed out that CoolVisions is dyeable, unlike most polypropylene. "Any customer
desiring all-in-one fiber/fabric performance would benefit from CoolVisions dyeable polypropylene,"
she said. "CoolVisions offers manufacturers lean production, faster cycle times and better margins.
A wider range of colors including seasonal fashion colors are now available without having to
purchase the large minimums required for specialty colors in solution-dyed product. Dyeable greige
goods will facilitate significant improvement in production times and speed to market. The cost
associated with inventory for low-volume, slow-moving and obsolete solution-dyed colors is
eliminated."
Premiere Fibers, Ansonville, N.C., manufactures nylon 6 and nylon 6,6 solution-dyed
partially oriented and fully drawn yarns. President John Amirtharaj spoke of the company's
advantage in green processing compared to non-solution-dyed products. "Melt pigmented yarns do not
create any effluent," Amirtharaj said. "Additional chemicals such as carriers, leveling agents and
wetting agents can be totally avoided. Fastness with reference to lightfastness and washfastness
can be better. Premiere Fibers also offers amazing color capabilities. We customize our fibers
through a unique solution-dyeing process. With Premiere Fibers, the color is literally part of the
fiber – it is not added after the fact. This process ensures the color is stronger and lasts much
longer." Amirtharaj also said antimicrobial benefits can be added during the process. He listed
target customers including performance apparel, performance hosiery, industrial and the military.
"We are doing what we can do to make sure our products and processes operate using low
energy and are not harmful to the environment," Amirtharaj said. "We continue to work on being
environmental stewards, and our commitment to that end will remain."
Bristol, Va.-based Universal Fibers Inc. has expanded its post-consumer recycled nylon 6,6
fiber color palette to include 27 new colors. Universal first produced nylon 6,6 from recycled
carpet last year – the first company in the industry to do so.
"We started with just black in post-consumer, then within a few months, we were able to
offer six core colors," said Bill Goodman, vice president of sales and marketing. "Now we are able
to offer 27 solution-dyed colors for post-consumer fiber. It's very exciting." The company stated
that it has made technological advances that offer lot-to-lot consistency.
Jeremy Ford, vice president, business development, Brownsville, Texas-based JBM Fibers Inc.,
reports JBM's ValueFiber Series of polyester/cotton shoddy fiber products is being used in multiple
industrial applications including automotive, acoustical, filtration, padding, furniture and other
applications primarily by nonwovens manufacturers with applications that can be supported by shoddy
fiber products. "Key sourcing access to raw materials because of our close proximity to cut-and-sew
operations in Mexico allows JBM to operate under a lower cost structure and thus allows us to pass
along savings to our customers," Ford said. "In addition, state-of-the-art upgrades to our
production facilities, including metal detection, dust extraction and inventory management systems,
give us a superior efficiency and quality control." According to the company, current production
capacity is more than 4 million pounds per month.

Technical And Flexible

Sumter, SC-based EMS-Chemie (North America) Inc. has been producing polyamide (PA) and PA
bonding fibers for more than 30 years. End-uses include paper machine clothing, filtration and
battery separators.
Vice President/Business Leader Sid Outlaw told

Textile World
that EMS Fibers include Grilon® TM 5040, a high-viscosity PA fiber; Grilon BA 140, a
bicomponent PA fiber with a PA 6 core and a low melt sheath that melts at 140°C; Grilon BA 115, a
bicomponent PA fiber with a PA 6 core and a low melt sheath that melts at 115°C; Grilon KA 140, a
monocomponent PA fiber with a melting point of 140°C; and Grilon TM 5100, a PA 6 flat fiber.
According to Outlaw, fibers are tailored to fit the specific application, and special production
runs are possible.

High-Strength Polyester

Fort Mill, S.C.-based Kuraray America Inc.'s Vectran® high-tenacity aromatic polyester has
targeted industrial applications in which Vectran can offer solutions through its unique
properties. The fiber is marketed around the world in 50 segments. The company targets customers
that consider a fiber's longevity and durability in the cost-performance analysis. With the
expansion of its fiber manufacturing facility in Japan, Kuraray increased capacity for Vectran by
40 percent to 1,000 metric tons per year. The company also plans to add capacity in Fort Mill.
Primary markets include ropes, cables/umbilicals, industrial fabrics and cut protection.
"Vectran fiber is ideally suited to technical applications requiring high strength, high
modulus and dimensional stability," said Dr. Forrest E. Sloan, manager, international marketing.
"Vectran fiber's key benefits are negligible moisture uptake, extremely low creep, high abrasion
and cutting resistance, and flex fatigue resistance.
"Aramids are nylon-based and, as such, have a high equilibrium moisture content. Vectran
fiber is polyester-based and shows little to no moisture uptake. Vectran is up to 20 percent
stronger than aramids and offers 10 to 100 times better flex fatigue resistance," Sloan said.
Vectran HT now is offered in solution-dyed colors, such as blue, green and orange.
Robert Grueneberg, global marketing director, sewing thread, Richmond, Va.-based Performance
Fibers, explained that his company's high-tenacity multifilament polyester yarn is used for core
yarns and continuous filament yarns used in high-quality sewing thread, embroidery yarn and other
specialty applications. Other competitive offerings include standard yarns, core yarns, filament
yarns and other polymer-based yarns, such as PA. "Performance Fibers brings a long history of
expertise in manufacturing sewing thread yarns that dates back more than 25 years from the former
Invista Resins & Fibers GmbH's Germany-based polyester yarn business that it acquired in 2006,"
Grueneberg said. "The yarns are produced in Europe and the United States to meet global demand.
Performance Fibers offers a wide range of low-shrink products in all deniers. Other benefits
include its good dyeability and abrasion resistance as well as high strength and tenacity." Recent
developments include a new spun-dyed yarn for sewing thread that is high-strength, colorfast and
fade-resistant.

Cost Challenges

Today's fibers and yarns offer a vast variety of design options for creating innovative
products – but challenges still remain. Rising energy and petrochemical costs are shocking the
entire supply chain. One bright spot is that neither performance fibers nor the products created
from them are commodities, and maybe there is more room to absorb and even pass through some of the
cost hikes. In textiles, it may just be one of the few areas where performance, price and value can
endure the current drastic changes in the marketplace and provide opportunities for success.
July/August 2008