By John E. Luke, Technical EditorS t r e t c h:Active vs.
Easy
Stretch fabrics offer creative investment opportunities when developed to consumers
tastes.On numerous occasions, observers of the textile scene and Textile World have taken
serious issue with the industry for not investing in new technologies to provide an insulative
separation from the murderous increase in imports, particularly from the Far East. Although the
concept of stretch is not a new subject, particularly for our knitter compatriots, it still is a
series of technologies that offer niche opportunities for the creative, investing manufacturer. In
a curiously interesting way, while a current discussion of stretch fabrics and fibers provides
another opportunity to carp on product development investment, it more importantly offers a chance
to examine the marketplace and suggest directions for stretch products for several coming
years.Stretch HistoryHistorically, with the notable exceptions of knit fabrics and several stretch
woven fabrics denim particularly stretch has meant the inclusion of spandex in fabric construction
to add the third dimension of extensibility and recovery. Historically, this added dimension also
contained the concept of power, body control and body performance enhancement. At the height of the
Baby Boom exercise fury of the 1990s,
TW looked at stretch fibers and fabrics and concluded that substantial growth awaited
fabric manufacturers capable of incorporating stretch, primarily spandex, in traditional sportswear
and formalwear fabrics
(See Silent Spring, ATI, June 1998). The Baby Boomer, primarily into running and walking,
tennis, swimming and biking, was pushed by his/her ego and children to preserve the physical beauty
and muscle tone gained through the pain of exercise but squandered behind a desk in an endless
pursuit of sufficient wealth to afford the time and the accoutrements of planned exercise. In
stretch history of the late 1990s, TW concluded that spandex growth was barely more difficult than
building a production facility and hanging out a shingle. Alas, such was not to be the case, and TW
admitted in a follow-up article that it too had been mesmerized by the attractiveness of
spandex-containing garments and had overstated market growth potential
(See Spandex Revisited, TI, May 2001). The recession was coming, and TW had discounted
consumer purchases of more expensive garments. What was missed, however, was the consumer
resistance to substantially higher prices for spandex-containing articles, compounded by continuing
workplace dress code changes to even more casual apparel. Mid-1990s signs of a return to more
formal office dress codes evaporated, and premium stretch took a back seat to practical, but
non-stretch, function The best example of this is the continuing sales decline of womens hosiery
and pantyhose. The Baby Boomer wife/professional appears satisfied that she can present an
attractive well-toned body without the assistance of power garments, including hosiery and
pantyhose. Against these substantial consumer projections, TW published a table of spandex usage,
which is presented again here
(See Table 1).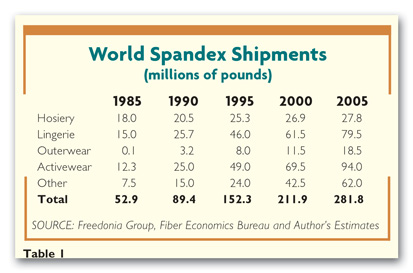 It is obvious from some current preliminary research that sales fell short of the year 2000
outlook and continue to this day to underperform the estimated 2005 level. Little was it realized
that the consumer was plotting against the industry and her scheme would finally be exposed in
recent data from the Mount Prospect, Ill.-based National Sporting Goods Association, which
regularly tracks participation in sports activities. Table 2 presents data for the top 10
activities in 2002.Combining these statistics with one more set opens a new picture of the future
for stretch. Several recent domestic and international studies have outlined the age demographics
of sports participants
(See Table 3).Aye, and there lies the rub. Just as the worldwide fiber industry is
completing its spandex fiber-building binge, raising capacity well beyond even the optimistic
estimates of several years ago, the Baby Boomer the fuel for the exercise revolution is changing
sports and doing less. What is to become of the myriad of sports-specific garments prepared for the
exercise-addicted Boomer It appears that a new direction is needed.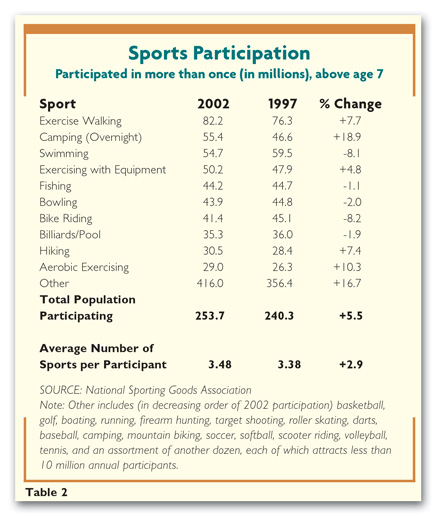 Comfort StretchThe new direction is comfort stretch, not active stretch. The Baby Boomer
generation, currently ranging in age from 38 to 56, dominates the 45-to-54 age category, is leaving
the 35-to-44 year-old category, and is slowly sneaking into the 55-to-64 category. The absolute
numbers of the Baby Boomer generation soon will start to decline, and sports participation by the
remaining members will slide from 74 to 80 percent, to under 70 percent. Sports-specific apparel is
less in demand.As people age, they tend to add weight. This, despite the obvious cardiac
implications, is good news for stretch. In addition to the new business brought to exercise salons,
diet programs and doctors, heavier Baby Boomers will need to re-wardrobe, and that new clothing
will contain elements of stretch. Unfortunately, as people gain weight, so also do they change
their seated appearance, stretching and sagging more widely. Since woven fabrics generally are cut
longitudinally for slacks, filling stretch is used to compensate for the horizontal extension of
their avoirdupois, keeping them comfortable as they strain against the constraints of garment leg
construction. Less movement, less exercise, less posturing in active-sport-specific clothing all
point to comfort, not power and action.In their constant attempts to reduce the cost of active
fabrics, US textile manufacturers have searched for ways to reduce the price of spandex or have
searched for substitute materials less expensive than spandex. Until recently, Wilmington,
Del.-based INVISTA Inc., then DuPont, was able to keep a floor under price movements in domestic
spandex through a combination of consumer brand loyalty and active, pointed product development for
Lycra® in activewear applications. Three forces, however, have conspired to weaken the companys
position. First, domestic competitors ramped up production, weak producers were absorbed by
stronger organizations, and excess production flowed into the market. Simultaneously, foreign
producers, largely from Korea but increasingly producing in many parts of the world, flooded US
shores with relatively good-quality, cheap spandex, attacking DuPonts traditional price levels and
offering manufacturers opportunities to try spandex constructions with marginal cost additions.
Mills experimented with low levels of spandex in many applications without seriously increasing
greige fabric costs (finishing costs were another matter, beyond the scope of this analysis).
Knitters added small percentages of spandex to lightweight blouse fabrics, and weavers added even
smaller amounts to the filling in light to heavyweight twills for slacks and outerwear garments.
The basic spandex structure provided basic stretch and power characteristics to the fabric. So far,
so good, but now it was the consumers turn. She, now slightly older, changed her buying and
exercise habits and searched less for power and exercise garments and more for comfort garments.
Several ancient technologies stepped forward, including textured polyester and textured nylon, each
finding its own niche, generally chosen by fabric economics rather than aesthetics. DuPont changed
the rules around the Lycra brand, allowing it to be used on DuPont-approved constructions
containing spandex, nylon or polyester from DuPont. The logic was simple use a DuPont product, meet
certain performance standards and label it Lycra, probably the strongest brand in the companys
stable. It is not certain how the market accepted change, but corruption of a historically strong
marketing brand is a move to be questioned.Spandex manufacturers tried to lower prices to compete,
never really meeting the self-flagellating price levels to which polyester or nylon textured fibers
would sink. Meanwhile, Dow Chemical, Midland, Mich., is trying an alternative route with DOW XLA, a
polyolefin-based melt-spun monofilament fiber that has been granted its own subclass, lastol. Dow
makes no pretense of competing with Lycra or other spandex materials but, rather, claims the fiber
will provide soft stretch performance and require little or no heat-setting to stabilize heavy
recovery. This probably is the best definition of comfort stretch that has been offered.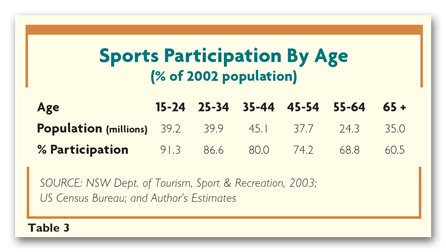 The Future Of StretchComfort stretch is here to stay. As a matter of fact, comfort stretch
will/should become a regular offering from US knitters and weavers. The consumer is downsizing her
tastes and lifestyle to more easygoing levels, and, while exercise still is important, it slowly is
decreasing in consumer attractiveness. As the population ages, the consumer looks to garments that
enhance her figure in different venues in smaller, more subtle ways.Comfort stretch is a natural
for the textile industry. Spandex insertion in knitted fabrics is relatively easy, without specific
machines needed. Contrarily, weavers need extra-wide looms to accommodate the spandex and produce
the 60- to 70-inch finished widths needed for cutting slacks. Comfort stretch, without the need for
narrow greige widths to develop power and recovery that must be stretched out and controlled by
heat-setting, can be made commercially using existing equipment. An industry struggling to survive
certainly doesnt have access to or want to spend the capital to install new looms in the hope that
spandex wins the comfort stretch race. Rather, existing mill equipment both knit and woven can be
adapted with little effort to produce, as Dow says, soft stretch performance. Recent political
campaigns have urged the voter to follow the money. Textiles need to follow the consumer to comfort
stretch. Active stretch will never go away, but comfort stretch will replace substantial portions
of the market as the consumer replaces active with easy.

December 2003