Personal hygienic nonwovens play a role in most peoples lives on a daily basis. The need for a
waste-absorbent fabric that is not only disposable but also environmentally friendly has grown in
need over the past 50 years. The diaper, adult incontinence and feminine hygiene markets have grown
remarkably in the past few decades, but the past few years have seen a notable slow down in
technological advancements. Diapers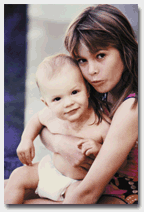 With consumers purchasing more than 15 billion units of diapers and training pants in 1997
and with around 70 percent of the world consumption of absorbent nonwovens in the diaper and
training pant markets, the need for the diaper industry to stay on top of the latest technological
trends is a given. One of the ways to stay competitive is by using the latest developments in
nonwovens to improve product needs.The key in developing a disposable baby diaper is creating a
product that will absorb a maximum amount of moisture while creating little or no irritation to the
skin. It should also be able to prevent contamination of surrounding areas, such as clothing, while
at the same time being environmentally friendly when disposed.The North American coverstock
consumption, in which the diaper industry accounted for approximately 80 percent, was approximately
175,000 tons in 1997 according to INDA (the Association of the Nonwoven Fabrics Industry). The
consumption of nonwovens in a diaper is found throughout. This includes the topsheet, backsheet,
leg cuffs, in the absorbent core and, to a lesser, degree in waistbands and stretch panels.The
majority of nonwoven fabrics used in the topsheet and backsheet are thermalbond or spunbond
polypropylene and SMS (spunbond/meltblown/spunbond) polypropylene composites. Elastomeric nonwovens
and SMSs are also used in the leg cuffs.The past few years have seen a decrease in the use of
wet-laid cellulosic wadding in the absorbent core and an increase in the use of a super-absorbent
polymers. Intense competition in the 1990s led to a saturated market and a decline in price. This
also coincides with the maturing of the North American market.While the addition of what the
industry calls bells and whistles, items that provide aesthetic changes but no real structural
differences, have become increasingly popular, there are several structural areas in which
innovations are taking place.Innovations are taking place in the topsheet, absorbent core,
backsheet and leg barriers to create an even dryer environment for the babys skin and creating a
diaper that has zero leakage. Design developments continue to improve these characteristics, while
at the same time creating a smaller, more efficient diaper.These innovations, along with the
continuing use of bells and whistles must be done with no increase in cost to the consumer. This is
proving to be a great challenge for the industry.One aspect that is creating optimism is the
increasing amount of products being sold in Latin America. This is a blossoming market that, while
currently only 20-percent saturated, saw an increase in consumption from 500 million units in 1994
to approximately 2.9 billion units in 1997 according to International Nonwovens Consulting
Inc. Adult IncontinenceAdult incontinences global market for nonwoven coverstock is
approximately 14 percent. However, with the North American population getting older on the average,
the often forgotten about adult incontinence market, with a U.S. market of over $1.1 billion, is
poised for a steady increase.It is estimated that approximately 19 million North Americans are
incontinent. Of those, approximately 80 percent are female. The percentage of people with
incontinence problems increases with age.It is estimated by World Bank that the U.S. population
between the ages of 50 and 59 will increase from near 25 million in 1995 to approximately 41
million in 2010, while the 60 to 69 group is expected to increase from 20 million in 1995 to almost
29 million in 2010.Currently, products are being offered for several different levels of
incontinence, ranging from light to full incontinence and from pads to briefs. These products lag
behind products designed for feminine hygiene and baby diapers in technological advances, product
thinness and education.With the introduction of new super-absorbent polymers, along with spunbond,
thermalbond, elastomeric and SMS enhancement, the absorption of higher volumes of liquid is
improving. Feminine HygieneThe most developed absorbent market in the world, with a worldwide
penetration that will reach 33 percent by 2000, according to John R. Starr Consulting, is the
feminine hygiene market. It is estimated that the worldwide market is near $11.6 billion.Feminine
hygiene products, which include tampons and sanitary napkins, must be able to absorb and retain
menstrual fluid and/or provide non-menstrual protection for more general personal hygiene.In the
early 1980s, Toxic Shock Syndrome (TSS), caused by the improper use of super-absorbent tampons,
created a drastic decrease in the use of tampons. From that point on, sanitary napkins have
dominated the market with approximately 83 percent of the worldwide feminine hygiene market in
1997, according to estimates of John R. Starr.New trends in nonwovens are beginning to effect the
sanitary napkin industry in a positive way. Sanitary napkins are seeing an increase in the use of
elastomeric and SMS fabrics for improved absorption. There has also been an increase in the use of
air-laid and meltblown nonwovens. As with other related fields, the use of super-absorbent polymers
in an absorbent core has been dramatically increasing.The tampon market is much stronger in
developed nations, such as North America and Europe, than in the rest of the world. This is partly
due to the 30-percent market loss caused by the TSS scare. Tampons are beginning to see a worldwide
increase as they begin to find a larger market in developing nations.Tampons are produced from
carded cotton and rayon fibers or a combination of cellulosic fibers. This absorbent core is
covered with a lightweight nonwoven. Current types of tampons being produced include a grooved
cotton wool roll, a formed stitched blanket and a two piece fleece, in which the top expands more
than the bottom. The tampon industry is slowly becoming less reluctant to use man-made fibers and
coatings, as it is still haunted by TSS. Currently there are new developments taking place within
the industry, including anatomically shaped products to reduce leaking, new microfiliment to be
spunbonded for the topsheet material and a more efficient absorbent core.
September 1999